Subscriptions for the eighth series of inflation-linked government debt known as iBonds to open on June 1, with the bonds paying a minimum interest rate of 2 per cent every six months.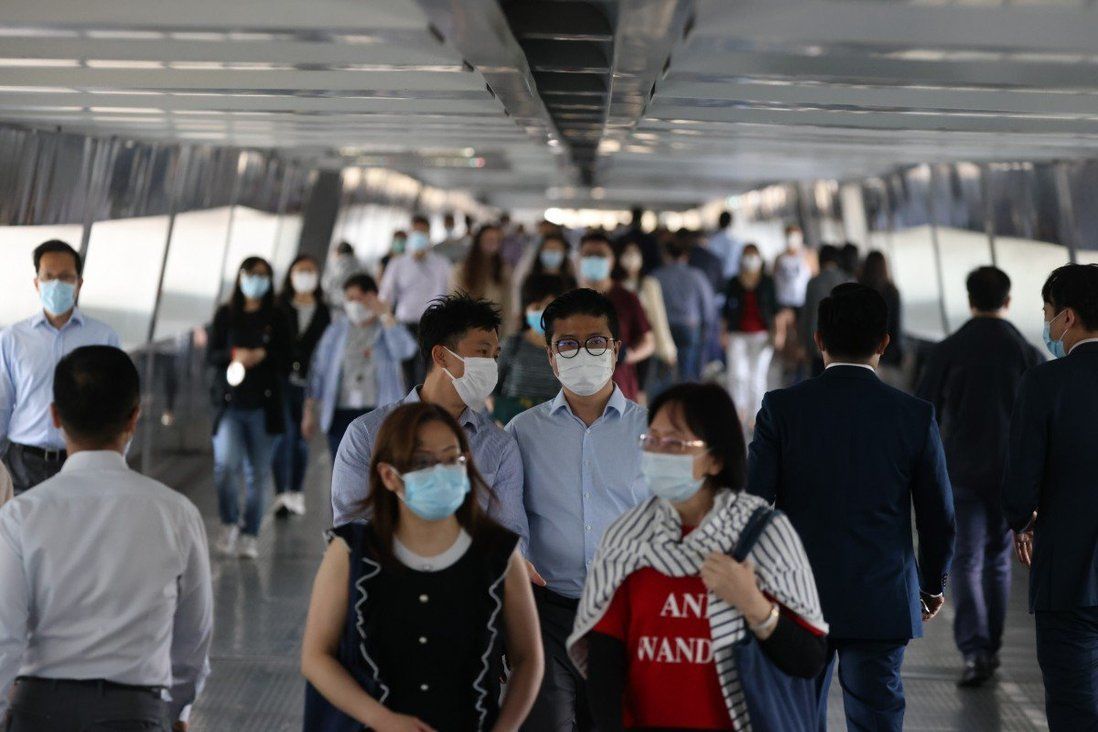 Pedestrians on an elevated walkway in Hong Kong's Central district. The city's government will seek to raise up to HK$20 billion with its eighth series of iBonds.
Hong Kong plans to issue up to HK$20 billion (US$2.6 billion) of inflation-linked government debt, known as iBonds, beginning June 1, according to the Hong Kong Monetary Authority (HKMA).

The iBonds, the eighth series issued since 2011, will make an interest payment every six months based on the average rate of the consumer price index over that half-year period, with a guaranteed minimum payment of 2 per cent.

That is in line with the last series of iBonds issued in November and double the minimum guaranteed rate for the prior series issued in 2016. The city issued HK$15 billion worth of three-year bonds in November.

In its latest offering, the city's government plans to issue HK$15 billion worth of bonds, but could increase that to HK$20 billion depending on popularity, making it the biggest iBond offering to date, according to Clara Chan, the HKMA's executive director for monetary management.

Hong Kong identity card holders will be able to subscribe in HK$10,000 increments at placing banks, securities brokers or the Hong Kong Securities Clearing Company beginning at 9am on June 1, according to the city's de facto central bank. The subscription period will run through 2pm on June 11, with the bonds being issued on June 23 and listed on the Hong Kong stock exchange the next day.

"iBonds provide a safe and attractive investment option to the public," Chan said at a press conference on Wednesday. "No matter how inflation goes and what level it is, the principal will be paid in full at maturity."

The latest batch of iBonds was unveiled in February by Financial Secretary Paul Chan Mo-po as part of the city's budget and comes as interest rates remain at historic lows as central banks try to stimulate a global economy slowed by the coronavirus pandemic.

Hong Kong officials opted to set the minimum guaranteed rate at a higher level for iBonds issued in November and the current batch to encourage participation in the bond market and provide stable returns to investors as low interest rates are expected to persist for some time.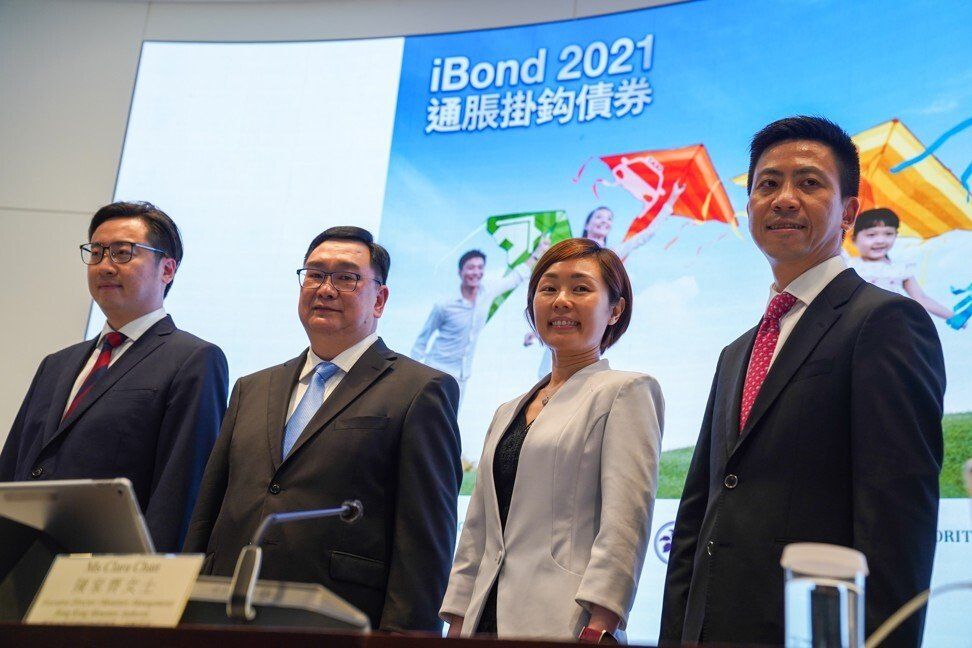 Arnold Chow, Bank of China (Hong Kong) deputy general manager for personal digital banking product; Samson Yuen, the HKMA's head of currency and settlement; Clara Chan, the HKMA's executive director for monetary management; and Cheuk Wong, HSBC's head of greater China fixed income; at a press conference announcing the latest batch of iBonds.

The guaranteed interest rate is higher than what is being offered by a group of virtual banks who began operating in the city last year and much higher than the savings rates at the city's biggest traditional lenders.

The first interest payment on the new iBonds will be due on December 23.

The latest inflation-linked bonds are debuting as the city's economy rebounded sharply in the first quarter, growing at an 11-year high of 7.8 per cent. The economy shrank by 6.1 per cent in 2020, its worst contraction on record.

Consumer prices rose 0.5 per cent in Hong Kong in March when compared with a year ago, after a 0.3 per cent increase in February, according to the latest government figures.

Cheuk Wong, HSBC's head of greater China fixed income, said the market sees inflation continuing to rise in Hong Kong this year, in part because of improving economic outlooks in China and the United States.

"Since the two big economies are showing positive signs, Hong Kong is forecast to benefit," Wong said.

HSBC expects inflation to peak in the third quarter at about 4 per cent before settling back to 2.3 per cent in the fourth quarter, Wong said.

The government economist's office is forecasting an inflation rate of about 2 per cent between 2020 and 2025, Chan said.

Hong Kong's government issued its first iBonds nearly a decade ago to promote the development of the city's retail bond market, and to provide a steady source of income for everyday investors. The city has raised more than HK$75 billion through the iBond programme since 2011.

Bank of China (Hong Kong) and HSBC will serve as joint lead managers on the latest offering.