Financial Secretary Paul Chan also reveals Indonesian Chamber of Commerce and Industry planning to visit Hong Kong next year to pursue business opportunities.
Hong Kong will strive to strengthen trade ties with countries in the Asia-Pacific region and play the role of "super-connector", the city's finance chief has said, on the back of broad support among regional leaders for the central government's international development push.

Financial Secretary Paul Chan Mo-po on Sunday also revealed the Indonesian Chamber of Commerce and Industry (KADIN), an umbrella organisation for the country's business groups and associations, planned to visit Hong Kong next year to explore more opportunities that would benefit both sides.

"The biggest business group there, KADIN Indonesia, is actively organising a high-level delegation to visit Hong Kong next year in order to open up more cooperation and development opportunities," he wrote in his official blog.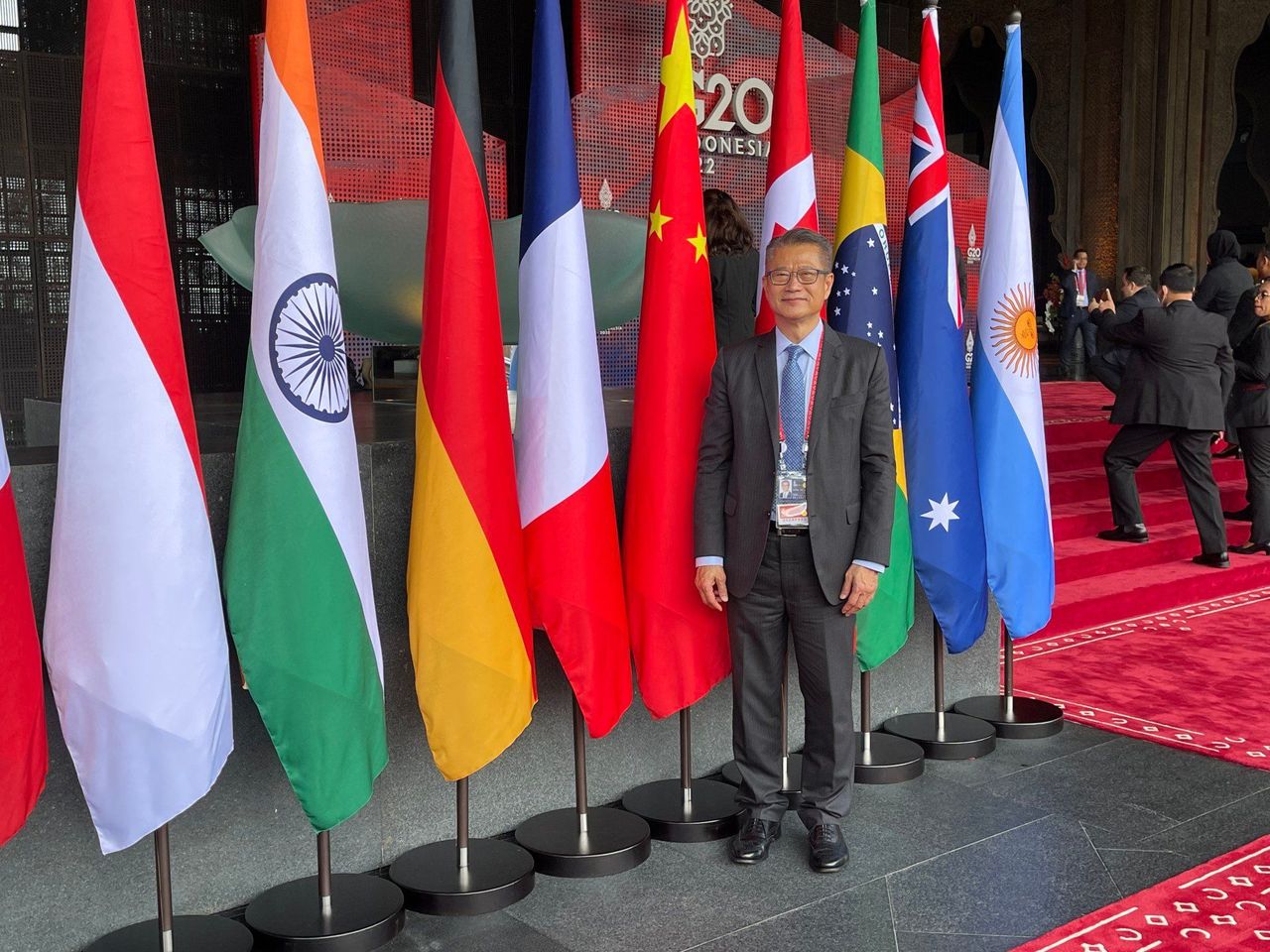 Financial Secretary Paul Chan attends the G20 Leaders' Summit in Bali, Indonesia, last week as part of China's delegation.
The reveal was part of the finance chief's account of his trip to Bali for the G20 Leaders' Summit last week, where he discussed strengthening trade ties with representatives from participating countries, including the event's host nation.
Citing green finance as an area where Hong Kong and Indonesia could seek closer ties, Chan said the city's mature financing platforms could help the country's business sector to make gains in the field.
"I also invited some Indonesian friends I met to attend the Asian Financial Forum, which will be held in Hong Kong next January," he added.
Chan also spoke of an urgent need for closer cooperation in the Asia-Pacific region to maintain stable and smooth supply chains amid tense geopolitics and the resultant uncertain economic situation.
"Against this backdrop, Hong Kong can play a better role as the 'super connector', a capital and talents pool, as well as a provider of high-value-added service so as to share the prosperous future with [Asean members] and other Asian countries," Chan wrote.
The Association of Southeast Asian Nations (Asean) is Hong Kong's second-largest trading partner, with local government data showing the total merchandise trade between the city and the bloc in 2021 amounting to about HK$1.25 trillion.
According to the city's Trade and Industry Department, the figure represented 12.1 per cent of Hong Kong's global merchandise trade that year, while trade between both parties grew at an average annual rate of 7.4 per cent between 2017 and 2021.
The finance chief added that Hong Kong would lobby for early accession to the Regional Comprehensive Economic Partnership (RCEP), the world's largest free trade agreement, which covers more than 30 per cent of the globe's total population and gross domestic product. It comprises 15 Asia-Pacific nations, including Australia, South Korea, Malaysia, Japan and New Zealand.
The move would help integrate the city into the region's industrial chain and consolidate Hong Kong's status as an international trade centre, he said.
Last week, Chan attended the G20 summit as part of China's delegation, with the theme of the event being "Recover Together, Recover Stronger" and providing a forum for participants to discuss topics such as the global economy, energy, food security and public health.
Chan was referring to the central government's Global Development Initiative (GDI), which was put forward by President Xi Jinping last year and aims to encourage the international community to focus on development issues, increase input in global development cooperation and advance practical collaboration in areas such as poverty alleviation, food security,
Covid
-19 response measures and inoculation drives, as well as climate change.
"I felt that many representatives of the participating countries showed sincere acknowledgement and support of our country's initiative to push for global development and sharing the fruits," he said.
More than 100 countries and international organisations, including the United Nations, have expressed their support for the initiative, with some 60 nations having joined China's Group of Friends of the GDI.
Chan added that such a mode of "inclusive development" had big political and moral appeal among members of the international community and could gain greater support in the future.
In his blog, Chan also said the city was gradually reconnecting with the international community, with officials planning to undertake more overseas trips to "tell good stories of Hong Kong" and seek out further areas to foster cooperation, investment and development opportunities.
As part of Chief Executive John Lee Ka-chiu's maiden policy address last month, Chan is also expected to head a task force to visit traditional and emerging markets to rebuild Hong Kong's image by establishing multilateral ties.