Hong Kong will mourn together with 'mainland compatriots' when memorial service is being held in Beijing on Tuesday, government spokesman says.
Hong Kong will mourn the death of former Chinese president Jiang Zemin with citywide arrangements to be put in place on Tuesday, including all officials and civil servants observing three minutes of silence and different sectors being asked to call off any entertainment activities.

A government spokesman on Friday said the city would mourn together with "mainland compatriots" as a state funeral for the former leader was being held in the Great Hall of the People in Beijing on Tuesday morning.

RTHK will arrange a live television broadcast of the funeral, while government staff will observe three minutes' mourning in silence and members of the public will be able to do the same at designated locations, according to a statement.

National and regional flags displayed at all government departments will be flown at half-staff while all entertainment and celebratory activities organised or funded by the authorities will be postponed or cancelled.

The government called on other organisations to follow suit.

The Education Bureau said all local schools, including kindergartens, would have to fly national and Hong Kong flags at half-mast on December 6, and suspend all celebratory activities except for graduation and award ceremonies.

Non-celebratory events should not include entertainment and performances, it said, adding that schools could also arrange a live broadcast of the funeral on campus. The bureau also said international schools should also lower flags to half-mast, observe a silence and suspend any celebrations.

The arrangements were announced as local political heavyweights as well as ordinary residents continued to pour into Beijing's liaison office in the city to pay their respects.

Maria Tam Wai-chu, vice-chairwoman of the Basic Law Committee that advises the central government on Hong Kong's mini-constitution, was among politicians who visited the mourning hall at the liaison office in Sai Wan for Jiang, who died on Wednesday aged 96.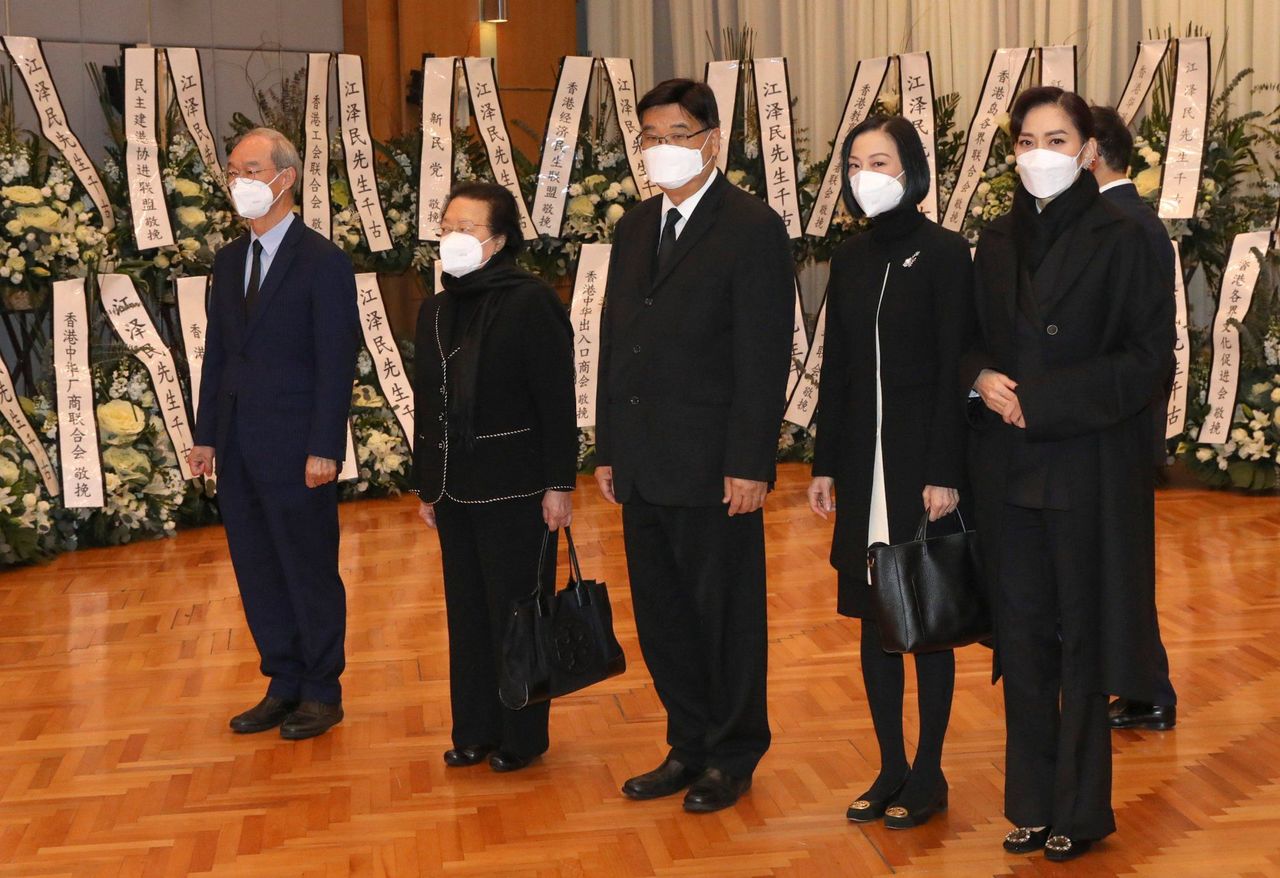 Maria Tam (second left) was among those who paid a visit to the mourning hall in the liaison office.
Tam recalled Jiang's affection for and connection with the city, especially during tough times after 1989 when China faced a lot of pressure internationally following the Tiananmen Square crackdown.
"At that time, the drafting of the Basic Law was put on hold, and discussions on the Rose Garden Project [for Hong Kong] had also stopped," she said, referring to the British colonial government's port and airport development strategy of the late 1980s.
"In the end, China and Britain were able to complete the drafting and finish the Rose Garden Project. To achieve this, there must have been many wise arrangements.
"He will be dearly missed. Jiang was very familiar with Hong Kong, a city where East meets West. I believe he also had a lot of experiences, and had a sound understanding of foreign culture, arts and history. He was very talkative, affable and amiable."
Other officials and heavyweights paying homage on Friday included culture secretary Kevin Yeung Yun-hung, Rita Fan Hsu Lai-tai, former city delegate to China's top legislative body, and ex-Executive Council convenor Bernard Chan.
Prominent figures from the business sector also paid tribute. They included Sun Hung Kai Properties chairman Raymond Kwok Ping-luen and executive directors Adam Kwok Kai-fai and Christopher Kwok Kai-wang.
New World Development CEO Adrian Cheng Chi-kong, Bank of East Asia's David Li Kwok-po and his two sons, and MTR Corporation chairman Rex Auyeung Pak-kuen and chief executive Jacob Kam Chak-pui also paid their respects.
Residents also continued to visit the liaison office, where they could lay flowers and sign their names in a condolence book. Thousands had queued at the office on Thursday.
Mourners were able to leave flowers and sign a condolence book at the liaison office.

Former opposition lawmaker Frederick Fung Kin-kee was spotted in the queue.

"Chairman Jiang set a very good example to us that he accepted all kinds of opinions and ideas, no matter if you are for China or even have different ideas with them," Fung said.

Fung, former chairman of the Hong Kong Association for Democracy and People's Livelihood which he quit in 2018, recalled that during Jiang's leadership, there had been disputes between China and Britain in discussions over Hong Kong's return to Chinese rule.

Some in the opposition camp were more inclined to the British side, but Jiang still allowed members to reflect their opinions, Fung recalled, praising him as an "open-minded" leader.

Certain events in the city were also put on hold as a mark of respect, with popular theme park Disneyland stopping its firework shows for four days until Monday.