No minimum period of stay for non-permanent residents required for eligibility, but they will only receive HK$5,000 in total.
The second batch of HK$5,000 (US$635) in consumption e-vouchers will be distributed starting in August, with the scheme to be expanded to include people in Hong Kong eligible for permanent residency while excluding locals planning to emigrate, the finance chief has announced.

Financial Secretary Paul Chan Mo-po on Monday said the broader criteria for eligibility would add about 300,000 people to the scheme, many of them talents, entrepreneurs and students, increasing the overall cost of the handouts by between HK$1.5 billion (US$191 million) to HK$1.7 billion, which he called an "affordable" amount.

"We have taken in the views from the public and Legislative Council that called for beneficiaries to be expanded, as such, those who are eligible to be permanent residents would be eligible," Chan said.

No minimum period of stay for non-permanent residents would be required for eligibility, but they would only receive HK$5,000, half of the scheme's total, he added. More than 6.3 million residents received the first payment in April.

Chan also noted that people who were planning to emigrate or were absent from Hong Kong "without specific reasons" for three consecutive years would not be eligible for the vouchers, up from the previous two years.

Authorities will check whether an individual has submitted a request to withdraw money in their Mandatory Provident Fund or Registrar of Occupational Retirement Schemes before the age of 65, and whether they have made a statutory declaration that they will leave permanently when submitting these requests.

The scheme will not be open to residents who obtained their identity cards overseas.

Residents with specific reasons for remaining outside the city, such as elderly Hongkongers living in Guangdong or Fujian provinces under the officially recognised retirement schemes for example, also qualify, according to Jessie Wong Hok-ling, head of the budget and tax policy unit at the Financial Secretary's Office. Other exceptions included those who had gone elsewhere for study or work.

Residents who turned 18 recently before June 13 and were not eligible for the first round of the scheme can receive the full HK$10,000 upon registration.

The registration period runs from June 23 to July 23, and the vouchers will be disbursed from August 7.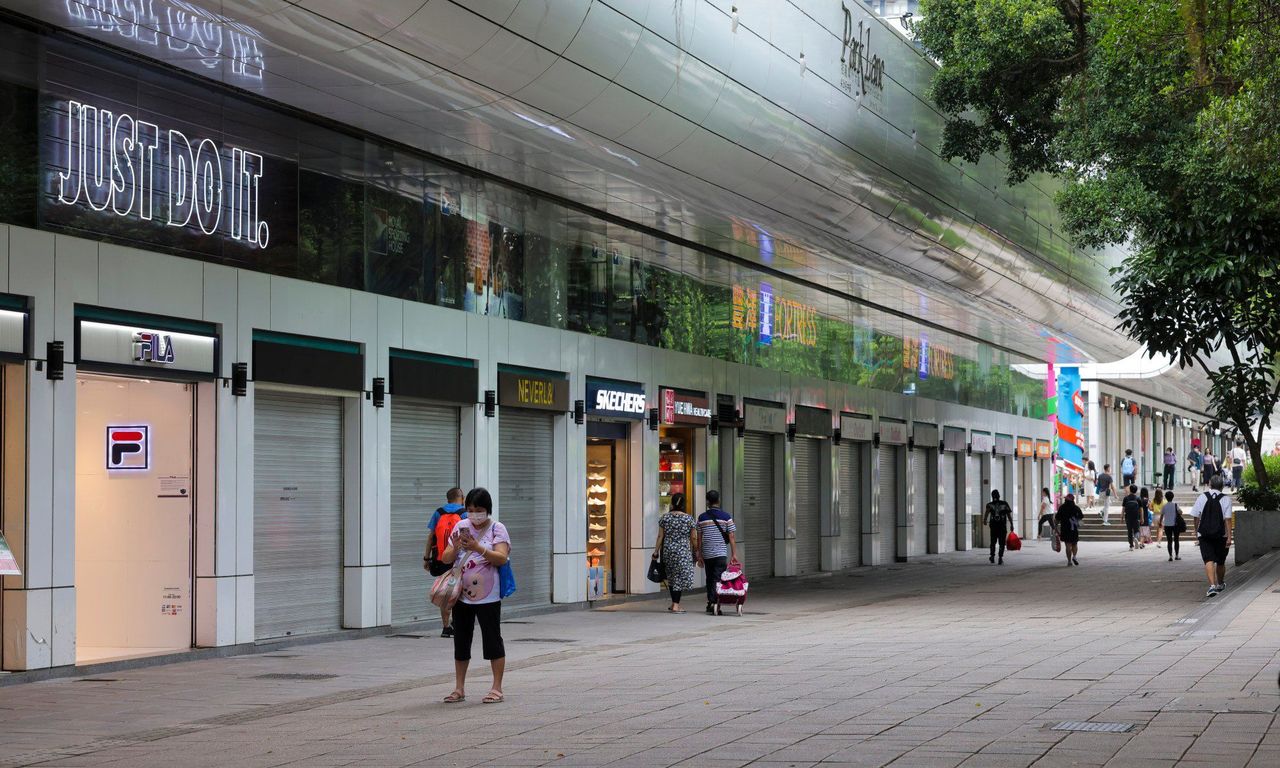 General view of empty commercial units at Park Lane Shopper's Boulevard at Tsim Sha Tsui.

Residents can store the e-vouchers in any of six service providers, after BoC Pay and HSBC's PayMe joined operators Alipay HK, Octopus, Tap & Go and WeChat Pay HK.

AlipayHK is operated by Ant Group, an affiliate of Alibaba Group Holding, which owns the South China Morning Post.

For residents who use Octopus to receive the voucher, they will receive HK$2,000 on August 7, and the same amount on October 1. The remaining HK$1,000 will be handed out between December and April. For those who use any of the other five service providers, they will receive HK$2,000 on August 7 and the remaining HK$3,000 on October 1.

The revamped eligibility requirements, while welcomed by many, left some residents who had moved overseas feeling bitter. Retired university professor Kenndall Wong, who moved to Britain in August last year, said the exclusion was "unfair".

Wong said he did not close out his pension accounts in Hong Kong as he was uncertain whether he could become a naturalised citizen in Britain.

"The Hong Kong government has no right to deprive me of the privilege that other taxpayers deserve," Wong, 53, said.

In response to a Post inquiry, the financial secretary's office said it could not estimate how many people would be disqualified from the scheme.

About 123,400 Hongkongers have applied for the British National (Overseas) visa scheme since it was launched in January last year, with 92 per cent of them being approved.

Zhou Shenji, a 30-year-old doctoral candidate who came to Hong Kong from mainland China in 2019, said he was happy with the government's new arrangement, which made him "feel being identified".

"I feel that I'm not forgotten, and that makes me feel warm in heart," he said.

"I have lived in Hong Kong for three years, and I have contributed to the city's consumption," he said. "The new arrangement is the acknowledgement of my staying here."

Lawmakers such as Wendy Hong Wen also welcomed the government's decision, saying it could help the city attract and retain much-needed talent from the mainland and elsewhere.

"We are suffering from a brain drain in a variety of industries. As the city is under post-pandemic reconstruction, we need talents urgently," Hong said.

Lawmaker Gary Chan Hak-kan said he also supported the new arrangement in principle, adding that it was a "good use of taxpayers' money".

"In the past, the emigration wave was not as severe, so the government was loose about such regulations," he said.

"But now, the situation is different. It is a universally applied rule that only citizens or permanent residents are eligible to obtain such privilege. Otherwise, it'd be unfair to Hong Kong taxpayers."

The scheme was first introduced last year, in which eligible registrants each received vouchers worth a total of HK$5,000 in their electronic wallets during the third and fourth quarters. The government said it boosted gross domestic product by 0.7 per cent that year.