Chief Executive Carrie Lam reveals government will ease restrictions on arrivals from April 1 while putting on hold contentious plan for compulsory universal testing.
Hong Kong's leader has announced a significant easing of tough pandemic-control measures from next month that will include halving the quarantine period for travellers arriving in the city and lifting bans on flights from nine countries.

After conceding last week that the public had reached the limits of tolerance for some of the strictest anti-pandemic measures in the world, Chief Executive Carrie Lam Cheng Yuet-ngor on Monday revealed that following an interim review, the government would ease restrictions on arrivals from April 1, while putting on hold a contentious plan for compulsory universal testing of the entire population.

While she announced that businesses would start reopening in phases from April 21, she did not give a timetable on the all-important resumption of normal travel between Hong Kong and mainland China.

"To really map out a longer-term road map, not only in dealing with this particular wave but also a future wave, and not only in dealing with Covid-19 but perhaps another virus in future, we do need to do more monitoring of the epidemic development, including what the World Health Organization has to say about this pandemic," Lam said.

"We have to listen more carefully to the experts, both locally and from the mainland."

Despite the planned relaxation of social-distancing measures from next month, Lam stressed that this did not mean the city was embracing the type of "living with the virus" strategy that has been adopted by many countries.

The business sector and travellers largely welcomed the easing of restrictions, but some complained that a phased reopening over three months was too slow and more businesses would shut down if they could not reopen in April.

"Many experts regard the peak as likely to be over. Hong Kong's epidemic development has gone on a downward trend," Lam said, noting the explosive growth of the epidemic had slowed.

This was also indicated by a few factors including a drop in the reproductive number of the virus, she explained.

Hong Kong confirmed 14,068 new Covid-19 infections on Monday, the third day in a row the tally was below the 20,000 threshold. Another 223 Covid-related deaths were reported, including 44 backlogged cases.

The city's tally of confirmed cases now stands at 1,061,758, with 6,119 related fatalities.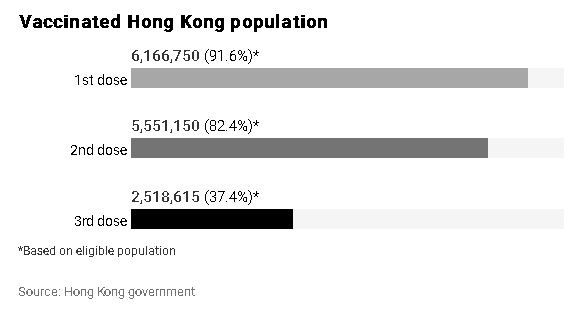 Lam suggested it was too early to provide a full road map to recovery, and Monday's announcement was "only a sort of stage report".

"I would advise that you need not draw any conclusion of what we are heading towards in the announcement that we have made today," Lam said.

"What is important is … we will always, as an international city and a very important business and aviation hub, have to take into account not only connectivity with the outside world but also connectivity with the mainland."

A source, meanwhile, said the Hospital Authority had updated its prescription protocol for Paxlovid and molnupiravir – the two Covid-19 oral drugs being used in the city – to allow patients aged 60 or older, from the previous threshold of 70 years, to use the medications.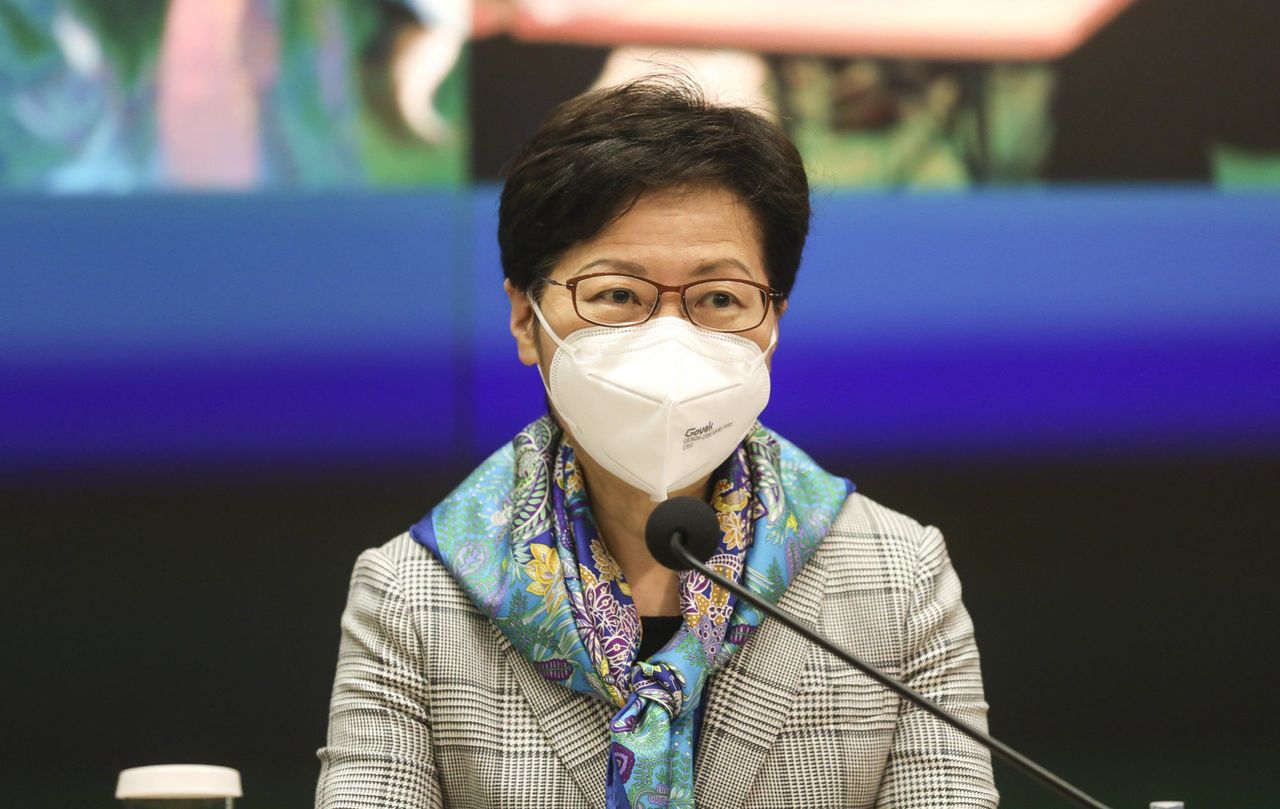 Chief Executive Carrie Lam.

Among the relaxed measures is the lifting of the ban on flights from nine countries – Australia, Canada, France, India, Nepal, Pakistan, the Philippines, Britain and the United States – from next month.

Applicable only to Hong Kong residents at this stage, returnees will need to be fully vaccinated, test negative for the virus no more than 48 hours before boarding and have a valid booking at a quarantine hotel for at least seven nights.

While they will be issued with a 14-day quarantine order on arrival, their hotel stay could be cut to seven days if they return a negative PCR test result on the fifth day, and negative rapid test results on days six and seven.

Lam stressed that lifting the flights ban was not a relaxation, rather a move to allow stranded Hongkongers to return, and to make the quarantine arrangements for both arrivals and locals consistent.

The universal testing plan would also be suspended, Lam said, citing advice from experts that it was not suitable to spend limited resources on such a large-scale exercise when the number of cases remained high.

She added that mainland experts also noted that Hong Kong was "weaker" in organising the community for universal testing. "They were being polite to say we are weaker – actually we are very weak."

There were doubts whether Hong Kong could, like the mainland, closely manage every small district and street to make sure not a single household would be missed under mass testing.

"If we went ahead with compulsory universal testing now, it would be very troublesome and chaotic," Lam added.

But she did not completely rule out universal testing in the future.

"When the time is suitable and conditions are appropriate, we will consider whether to use compulsory universal testing."

From April 21, social-distancing measures will be relaxed in three phases over three months, if there is no rebound in cases.

In the first phase, premises such as gyms, and beauty and massage parlours and religious venues will be allowed to reopen, with a cap of four people at each group.

Museums, and performance and sports venues under the government will also reopen. Restaurants will be allowed to offer dine-in services until 10pm – up from 6pm currently – with four diners per table allowed, up from two.

Groups of up to four people, as opposed to the current two, will also be allowed to gather in public, while a ban on private gatherings of more than two households will also be cancelled.

In the second phase, other types of businesses such as bars, pubs and karaoke parlours, as well as swimming pools and public beaches will be allowed to reopen. The cap on groups in restaurants and most other establishments will be raised to eight people, dine-in services will be extended to midnight and mask exemptions will be implemented for outdoor activities.

In the third phase, all caps on restaurants and bars will be lifted and operating hours will be further extended.

Face-to-face classes will resume on April 19 at the earliest, starting with primary and international schools, as well as kindergartens. Secondary schools will reopen after the Diploma of Secondary Education exams, which authorities aim to hold from April 22.

Government pandemic adviser Professor David Hui Shu-cheong said the easing of rules was being done at the right pace.

"The relaxation of measures has to be done gradually. If it is done too quickly, there could be a strong rebound [of cases]," Hui said.

He said lifting the flight bans would not pose many problems, as the Covid-19 risk was greater in Hong Kong than in the nine countries.

Hui said he believed universal testing could be done when the daily caseload hovered around the three-digit mark without further downward trends.

Respiratory medicine specialist Dr Leung Chi-chiu agreed that the city was not acting too slowly in relaxing the restrictions, as time was needed to vaccinate more elderly people and young children.

He said the government would need to look at the global supply and development of vaccines and drugs, which were tools to allow the city to coexist with the virus.

Entertainment tycoon Allan Zeman, who earlier publicly appealed to Lam to ease the restrictions, said she had made the right decision.

"It is not an easy decision but in essence, it's very pragmatic. Today is a great step forward for Hong Kong and her decision brings people out of depression," he said.

Zeman said he believed executives who were planning to leave the city would change their mind, while those who had left might consider returning.