Chief Executive Carrie Lam says Omicron variant has brought about the worst wave of coronavirus infections in two years.
Key points:

– Screening capacity to be increased to 300,000 tests a day by setting up laboratory at stadium in Ma On Shan this month with mainland help

– Universal rapid antigen tests as supplementary tool for early detection

– Overhaul of isolation rules: Penny's Bay quarantine centre will gradually become a community isolation facility for asymptomatic patients; home quarantine will be allowed for family of close contacts or even close contacts at a later stage

– Government to set up a third contact-tracing office

– Sewage sample tests to be increased to 100 a day

– One more vaccination centre to be set up in Causeway Bay

– Executive Council to approve measures to further tighten social-distancing rules and premises to be covered by vaccine pass next Tuesday

– At least HK$20 billion will be sought in mid-February for sixth round of anti-epidemic fund

Hong Kong will secure millions of Covid-19 rapid testing kits to carry out voluntary "universal" screening and introduce home quarantine for close contacts of patients' families to ease the strain on facilities, with the city's leader warning that the worst wave of infections in two years is under way.

Chief Executive Carrie Lam Cheng Yuet-ngor also said authorities would boost the city's daily coronavirus screening capacity from 100,000 tests to 300,000, partly by re-establishing a laboratory at Ma On Shan sports centre.

Lam was speaking shortly after health officials confirmed another 130 new local cases, with untraceable infections accounting for almost half.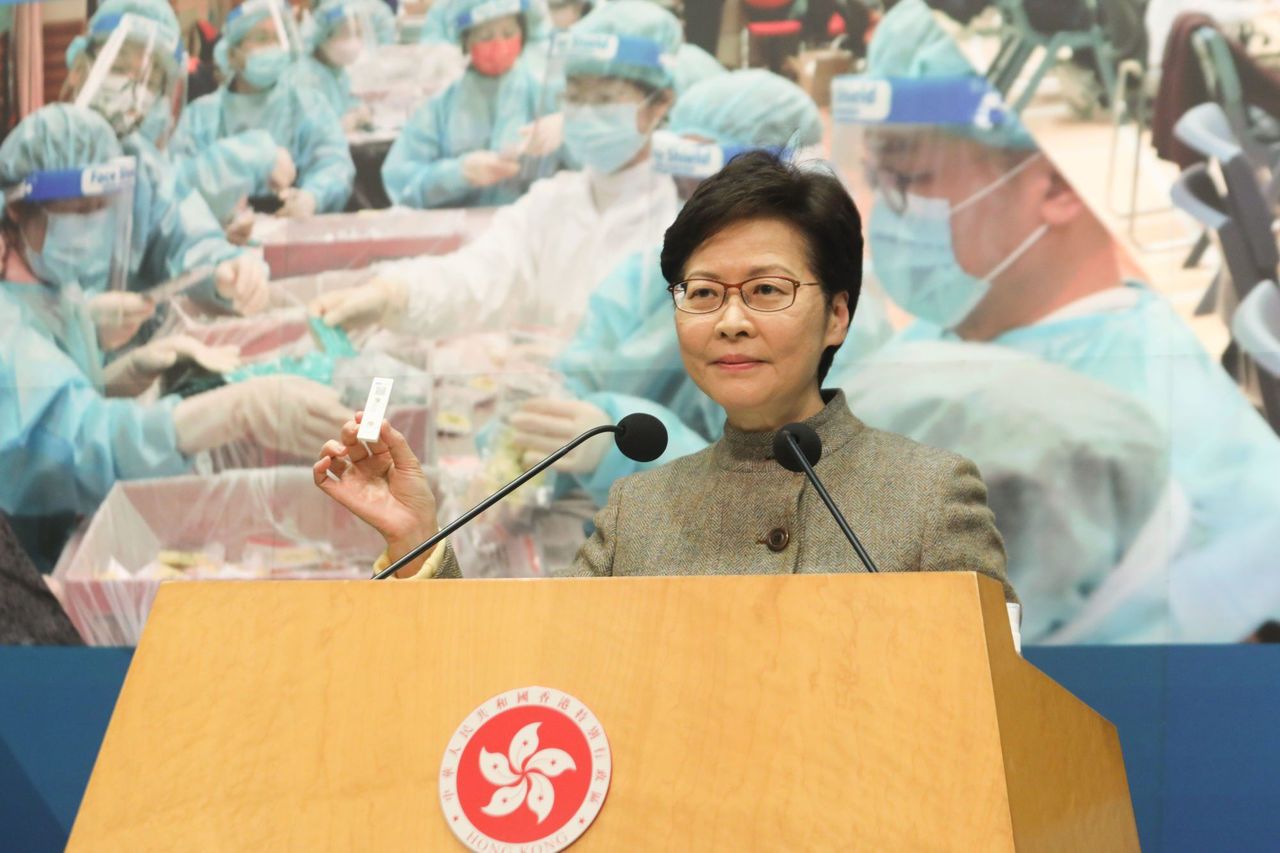 Chief Executive Carrie Lam displays a rapid test.

"We are procuring RAT [rapid antigen tests] in the tens of millions. We think they will arrive next week. Each member of the Hong Kong public will obtain one kit to do a test," she told a press briefing, adding it would be "100 per cent voluntary" and could not replace lab tests for those subject to mandatory screening.

The chief executive said the government also needed to boost its capacity for contact tracing and sewage testing. A third contact-tracing office would be set up, while authorities would seek to conduct 100 sewage tests a day in different districts.

Lam said Penny's Bay quarantine camp would be gradually converted into an isolation centre for asymptomatic patients. Families of close contacts would be allowed to isolate at home if infections kept on rising, and the measure would be extended to close contacts at a later stage, she said, without giving a timeline. Those under home confinement would need to wear a tracking bracelet.

She said the Executive Council, her de facto cabinet, would discuss further tightening of social-distancing rules next week, including adding more premises to the government's vaccine pass, which will begin on February 24. Eventually people would have to take a booster shot to enter them.

Lam added that children would not be subject to the vaccine pass because at the moment only one type – the Sinovac shot – was available to them

Lam said at least HK$20 billion would be injected into the government's anti-epidemic fund.

Health officials, meanwhile, said that of latest confirmed local cases, 59 were untraceable, or 45 per cent of the total. One imported case was also confirmed. A number of untraceable cases were identified in Sham Shui Po district.

The city's overall coronavirus tally stands at 14,715 infections, with 213 related deaths.

A total of 195 preliminary-positive cases were also reported on Friday.

Since the start of the fifth wave in late December, around 250 cases have been from unknown sources.

Lam said she had sought help from the Beijing and Guangdong governments, especially on boosting the city's testing capacity. Medical professionals from mainland China had come to Hong Kong in past weeks to assist with testing in existing laboratories, and more would arrive to help in the new Ma On Shan lab, she added.

Pro-establishment lawmakers had urged the chief executive to learn from the mainland's approach in adopting citywide universal testing. But Lam said the current targeted testing measures were more effective.

Noting the city had carried out a mass testing programme in September 2020, Lam said 1.7 million people were screened and only 45 cases were found.

Lam said the Omicron variant had brought about the worst wave of coronavirus infections in two years.

"The [current outbreak] has not gone out of control, but it's very serious and critical, and we still haven't seen the peak of this wave," she warned.

"The city's government will not give up, we will do our utmost to achieve zero infections, to contain the coronavirus, and I hope residents will not give up either. We'll not surrender."

On whether Hong Kong would move towards living with the virus, Lam said she would consider it only when the vaccination rate was higher and urged the elderly to get inoculated as soon as possible.

University of Hong Kong epidemiologist Professor Benjamin Cowling said the additional measures would slow down transmission of the virus but he did not think they would be enough to bring the fifth wave under control.

While Lam said the objective was still containment, Cowling highlighted that she had introduced a number of changes more consistent with a transition towards mitigation, such as allowing home quarantine of families of close contacts and increasing vaccinations through the vaccine pass.

However, he added that Lam excluded key necessary changes, such as ending compulsory isolation of confirmed cases and their close contacts outside the home, and ending travel restrictions.

Executive councillor Dr Lam Ching-choi, who is also chairman of the Elderly Commission, said society had to move forward even if the vaccination rate among the aged could not reach 90 per cent, noting they had been given more than a year to discuss with their families and consider whether to get the jabs or not.

"Hong Kong is after all an international society. It cannot shut itself down [to the outside world] for a long time," he said.

Once the inoculation rate of the elderly reached 70 to 80 per cent, the government could start reviewing the arrangement for opening the borders, including quarantine time, and measures for vaccinated people.

But government pandemic adviser Professor David Hui Shu-cheong said the latest measures were a "solution when there are no other solutions", as quarantine and hospital spaces were filling up.

"The greatest fear is self-isolators will spread the virus to their family members, especially the elderly, in such crowded living environments as some of those in Hong Kong," Hui said.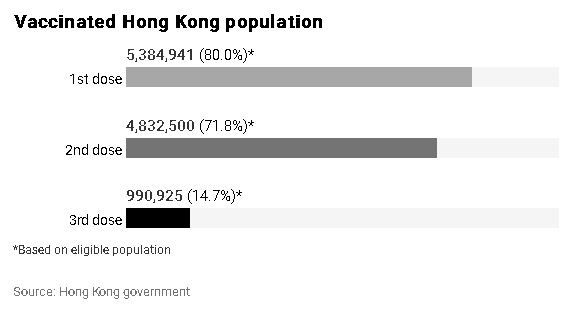 The city's first-dose vaccination rate stands at 79.8 per cent of the eligible population, but only 31.6 per cent of those aged over 80 have received their first dose.

Centre for Health Protection controller Edwin Tsui Lok-kin said the current outbreak was challenging due to more local cases being detected every day, with the number of infections without an obvious source rising.

"Previously less than 10 per cent were from unknown sources among the total number of cases every day now that's rising to 45 per cent, so it's quite worrying," he said.

Fifteen new cases were recorded at Hing Ping House in Tai Hing Estate in Tuen Mun, resulting in an extension of the lockdown until Saturday morning.

Tsui said that after evacuating some residents, more vertical transmissions were found, so more people would be sent to quarantine and another round of testing carried out.