Secretary for Transport and Housing Frank Chan says about 6,000 flats will be ready by middle of next year, with construction for remaining 10,000 to be completed in mid-2023.
Hong Kong will be able to build 16,000 transitional homes by mid-2023, the city's housing chief has revealed, accounting for 80 per cent of such flats the government has promised to provide.

Secretary for Transport and Housing Frank Chan Fan delivered an interim progress report on Saturday at a government forum dedicated to the new form of affordable accommodation, which was mooted three years ago to ease the housing shortage in the short term.

"Up until now, almost 2,000 transitional housing units are already up and running," he said. "By the middle of next year, 4,000 more units will come into existence, while construction on 10,000 more will be finished in mid-2023."

Chief Executive Carrie Lam Cheng Yuet-ngor had pledged in her policy address last month to increase the overall supply of such homes to 20,000 from the current 15,000, and Chan said "building 15,000 transitional housing flats will be expected in due course".

Transitional housing is a 2018 government initiative to help low-income groups living in poor conditions, such as subdivided flats, who have not been able to move to public housing. The average waiting time for such homes in Hong Kong is 5.8 years.

The initiative relies on public departments and private developers to contribute their old facilities or idle land for authorities to convert into public housing.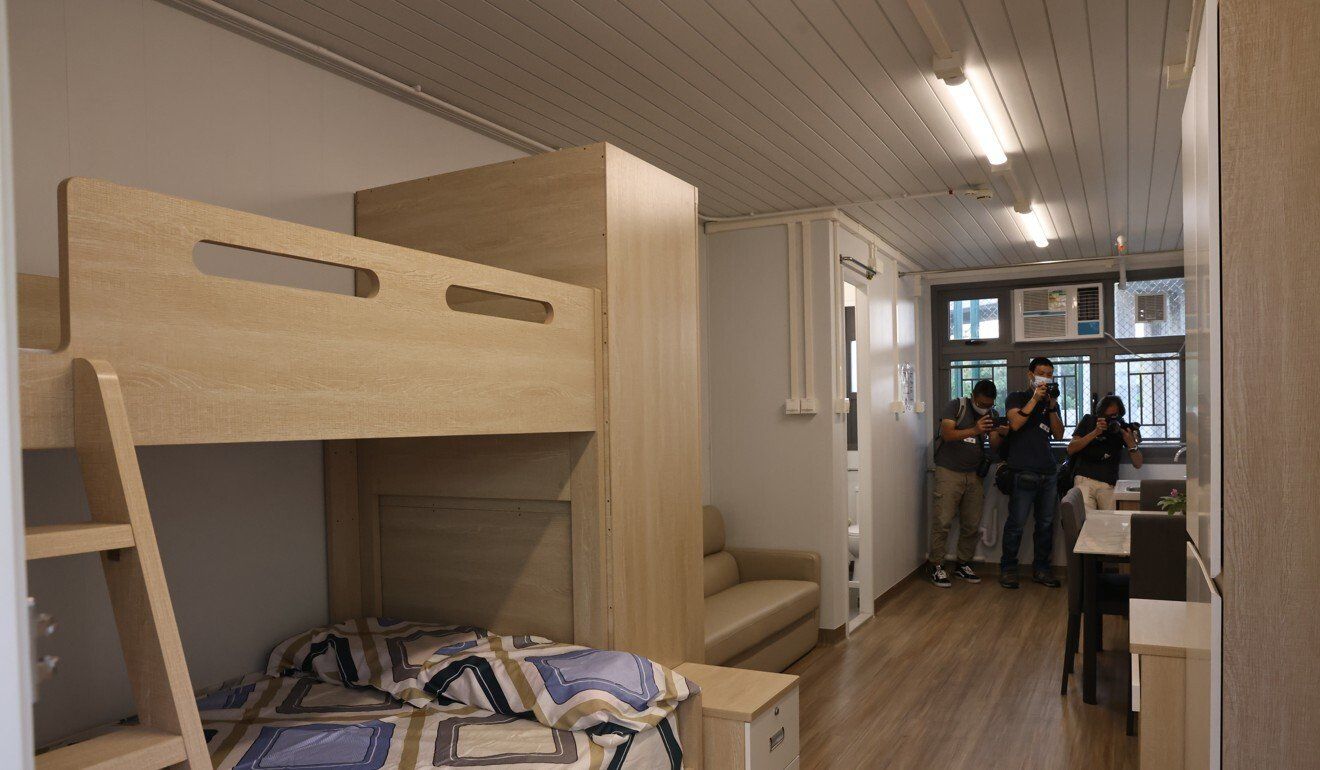 The transitional housing project in Yuen Long is expected to provide more than 2,000 flats managed by Pok Oi Hospital.

Recent projects include the Trackside Villas in Tai Po – formerly staff accommodation for rail operator MTR Corporation – and Lok Uk, which involved turning an abandoned primary school in To Kwa Wan into liveable space.

The latest site in Kwu Tung, Yuen Long, would provide more than 2,000 flats managed by Pok Oi Hospital.

Chan said many had reservations when the idea of transitional housing was first raised, but that "after two years of hard work, the seeds we sowed have taken root".

He commended the efforts of civic groups, businesses and authorities in getting the public to accept transitional housing, and also thanked land and property owners for allowing the government to tap their resources.

The housing chief said an innovative technique called modular integrated construction, which allowed units to be manufactured in a prefabrication factory before being transported to site for assembling in a building, helped speed up processes.

According to Chan, the technique enables disassembly and reuse, and is thus suitable for transitional housing, which is often built on temporarily available land and requires constant moving.

As part of efforts to solve the housing crisis, city leader Lam had also announced plans to develop Hong Kong's border area with mainland China into a Northern Metropolis, which would supply more than 900,000 flats for some 2.5 million people and be home to 650,000 jobs, including 150,000 related to innovation and technology.

As completion could take as long as 20 years, transitional homes are among the few immediate measures in Lam's policy address aimed at tackling the shortage.