City's future fuel mix could see wind make up 3.5 to 4 per cent, while waste-to-energy generated from planned incinerator could reach 3 to 4 per cent and solar power form 1 to 2 per cent.
Hong Kong will increase the share of wind, waste-to-energy and solar power in its electricity generation sources as it moves towards a 2050 carbon neutrality target, the environment minister has said.

The city will also explore importing hydrogen for use as a possible power generation source, while a commissioner for a new climate change office set up under the Environment Bureau will be the "focus point" in efforts to cut carbon emissions.

Secretary for the Environment Wong Kam-sing announced these measures on Friday as he revealed the updated Climate Action Plan 2050.

"I would like to emphasise that decarbonisation must [not only] be done by the government, but also by the business sector and residents," Wong said. "The government would like to be a leader to demonstrate our commitment to combating climate change."

The city was battered by torrential downpours on Friday, prompting the Hong Kong Observatory to upgrade its rainstorm warning at 11.45am to black – the highest level and one that was last issued on June 28. The warning was downgraded to red an hour later and then lowered to amber at 5.45pm. One person died after scaffolding collapsed in Happy Valley.

Sandy Song, an assistant director at the Observatory, said it was only the third time the city had seen a black rain warning in October, adding that such extreme weather showed the urgency for decarbonisation.

Local green groups remained unimpressed with the long-delayed update, saying it "could not catch up to climate change" and called for more aggressive action to raise the share of clean energy and switch to electric vehicles.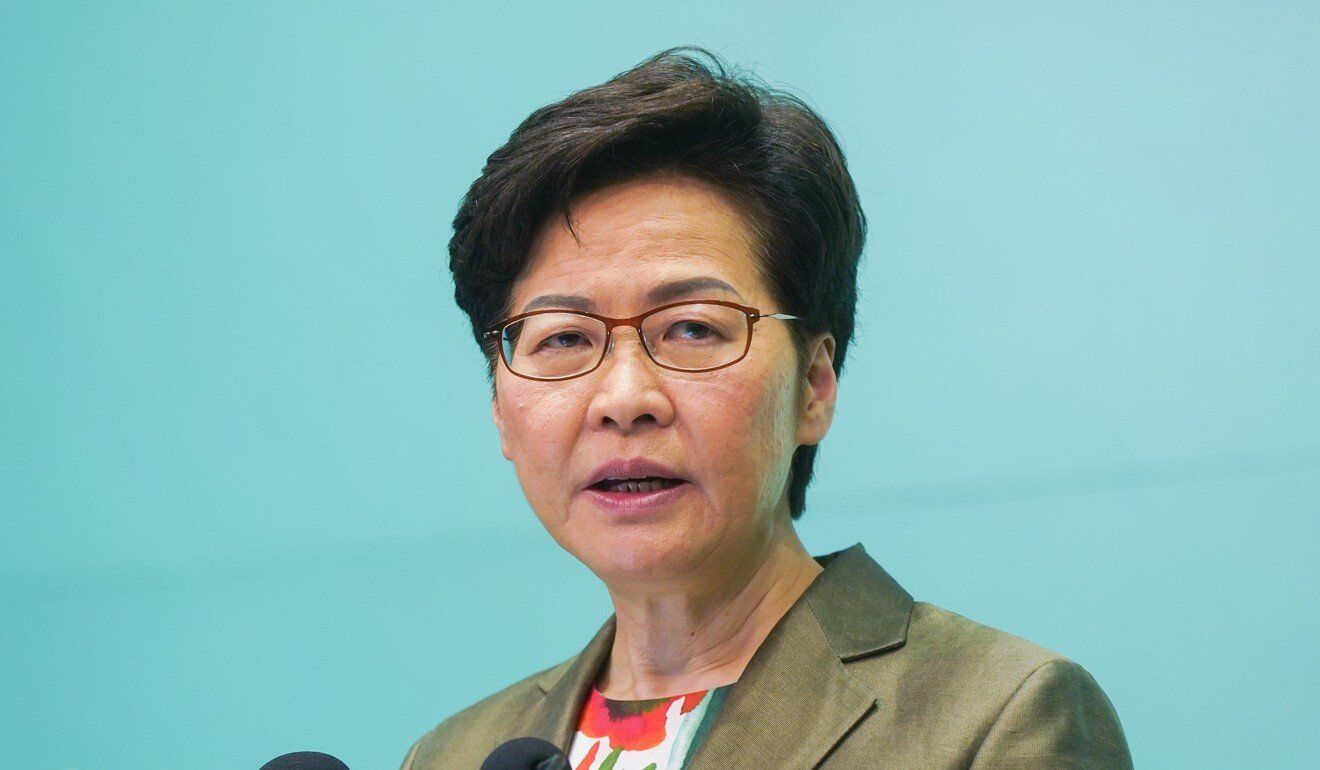 Chief Executive Carrie Lam outlined climate initiatives in her policy address on Wednesday.

Chief Executive Carrie Lam Cheng Yuet-ngor had said during the final policy address of her current term on Wednesday the city would phase out coal
for daily electricity generation by 2035 and increase the share of renewable energy to up to 10 per cent by the same year.

Currently, coal accounts for a quarter of the city's fuel mix and natural gas half, while nuclear power makes up the bulk of the remainder. Renewables form less than 1 per cent.

Wong detailed the breakdown of the city's future fuel mix. Wind was likely to make up 3.5 to 4 per cent, while energy generated from a planned waste incinerator could reach 3 to 4 per cent. Solar power would make up 1 to 2 per cent after expanding a scheme to install panels on government buildings, public housing, reservoirs and landfills.

Wong also said the ambitious Northern Metropolis development plan would be a "carbon-neutral community".

In August, United Nations scientists released a "code red for humanity" report, after which Hong Kong scientists warned the city would suffer typhoons stronger than Mangkhut, pummelling heatwaves and even droughts if global temperature rises could not be kept within 2 degrees Celsius.

In the past nine months alone, Observatory statistics showed there were 53 "very hot days" and 57 "hot nights", breaking the record of 47 and 50, respectively, set over the entirety of 2020.

The climate change plan – which lays out measures to cut the city's carbon emissions – comes on the heels of Beijing's announcement at the UN General Assembly last month it would stop building coal power plants abroad.

Officials said renewable energy was the first choice in the effort, but did not rule out increasing the proportion of nuclear energy, which currently stands at 25 per cent.

Hong Kong would also start exploring the possibility of using hydrogen to generate power, but Millie Ng, a deputy secretary for the Environment Bureau, said any zero-carbon energy sources would need to be evaluated on the reliability of supply, stability and cost.

She added it was too early to predict the proportion of other power sources in the fuel mix after 2035 as technology – such as wind, solar and hydrogen – would continuously develop.

CLP Power, one of Hong Kong's two electricity companies, has already signed an agreement with General Electric to study the hydrogen option.

Raymond Poon, acting director of the Electrical and Mechanical Services Department, said the government was considering bringing energy-intensive structures such as data centres and hotels under the Buildings Energy Efficiency Ordinance, which regulates the energy efficiency of buildings.

Green finance would be a key to encouraging more sustainable development projects, and a new round of government green bonds worth HK$175.5 billion (US$22.5 billion) for a five-year period would be issued within this financial year. The government previously issued two such rounds worth US$3.5 billion.

Meanwhile, a trial of hydrogen fuel cell buses and other heavy vehicles, such as cross-border cargo trucks, will begin within the next three years.

Ng said the exact details, such as the number of vehicles involved, where they would be sourced from and the routes to be used, would need to be ironed out with the relevant companies.

KMB said it would support efforts to test hydrogen fuel cell buses, adding it was expecting to increase the number of its electric buses to 500 by 2025, making up one-eighth of its entire fleet.

Lam Chiu-ying, a former Observatory director who had been part of an advisory group running a public engagement project on the plan, welcomed the clearer targets.

"Previously, they refused to include hydrogen in the agenda. Some officials told me hydrogen storage tanks could explode," he said. "But it's good they are considering it now."

He urged the government to take a collaborative approach to securing green hydrogen, which is generated using renewable energy, from mainland China.

"If they don't and the supply is taken up by other mainland cities, then we can only rely on nuclear, but people would almost certainly oppose that move," he said.

Lam said he hoped more concrete and immediate action could be taken to switch to electric commercial vehicles. He added that wide behavioural changes on the part of residents were necessary, as "we can't still keep wasting electricity even after we switch to renewables".

However, other activists were not as impressed with the latest proposal. Hahn Chu Hon-keong of The Green Earth said the "climate action plan won't be able to catch up to climate change", particularly as extreme weather events became more common.

As the proportion of other power sources in the fuel mix was not defined, Chu said he was worried the government was "opening the back door to use more nuclear energy".

He also said the government would likely not be able to make the Northern Metropolis carbon neutral if it could not decarbonise the power sector.

"They said the Kai Tak development would be carbon neutral, but that has not materialised," he said.

"But I do think there is sincerity in this plan. The government just needs to capitalise on each five-year review of the action plan to push forward on decarbonisation."