The move, which will see 200 passes a day distributed at vaccination centres, is intended to boost flagging take-up among older residents; city confirms just two imported cases on Saturday.
Hong Kong health authorities will as early as next week begin handing out 200 passes a day at the city's Covid-19 vaccination centres allowing walk-ins by residents aged 70 and above to boost a flagging take-up rate among the elderly, the civil service minister has said.

The move, revealed by Patrick Nip Tak-kuen, came as the city confirmed two imported – and zero local – cases on Saturday, taking the city's tally to 11,975 infections and 212 related deaths

The two cases were arrivals from the United Arab Emirates and United States, with the latter individual having received two jabs of the BioNTech vaccine in Hong Kong in April and May.

Separately, the Hospital Authority announced that the 13-year-old daughter of a Saudi Arabian consulate worker whose family had their quarantine
exemption revoked this week for breaking home-isolation rules had fallen critically ill.

The teen, infected with the more transmissible L452R coronavirus strain, is the only one of the city's 32 Covid-19 patients in hospital to be classified in that state.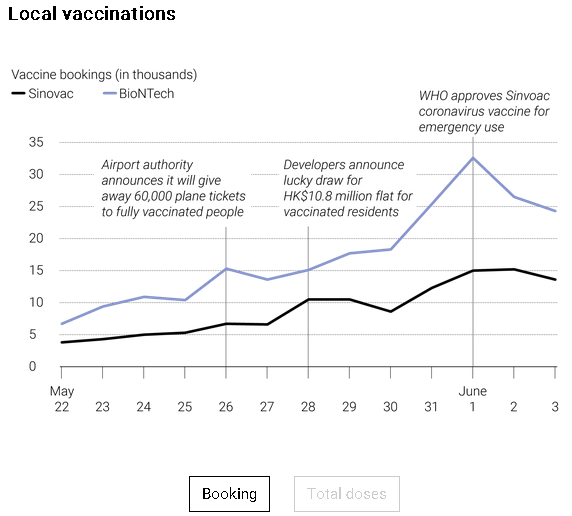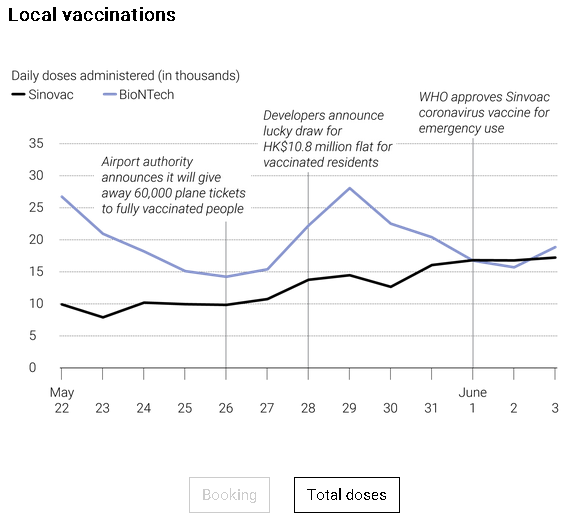 On Friday, the city logged its highest number of vaccine shots administered in a single day, at 70,570.

But the inoculation rate among the elderly remains low, with just 6 per cent of those over 80 having received their first jab, and 28 per cent among those above the age of 60 having done so, according to Nip.

"The figures are disappointing," the minister told a local radio show.

To tackle the problem, the government would introduce a walk-in policy for those over 70 as early as next week, he said.

Each day at 7.45am, 200 tickets would be handed out at more than 20 community vaccination centres, sparing the elderly the need to preregister online.

The scheme would next be extended to those over 60 years old, Nip added, also revealing the overall vaccination rate among civil servants had now reached 65 per cent.

The minister said the vaccination programme had seen an "enthusiastic response" lately after a sluggish start, predicting that over 70 per cent of the population would be vaccinated by October if 30,000 people or more received a jab every day.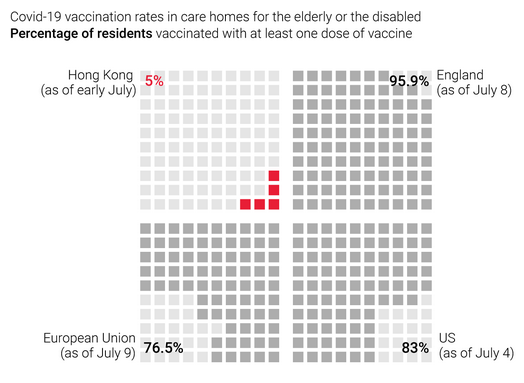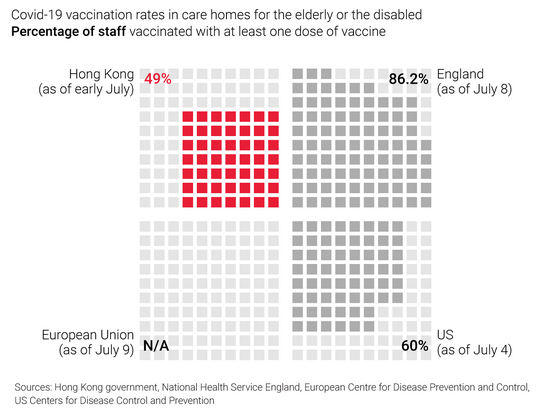 Since the vaccination drive began in February, 3 million people, or 40 per cent of the population, have received at least one jab, while 2.21 million have had both.

Speaking to reporters on Saturday, welfare minister Law Chi-kwong conceded that the vaccination rate at care homes for the elderly was "a bit too low", saying the government was now providing simpler information for residents to help them make their decision.

"We're telling people that if they have been receiving flu vaccines all the time, they can use these vaccines," he said.

A previous Post check of available data found the city had fallen well behind other similarly developed economies in vaccinating residents at care homes, with just 5 per cent of those living in facilities for the elderly and disabled having received at least one jab as of early this month.

That compares miserably against the 95.9 per cent vaccination rate for the group in England, 76.5 per cent in long-term care facilities in the European Union and more than 80 per cent in the United States.

In a radio appearance earlier in the day, Law also rejected claims that the government's plan to require unvaccinated staff at nursing homes and residential care facilities for the elderly and disabled to be tested each week was a tactic to force their inoculations.

Currently, these employees only need to undergo screening every 10 days, a free service provided at designated centres.

He said there was still a risk even when workers were screened every seven days, because those who contracted Covid-19 variants could fall ill within three to four days on average, meaning officials would need to keep monitoring the situation.

Law added the government was considering charging for certain testing services for some residents, asking why the government should keep providing free screenings for those who refused the jabs without a medical reason.

No timeline had been established for changing the policy, he said.