The boy, who cannot be identified because he was only 13 years old at the time, also admitted taking part in an unlawful assembly in Mong Kok that night.
An underage boy has admitted carrying two firebombs into Prince Edward MTR station on August 31, 2019, the same night its platform became a scene of chaos as police stormed the concourse in pursuit of anti-government protesters.

The boy, who cannot be identified because he was only 13 years old at the time of the offence, also admitted taking part in an unlawful assembly at the junction of Nathan Road and Nelson Street in Mong Kok earlier that night.

The District Court heard on Friday that the protests had originally started in the afternoon on Hong Kong Island, where the Civil Human Rights Front had held a march from Chater Garden in Central to Beijing's liaison office in Sai Ying Pun without notifying police.

The procession later took a turn for the violent, and spilled over to Kowloon, spreading into Tsim Sha Tsui and Mong Kok.

At about 10pm, around 100 protesters had gathered at the junction of Nathan Road and Nelson Street, most of them wearing masks and black attire, with some armed with walking sticks, umbrellas and batons.

The boy was caught on camera moving items such as bricks and styrofoam containers into the street to set up a roadblock, preventing vehicles from passing and hurling a plastic box at a double-decker bus to stop it from moving forward.

Public prosecutor Jennifer Tsui Sin-chi said police began dispersing the crowd at about 10.32pm, and protesters, including the boy, rushed into Mong Kok MTR station, damaging facilities as they went.

Some 20 black-shirted protesters then boarded a train headed to Prince Edward, engaging in a heated dispute with some passengers, most of them middle-aged and elderly men, according to footage played in court.

At about 10.42pm, the train arrived at platform three of Prince Edward station, with some protesters alighting but staying on the platform as the dispute continued to escalate, with both sides brandishing sticks and umbrellas, and throwing objects at each other.

Minutes later, a woman who had been filming the scene was surrounded by protesters and pressed against the platform door, smashing the glass, while her phone was snatched away and thrown to the ground, Tsui said.

Police arrived at 10.53pm and intercepted the boy on an escalator connected to the platform at 11pm.

A subsequent search of his black backpack revealed two glass bottles filled with flammable liquid, as well as two lighters, three gloves, two masks, a cap, a black T-shirt and a laser pointer.

The boy remained silent under caution.

Tsui said the boy was 13 at the time, but knew that his conduct was "seriously wrong".

On Friday, he pleaded guilty to one count of taking part in an unlawful assembly, and another of possessing offensive weapons in a public place.

His defence counsel revealed that he had been diagnosed with attention deficit hyperactivity disorder and urged the court to consider community service.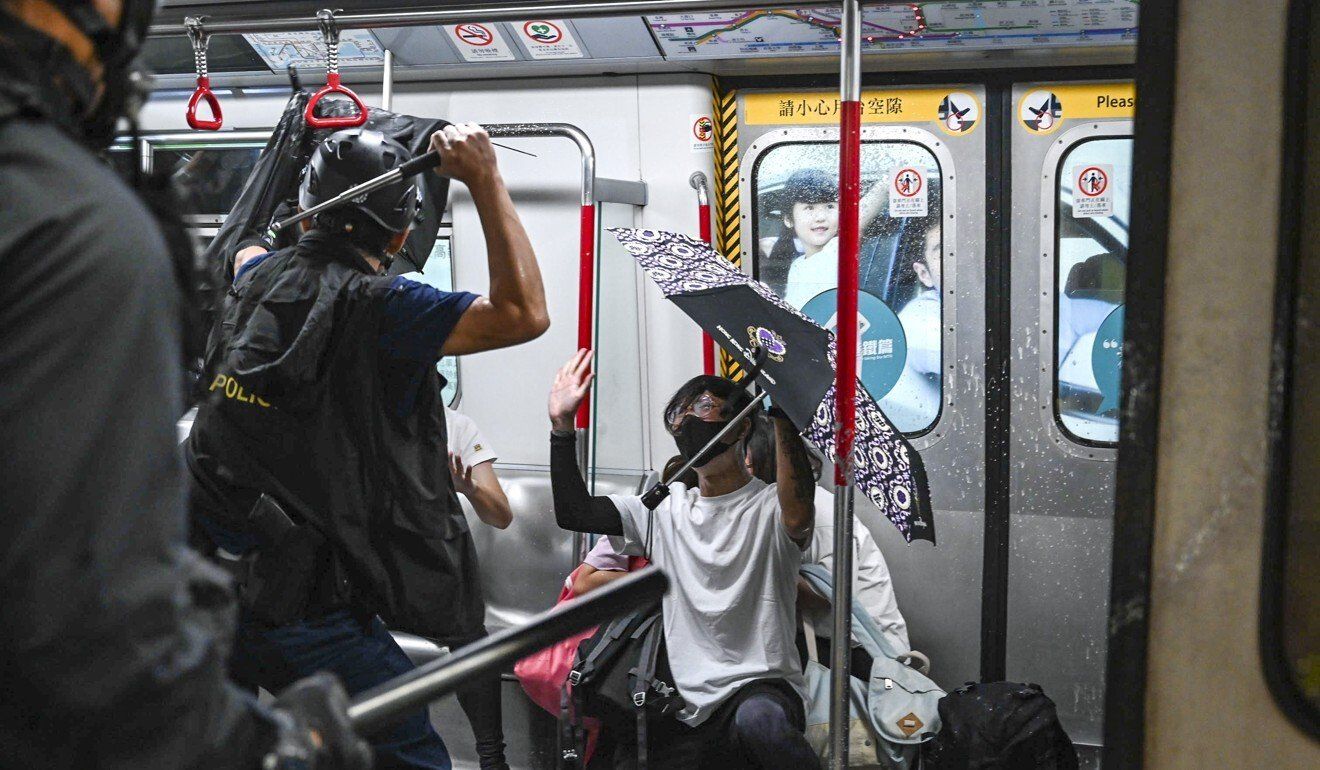 Chaotic scenes emerged from Prince Edward MTR station on August 31, 2019 after police stormed the concourse in pursuit of protesters.

But District Judge Frankie Yiu Fun-che said community service was not appropriate in light of the gravity of the case, and ordered reports to assess the boy's suitability for a custodial sentence in a detention, training or rehabilitation centre.

Yiu added that "because the case is serious", he would still consider imprisonment even if the boy was found suitable for the other correctional facilities.

Sentencing was adjourned until August 20.

Meanwhile, in a separate case on Friday, cook Lee Sing-chun, 22, was jailed for 33 months and fined HK$2,000 (US$257) for rioting at the junction of Wong Nai Chung and Leighton roads in Causeway Bay after 7pm on September 29, 2019.

The court heard Lee was among 30 black-clad protesters who hurled abuse, bricks and glass bottles at officers engaged in a stand-off.

They later charged the officers, with Lee striking one in the head with a walking stick.

He was immediately arrested and subsequently found to be carrying a Class 4 laser pointer, a two-way radio, a can of spray paint, a pair of scissors and a Guy Fawkes mask.

Earlier this month, Lee pleaded guilty to one count each of rioting, possessing offensive weapons in a public place, possessing articles with the intent to damage or destroy property and possessing a radio apparatus without a valid licence.

In sentencing, deputy district judge Peter Hui Shiu-keung said rioting was a serious offence but he considered the present case to be of limited scale, resulting in no injuries or damaged property, adding that Lee did not play a leading or inciting role.

Hui also acknowledged that Lee had an otherwise clear record, and showed genuine remorse since he committed the offence under the influence of the social environment at the time.

Rioting is punishable by 10 years in prison, but that term is capped at seven years when the case is heard at the District Court.