University of Hong Kong scientists identify genetic mutation responsible for causing painful skin condition eczema.
People who suffer from severe eczema may no longer have to endure painful and irritated skin after Hong Kong researchers discovered a genetic cause for the condition as well as a treatment that can produce life-changing results.

Researchers from the University of Hong Kong (HKU), along with 90 other investigators from 11 countries, found STAT6 gain-of-function disease could lead to an immune system malfunction and trigger serious allergic conditions such as eczema.

But they discovered a drug called Dupilumab, already available in Hong Kong, was effective against the problem.

Lau Yu-lung, HKU's chair professor of paediatrics, said it was known earlier that eczema could be caused by genetic mutations, but scientists had not identified the specific gene responsible.

"As now we clearly know what causes eczema, we will be able to have a great treatment plan. This is what precision medicine means," he said.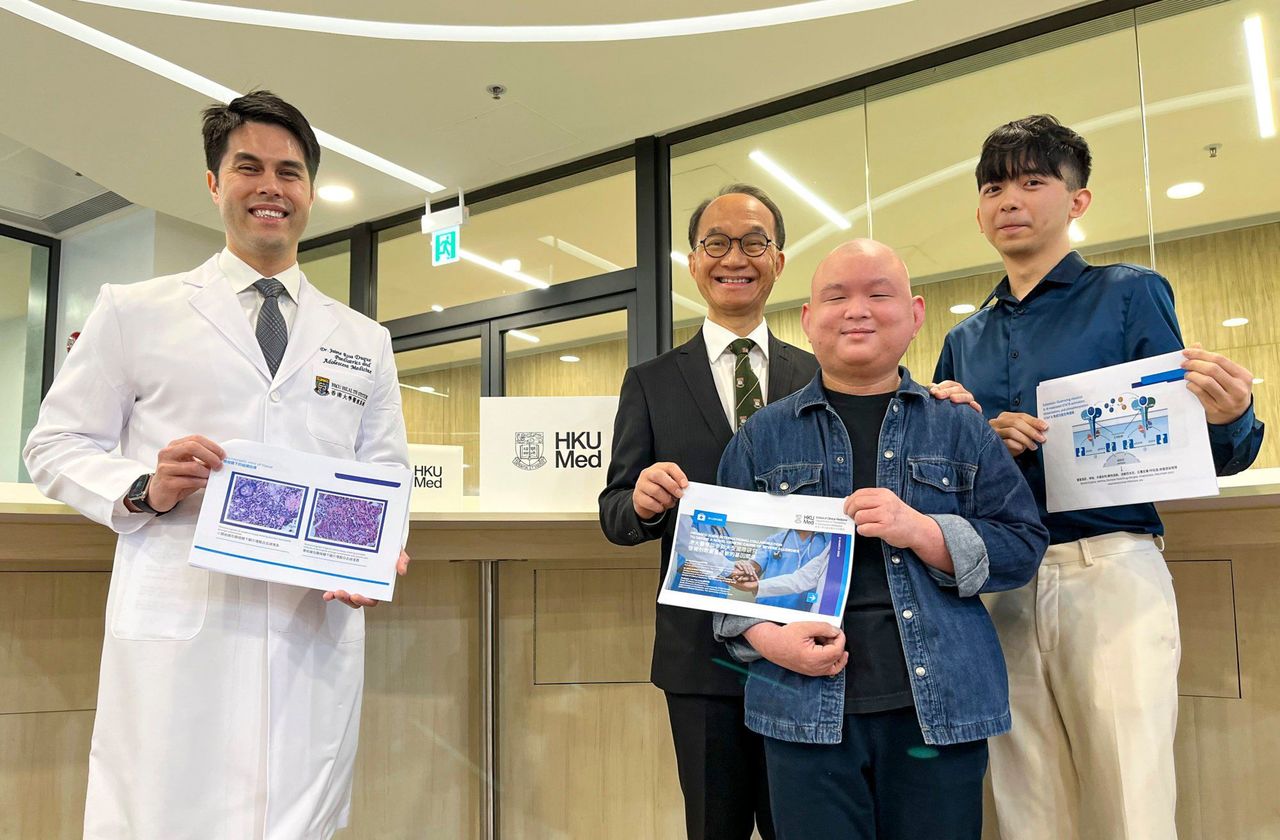 (Left to right) Dr Jaime Sou Rosa Duque, of HKU's paediatrics department of paediatrics; Lau Yu-lung, HKU's chair professor of paediatrics; Jesse Liao, the first Hong Kong patient found with a gene mutation that triggers eczema, and Daniel Leung, a research postgraduate student at the university's medical faculty.

Jesse Liao Jiezu, 21, who has suffered from severe allergies, including eczema, since birth, said his life had been transformed.

He lost all his hair and underwent several operations after he had severe infections in his skin and joints. His puberty was also delayed as he could not absorb nutrients because of organ damage.

But, after more than two years of Dupilumab injections, Liao's skin is no longer thick, scaly, itchy and painful.

He is also able to eat normally and grew 20cm (8 inches) taller.

"Before the treatment, I was a negative kid. I was always angry and sad about this condition. I could not even sleep, learn and hang out with my friends," Liao said.

"After that, my mental health started becoming positive … I can also work now … I can't believe it works for me because there was no medicine that worked for me in the past two decades. I'm surprised."

Liao added he now received the injections every four weeks and the frequency could be reduced based on his condition.

Lau said a dose of Dupilumab could cost HK$6,000 to HK$7,000 (US$764 to US$892) in the private sector and it was difficult to obtain in the public healthcare system without proof the patient was suffering from STAT6 gain-of-function disease.

"Now, knowing the cause of the disease, the government will understand why they have to prescribe the medicine with the support of academic papers," Lau said.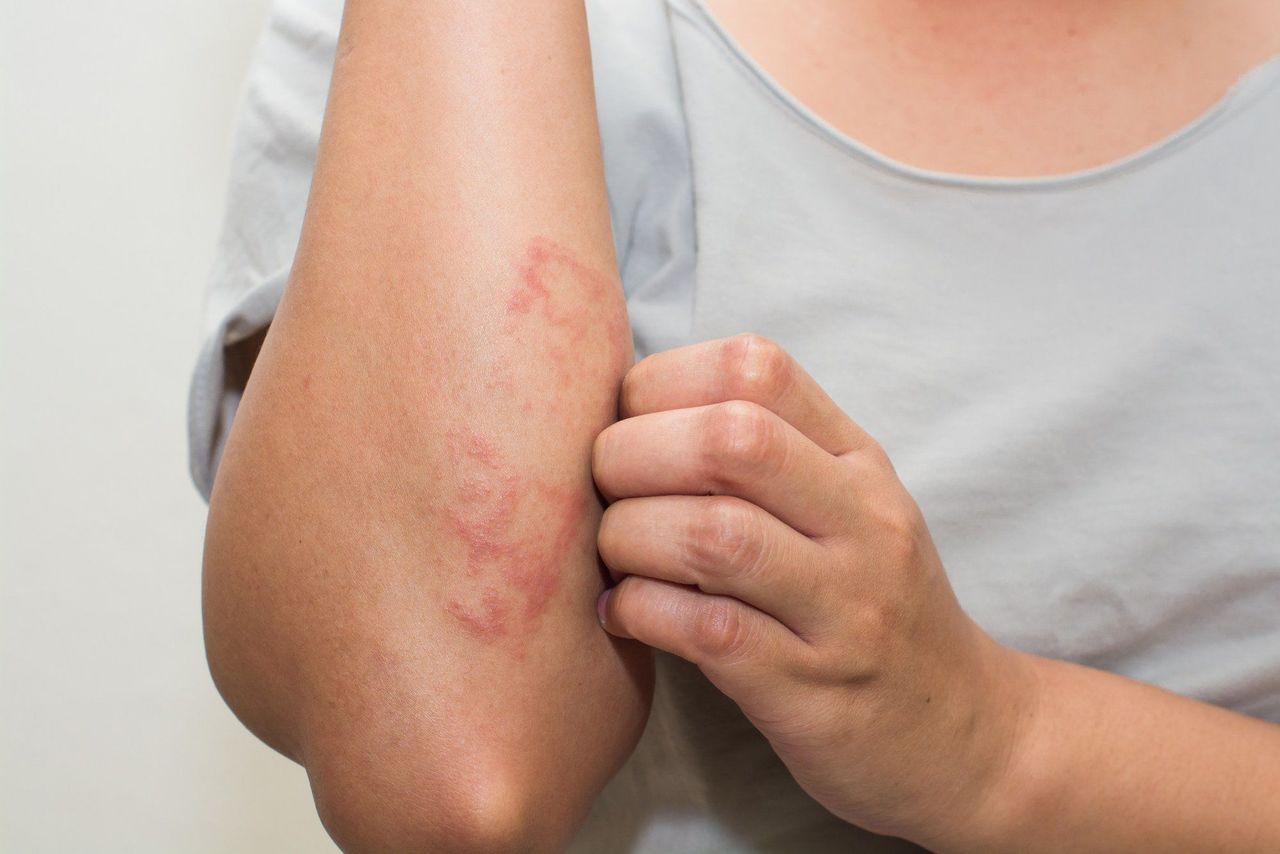 Patients with eczema can suffer psychological and physical symptoms.

Lau explained, however, that not all eczema cases were caused by the STAT6 gene mutation.

The study, which started in 2009, was published in the American peer-reviewed Journal of Experimental Medicine on Wednesday.

HKU researchers have collaborated with overseas academics since early 2022 and identified 16 patients from 10 families across three continents who suffered from the STAT6 gain-of-function mutation.

The gene mutation can also cause symptoms such as gastrointestinal disease, asthma, food and drug allergies and anaphylaxis – a severe allergic reaction that causes constriction of the airways and can kill.

Around 20 per cent of children around the world have eczema and patients suffer psychological as well as physical symptoms.

Skin with severe eczema might be dry, cracked, itchy, swollen and thickened, or even oozing and crusted.

The appearance of patients can be affected for a long time and sleep can be disrupted by severe itchiness.

Psychological health can also be affected by low-self esteem, stress, anxiety and depression.

Daniel Leung, a postgraduate research student at HKU's medical faculty and co-first author of the study, said that eczema and other conditions broke out after the genetic mutation affected immune responses.

"You can imagine STAT6 is a button, which is turned on, causing the machine to malfunction," he explained. "When STAT6 enters the nucleus, it will lead to severe allergic symptoms.

"Dupilumab can turn this button off, improving the condition."

Lau said, although Liao was the only patient diagnosed with the genetic mutation in Hong Kong, he believed there would be many more and that researchers around the world had also started testing more patients.

He appealed to people with severe eczema, asthma or multiple food and drug allergies to get tested for the genetic problem.