New code of conduct requires teachers to report potential illegal activities or 'morally deviant information.
Hong Kong teachers must actively promote national education and report potential illegal activities or "morally deviant information" under the government's revised code of conduct for the profession, with failure to do so potentially triggering deregistration.

Secretary for Education Christine Choi Yuk-lin said the revised code, which was announced on Thursday, provided clearer guidelines for teachers.

"We have stated the bottom line clearly for teachers to comprehend, it won't just be empty principles. This should help them," Choi said.

The former administration pledged to revise the code after lawmakers accused some teachers of taking part or inciting students to take part in illegal activities during the 2019 social unrest.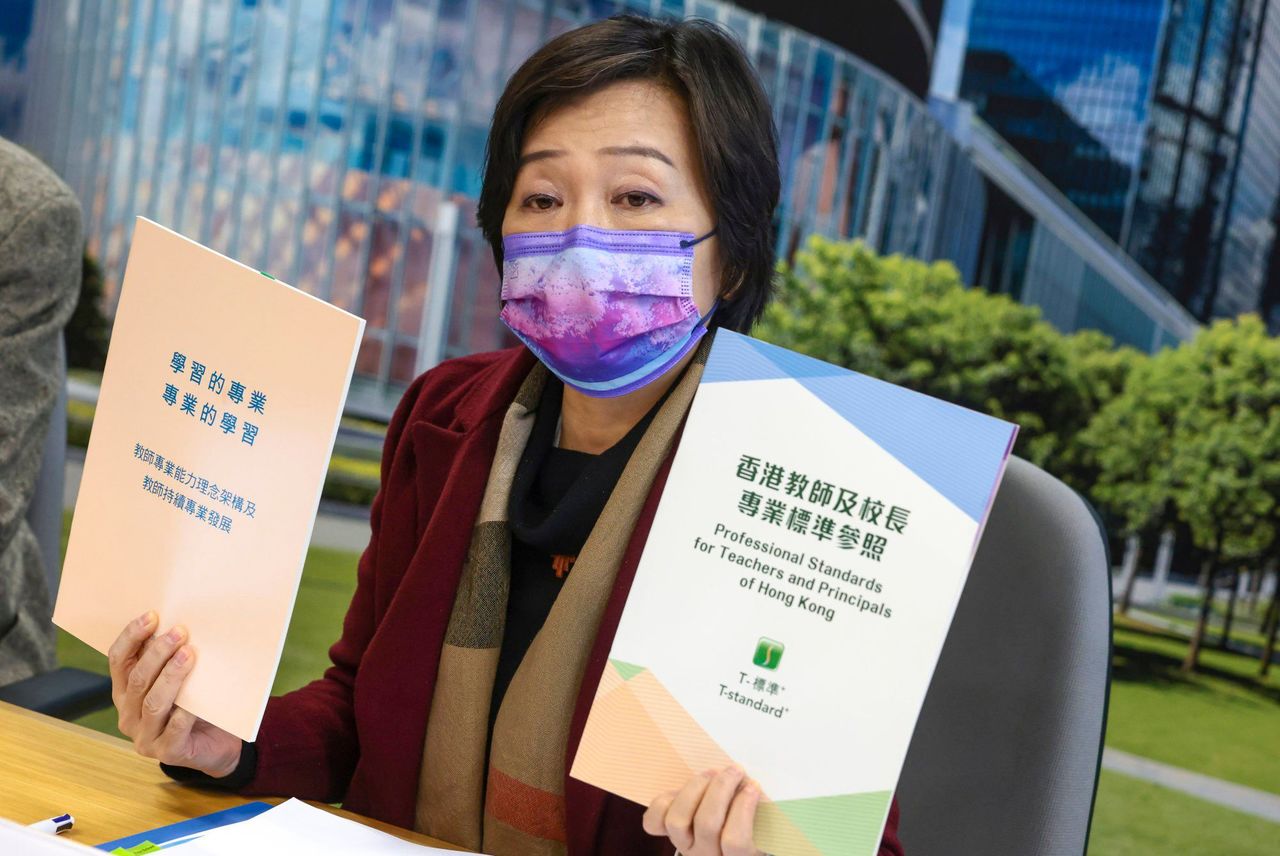 Christine Choi, secretary for education, holds up a copy of the new teachers' code of conduct.
The government in May also dissolved a self-regulatory body, the Council on Professional Conduct in Education, that investigated complaints for almost three decades, after it was accused of handling the unrest-related complaints too slowly.
The new code detailed eight principles for teachers to follow, including the need to "proactively support and promote national education, cultivating a correct perception of the country in students" and report possible illegal activities to the school or the police.
Teachers will also be required to abide by the rule of law, be a role model and respect others' privacy. They must also report "information which violates the law or widely accepted moral norms in society" to school management or the police.
Teachers were also advised to refrain from "choosing teaching materials that were misaligned with the Education Bureau and relevant guidelines".
Choi dismissed concerns that it would be difficult for teachers to handle controversial topics, such as the Tiananmen Square crackdown, under the new guidelines.
"Any trained teacher would know what to do," she said. "The eight to 10 lessons a day are like meals for students. If there is poison inside, the student would fall ill, this would affect their cognitive development."
Schools are required to compile an investigation report for the bureau on complaints against teachers, who will be given 14 days to respond if their cases are substantiated.
A task force comprising directorate grade education officials would then decide the penalty, ranging from warning letters to a deregistration period of at least three years and up to life.
If an educator is being considered for deregistration, he or she will have another 14 days to submit a statement defending their position.
If the defence is not accepted, the teacher concerned would have 21 days to submit an appeal to a panel, and a final appeal to the chief executive if the first attempt fails.
The bureau said those who were not deregistered for life could apply to register again after at least three years to prove that they were qualified to teach.
Eleven past cases were also included in the code as examples, including an incident where a liberal studies teacher was deregistered for continuously using large amounts of teaching materials deemed "biased, negative, false and deviant from the curriculum".
A subject panel head teaching citizenship and social development in a secondary school said she had already reminded her colleagues not to adopt self-made learning materials because it might put them at risk.
"We now only use the official materials given by the textbook publishers. Even the salesmen encouraged us to use their materials as teachers could shift the blame to the publishers if they are found to be improper," said the teacher, who did not want to be identified.
Wong Kin-ho, a secondary school vice-principal and chairman of the Hong Kong Education Workers Union, also said teachers covering sensitive subjects like citizenship and social development and Chinese history should pick materials vetted by the bureau.
Choi dismissed concerns that the new guidelines may limit classroom discussion and the use of school-based teaching materials amid fears of inadvertent missteps.
"We are talking about this because teachers have space [to design their own teaching materials]. If there was no space, there would be no need to discuss this," Choi said.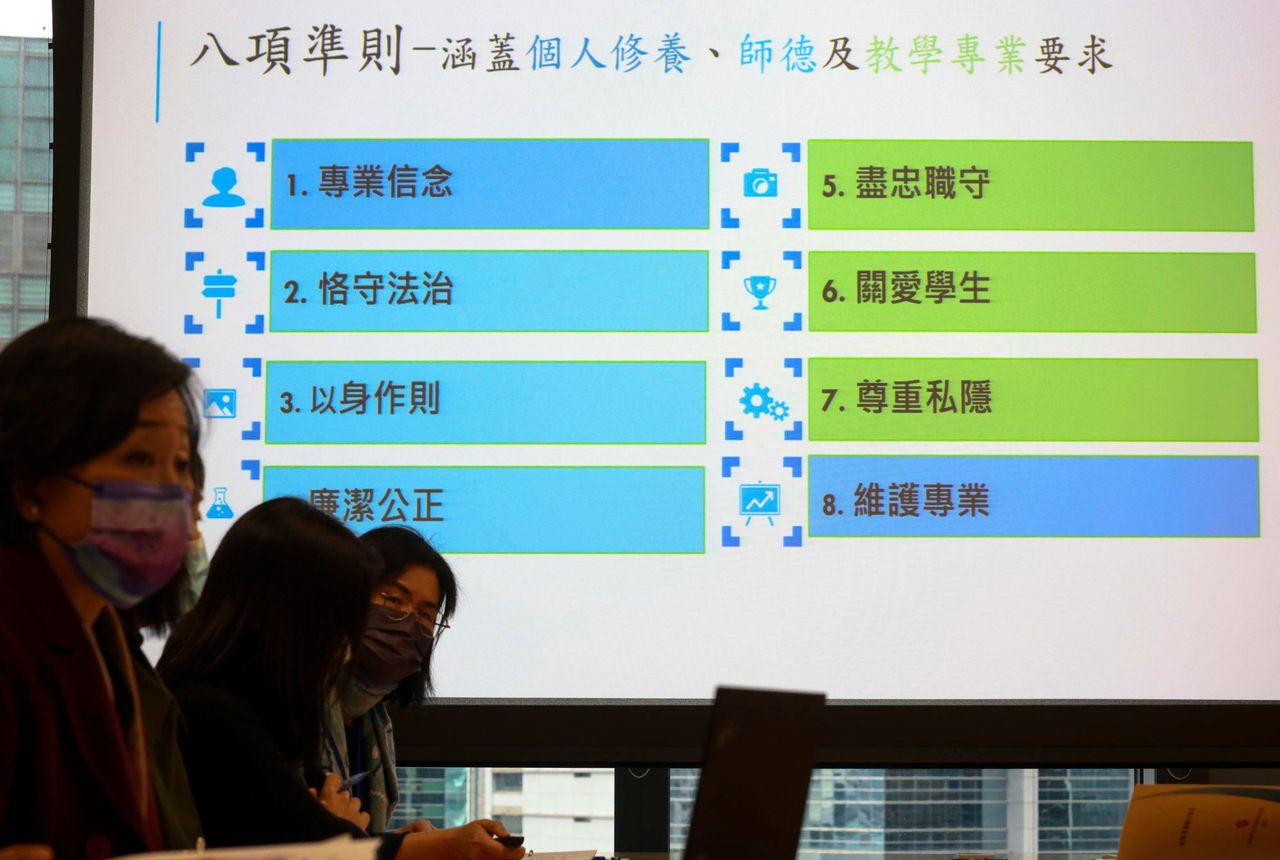 The Education Bureau announces the new code of conduct for Hong Kong teachers.

Lee Yi-ying, head of the Subsidised Secondary School Council, said teachers who refused to take part in activities promoting national education and the security law "might be in trouble" under the new code.

But she said she did not think the new guideline would lead to a higher teachers' turnover rate as the code was generally acceptable.

Lin Chun-pong, chairman of the Hong Kong Association of the Heads of Secondary Schools, urged the bureau to set up a statutory body that included principals and teachers to handle complaints, instead of solely allowing officials to process the cases.