The teacher's appeal revolved around accusations that the magistrate in his original trial was biased.
A Hong Kong teacher who was previously placed in a psychiatric facility while awaiting sentencing for assaulting a police officer during the 2019 protests
has been sent to jail after losing an appeal, with the court dismissing allegations of bias in his original trial.

Defendant Yeung Pok-man was sentenced to nine weeks in prison last year after being found guilty of kicking Sergeant Chung Wan-yip in the abdomen after the officer pulled him over on So Kwun Po Road in Sheung Shui while he was on his way to work during a citywide strike on November 11, 2019.

The 29-year-old was the first schoolteacher to be convicted in relation to the months of anti-government demonstrations that year, which were sparked by a now-withdrawn extradition bill.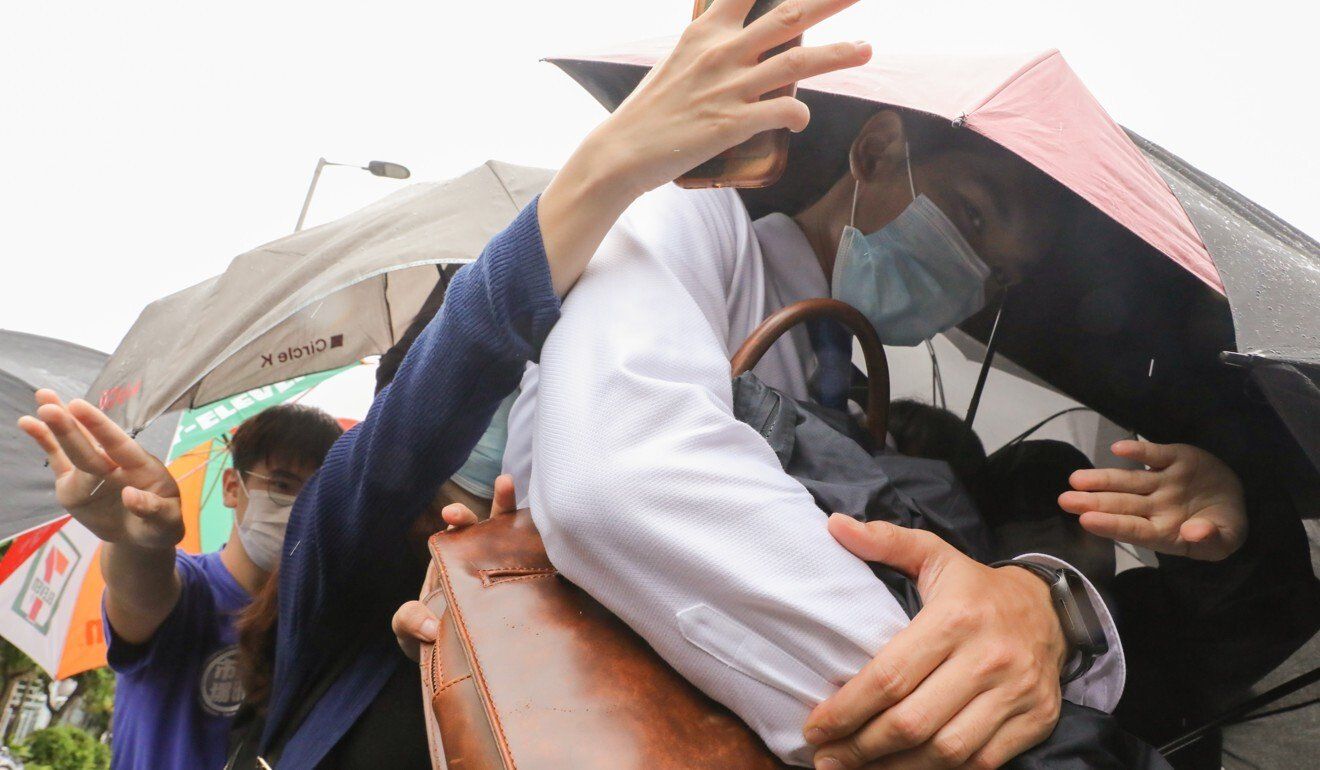 Yeung Pok-man leaves Fanling Court after being sentenced in his original trial just over a year ago.

He was dismissed by his primary school following the conviction and sent to a psychiatric facility for pre-sentencing assessment after Magistrate Debbie Ng Chung-yee questioned whether "his mental state was good enough for him to continue teaching".

Ng's decision and comments sparked an outcry, and she subsequently became one of three magistrates to receive thousands of complaints alleging bias, subjectivity and prejudice, prompting the judiciary to set up a new online channel for public feedback.

The judiciary still has yet to respond to the complaints, citing ongoing proceedings.

On Friday, Yeung was given a copy of the appeal judgment in the dock before Mr Justice Andrew Chan Hing-wai announced his decision. Yeung shook his head as he flipped through the 10-page document, before looking up to the public gallery and drawing his finger across his throat.

"In short, the grounds of appeal are insufficient and the appeal was dismissed," Chan said from the bench. "The nine-week sentence will be executed immediately."

Yeung's lawyers had raised four grounds of appeal, alleging that the trial magistrate was "seriously biased" against him and had interfered excessively during his trial, rendering the proceedings unfair.

They also complained that Ng had erred in accepting the testimony of three police officers involved in the case without considering the discrepancies in their accounts, adding that these prosecution witnesses had been given favourable treatment.

Chan, however, said it was worth noting that Ng's comments were only made at the sentencing stage, as per normal practice.

"That does not mean she was certainly prejudiced and unfair in handling the trial," he continued.

He added that he had carefully read Ng's detailed reasoning for her verdict and could not find any improbable or illogical points in her factual findings.

In particular, he agreed that Yeung had been hostile towards police and observed that Ng was only using her life experience and common sense when she rejected the defence's "unbelievable" claim that officers had forcefully pulled the teacher out of the vehicle to assault him, despite him being cooperative.

Chan also concluded that Ng's alleged interference was simply asking questions to clarify the officers' testimony, and found those questions were permissible.

There was no indication in her reasoning that Ng had given the officers preferential treatment, he said.