Industry hopes government will compel, subsidise all taxis to install system that prods cabbies driving badly.
A leading Hong Kong taxi alliance is working towards introducing a safety system in all cabs to fix drivers' bad habits, prevent accidents and, hopefully, bring down skyrocketing insurance premiums.

The Hong Kong Taxi Council is testing different types of on-board safety systems and expects to finalise its choice for the city's 18,163 taxis
in three months.

The electronic system, costing several thousand dollars to install in each cab, will prod a driver if he tailgates or seems drowsy, and alert him if there are obstacles ahead or he changes lanes without indicating – all this on top of in-vehicle dash cameras.

The council, an alliance of 17 groups comprising owners, drivers and other stakeholders, hoped to persuade the government to make the system mandatory for taxis and provide relevant subsidies, council chairman Hung Wing-tat told the Post.

"Our aim is to install the safety devices in taxis to prevent road accidents and rein in insurance premiums," he said.

"The ideal way is for the Transport Department to take up our recommendation and compel the city's taxis to install the system, just like for franchised buses, and provide the taxis with subsidies."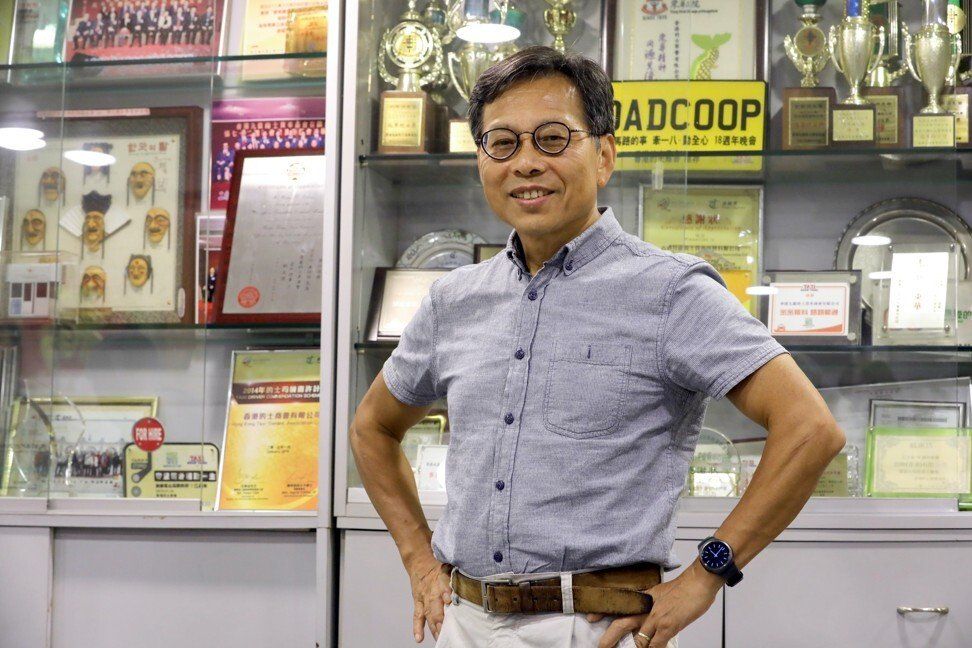 Hung Wing-tat, chairman of the Hong Kong Taxi Council.

If the government was unwilling to make it mandatory, Hung said, the alliance would ask the authorities to pressure the insurance sector to reduce premiums and the government to offer some subsidies for taxis as an incentive to improve road safety.

A Transport and Housing Bureau spokeswoman said the government welcomed the introduction of safety systems by car manufacturers for various classes of vehicles, including taxis.

"If the taxi trade has identified suitable safety devices which can be installed in taxis to enhance the safety of taxi operation, the government stands ready to liaise with the taxi trade to explore appropriate measures to facilitate and encourage the use of such safety devices in taxis," she said.

The taxi industry has been protesting against soaring premiums in recent years, but insurers blamed the high accident rate of taxis and increasingly exorbitant damages sought by claimants.

Unhappy operators have asked the government repeatedly to either allow them to charge passengers an extra HK$6 (77 US cents) per trip as an insurance surcharge, or approve their request to raise fares by more than 20 per cent.

Average annual premiums have risen by more than a fifth from HK$28,050 in 2019 to HK$33,902 last year. A record premium of almost HK$150,000 was slapped on a taxi after it was involved in an accident and the cabby was fined HK$1,000 for careless driving.

The number of accidents involving taxis rose from 3,916 in 2018 to 4,198 in 2019, before declining to 3,408 last year, during the coronavirus pandemic
, according to official data. The contributory factors were mostly driver related, including inattentive driving, tailgating and losing control of the vehicle.

Council vice-chairman Ng Kwan-sing said two major insurers intended to increase premiums by more than 10 per cent after August 1 to almost HK$50,000. The firms also will no longer insure taxis that are more than 20 years old regardless of their condition.

"The insurers can't put all the blame on us," he said. "It is so unfair. With this soaring insurance payment, how can they expect us to make a living?"

He blamed excessive demands for damages on rampant insurance fraud, citing staged incidents and exaggerated injury claims.

"At this difficult time of the pandemic, the insurance sector shouldn't rub salt into our wounds," he said.

Ng said the drive safety system would focus on improving cabbies' driving habits with the aim of preventing accidents.

He hoped all Hong Kong taxis would take part in the scheme but stressed that the main aim was for insurers to reduce premiums.

Lawmaker Frankie Yick Chi-ming, representing the transport sector, was confident the government would agree to subsidise the installation of a safety system for taxis, just as it did for franchised buses which must have devices such as speed-limiting retarders, and anti-collision and lane-keeping alerts.

"I will definitely request the government to offer subsidies," he said. "As this is a road safety measure and the government has subsidised the same thing for franchised bus companies, I can't see why the government won't do the same for taxis."

Taxi driver Ip Kam-piu, 66, who tried the safety system for several days, said it kept him alert and forced him to take more care while driving.

"I feel really safe with this system," he said.