Observatory warns rest of month will be very hot with temperatures reaching 35 degrees or above early next week.
Hong Kong experienced its hottest day of the year so far on Friday after a top temperature of more than 35 degrees Celsius was logged at the Observatory, making it the second highest July temperature on record.

The Observatory recorded 35.6 degrees Celsius (96 degrees Fahrenheit) at its headquarters in Tsim Sha Tsui at around 4.30pm, and forecasters said the heat would continue for the rest of the month.

Areas in the New Territories experienced even higher temperatures, with Sheung Shui sweltering at 38.1 degrees Celsius, Ta Kwu Ling hitting 37.9 degrees and Tai Lung registering 37.7 degrees.

Residents in urban areas also felt the heat after Wong Tai Sin hit 37.3 degrees, Kowloon City recorded 36.8 degrees and Sham Shui Po reached 35.9 degrees.

The Observatory said the weather was fine over southern China because of the dominance of a subtropical ridge and that the day's minimum temperature would be about 28 degrees.

Forecasters predicted that Saturday would be sunny and very hot during the day with light to moderate southwesterly winds.

They said the maximum temperature in urban areas would be about 36 degrees with the mercury a couple of degrees higher in the New Territories.

The Observatory also warned the rest of July would be very hot with temperatures reaching 35 degrees or above early next week.

The news came as transport chiefs said the MTR rail network would be inspected more frequently and a series of rail stress control measures carried out.

Officials explained seasonal check-ups were conducted before the summer and extra ballast would be added if needed to ensure that rail temperatures were maintained in the optimal range.

The Airport Authority said the asphalt runway surface at Hong Kong International Airport was built to withstand temperatures of up to 76 degrees and that checks were carried out on a regular basis.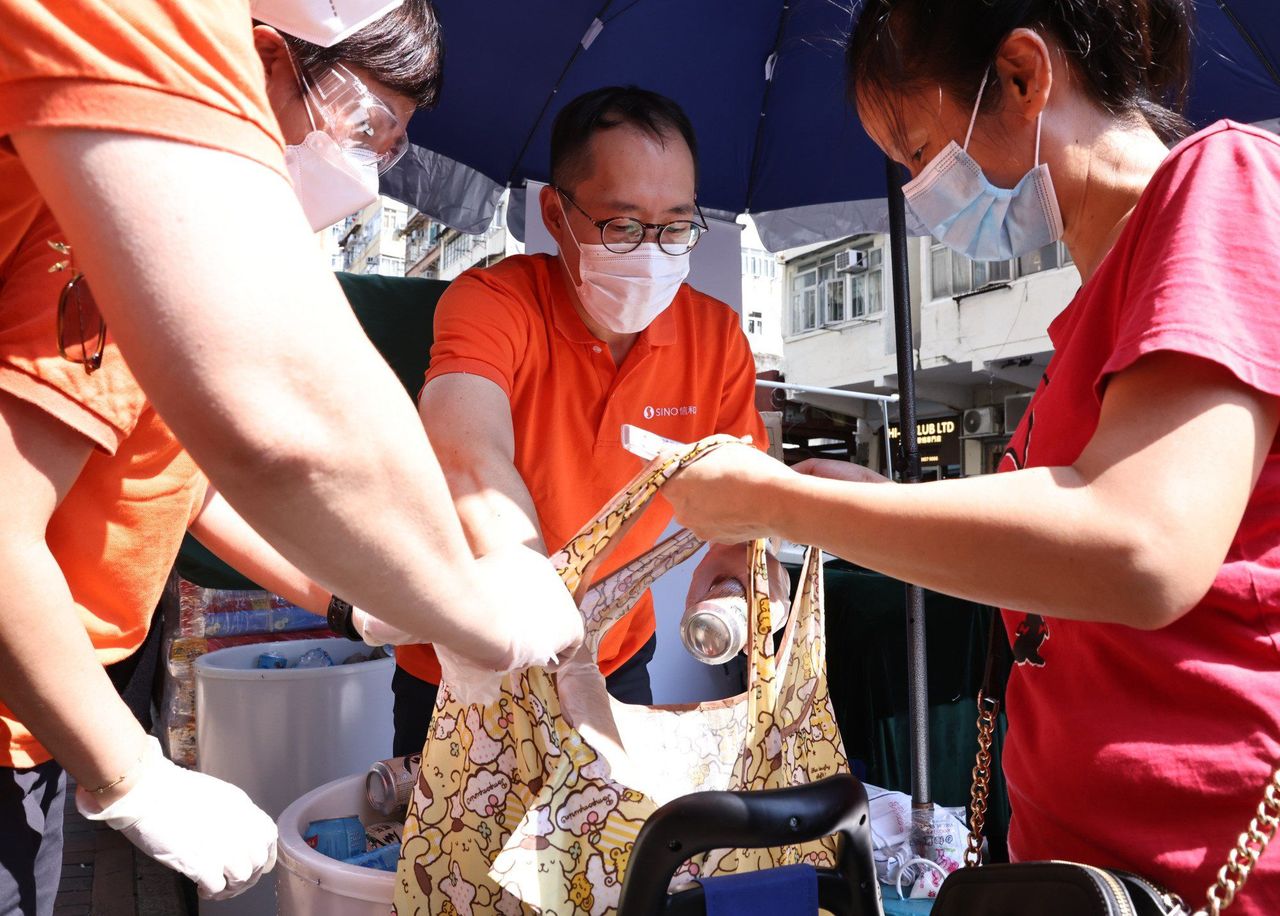 Daryl Ng, deputy chairman of property development firm Sino Group, distributes free cold drinks to people in Sham Shui Po.

The news came after construction workers told a radio show that colleagues had suffered from heatstroke as they worked outdoors as well as on renovation projects in malls where there was no air conditioning.

"I felt dizzy and sick and almost fell off a ladder while I was installing lighting," said one construction worker, adding that his employer did not respond to a plea for longer rest periods and a fan to help cool the air.

The labour minister on Thursday said that guidelines for employers designed to prevent heatstroke among their staff would be updated based on a heat index kept by the Observatory.

Daryl Ng Wing-kong, a director of the Ng Teng Fong Charitable Foundation and the deputy chairman of Sino Group, a property development firm, handed out cold drinks to residents in Sham Shui Po, including people who live in subdivided flats.