Sheung Shui in northern New Territories saw a high of 37.4 degrees, while temperature reached 35.8 degrees in Shek Kong in Yuen Long.
Hong Kong experienced its hottest day so far this year on Monday, with bright sunshine and windless weather sending the mercury up to 37.4 degree Celsius (99.3 degrees Fahrenheit) in some parts of the countryside.

The maximum temperature recorded at the Observatory in Tsim Sha Tsui reached 35.1 degrees shortly after 2pm, making it the hottest day so far this year. Readings at this station are taken as the overall representative temperature for the city.

It was also the fifth hottest day in July since records began in 1885. Last year, the Observatory recorded a high of 35.4 degrees for the month.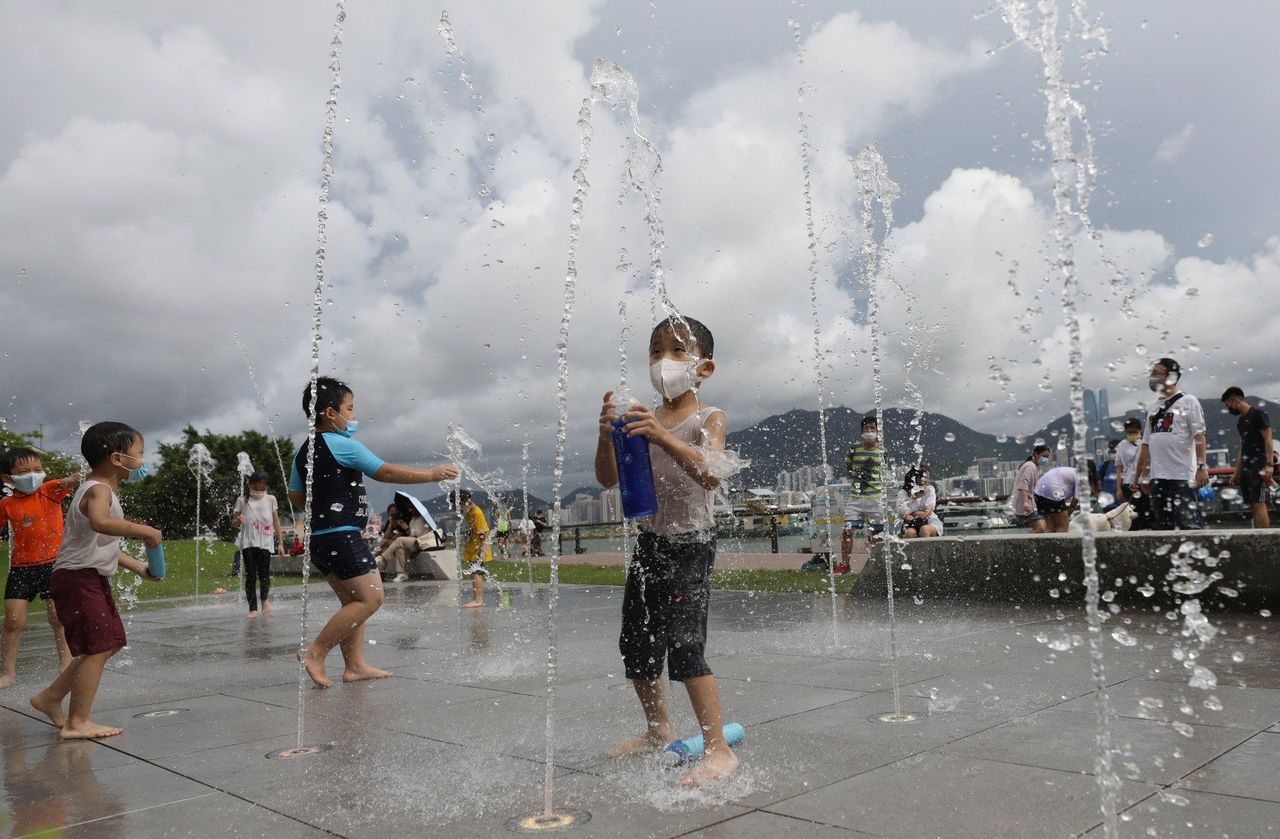 Children cool off in Kwun Tong. Certain parts of Hong Kong registered temperatures of over 35 degrees Celsius.

The hottest day recorded for July in Hong Kong was in 1968, with a temperature of 35.7 degrees.

On Monday afternoon, Sheung Shui in northern New Territories saw a high of 37.4 degrees, while the temperature reached 35.8 degrees in Shek Kong in Yuen Long. Ta Kwu Ling, near the border with mainland China, registered 35.6 degrees.

The Wetland Park in Tin Shui Wai also recorded 34.9 degrees.

In Happy Valley on Hong Kong Island, the mercury reached 35 degrees. Hong Kong Park saw a high of 33.6 degrees.

Ngong Ping on Lantau Island was among the relatively cooler places, with the maximum temperature during the day at only 30 degrees.

Lee Hon-ping, scientific officer at the Observatory, said the hot weather was due to an area of high pressure above the region.

"An anticyclone aloft is bringing fine and very hot weather to southern China," Lee said. "It was basically cloudless and windless."

When the atmospheric pressure over a region is higher than its surrounding, it is called an anticyclone. The air mass surrounding an anticyclone will move clockwise in the northern hemisphere and the weather under an area of high pressure is generally stable and fine.

"The temperature [of 35.1 degrees] could not be said to be extreme. We had expected the weather of Hong Kong to be very hot from July to September this year, partly because of urbanisation and climate change," Lee said.

Weather is forecast to remain fine on Tuesday, with the minimum temperature expected to be about 28 degrees and reach around 35 degrees during the day. Light to moderate east to south-easterly winds are predicted, according to the Observatory.

It will still be mainly fine and persistently very hot in the following couple of days, the Observatory has said, adding that sunny intervals and a few showers are expected in the latter part of this week.

The Observatory issued a "very hot weather warning" at 9.45am on Saturday and it has been in force since.