Businesses at shopping centres housing ferry terminals say no end in sight to customer drought unless borders fully reopen with Macau, mainland China.
Clifton Cheng Ho-pak never expected business would ever slow down when he first took over his father's tailor shop five years ago in China Hong Kong City, a shopping centre in Tsim Sha Tsui that is also home to the China Ferry Terminal.

The store, which opened in 1978, had earned a reputation for quality among tourists from mainland China before the cross-border terminal closed in January 2020 due to the coronavirus pandemic. The travellers, who visited to buy bespoke suits, made up about three-quarters of the shop's customers, Cheng said.

"We worked non-stop back then," the 33-year-old said. "Mainland customers even sent emails and asked us to send them suits by post. But the pandemic has changed their habits. They do not need new suits any more as they work from home and no longer attend banquets.

"After the border closed, we lost 90 per cent of our business," Cheng said, adding the shop could be forced to close in six months if sales did not pick up.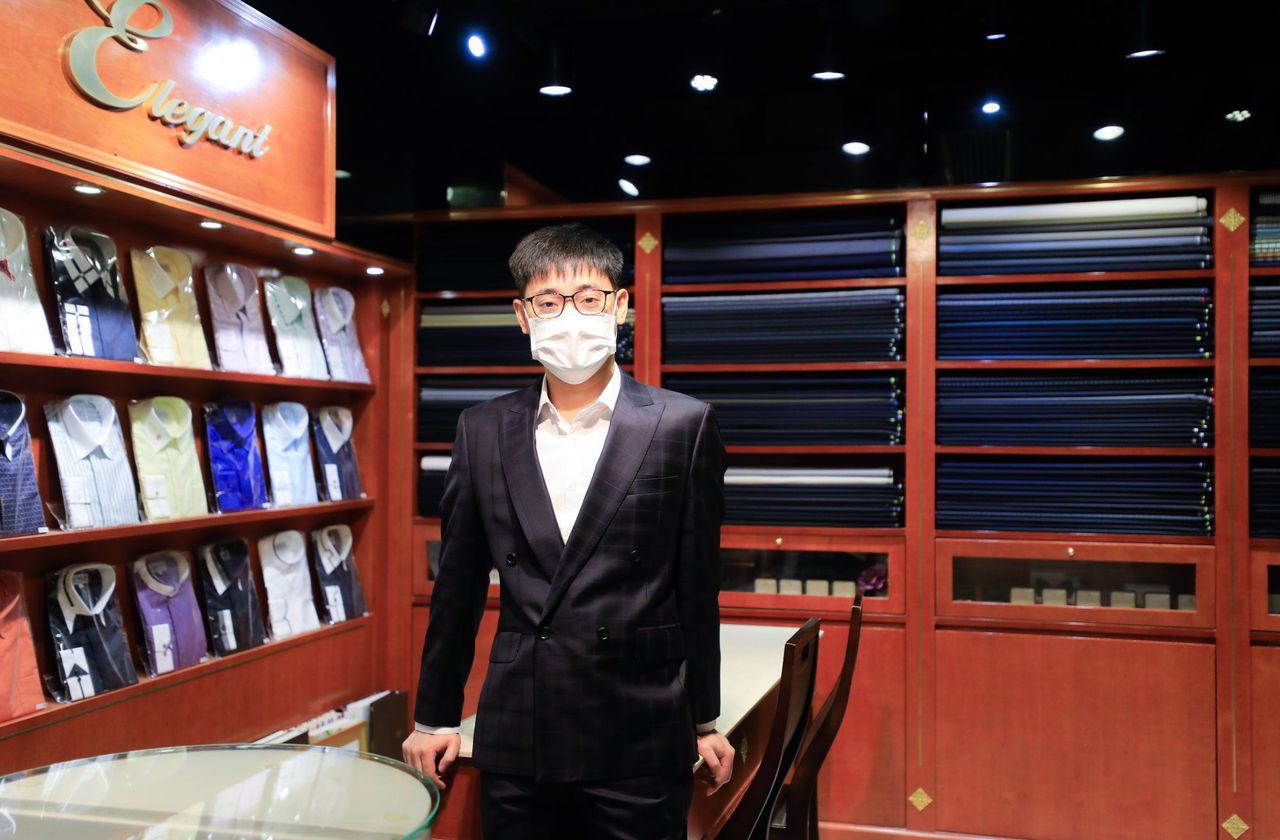 Clifton Cheng, general manager and tailor store owner, says business is struggling to recover following the suspension of ferries to mainland China.

Cheng's store is one of many businesses close to cross-border ferry terminals that previously depended on travellers for business, with the start of the pandemic triggering a steady loss of customers.

A visit last Thursday found China Hong Kong City largely deserted, with only a handful of residents resting on benches and almost 60 per cent of about 120 shops vacant, with many being advertised for rent.

Among the stores still open, the Cupnoodles Museum only had a few visitors, while the centre's fast food restaurants and coffee shops had more patrons during lunch hour.

The manager of a luxury goods store in the arcade said her shop had shortened its opening hours to five from 10 to focus on local customers on their lunch breaks. But business remained elusive, she admitted.

"Consumers' attitudes have changed. They want to save money and spend only on necessities," she said, adding the shop depended on its remaining customers to earn about HK$10,000 (US$1,273) a month.

Retail expert Kathy Lee Yuen-yan, head of research at Colliers Hong Kong, said malls attached to border-crossing facilities had been hit hard during the pandemic and resulting travel curbs.

"China Hong Kong City is particularly affected because it is far away from the core retail area in Tsim Sha Tsui and faces competition from nearby shopping malls," she said. "It is difficult to draw local consumers."

Lee advised the operators of the shopping centre to promote the venue as more family-oriented to encourage residents to shop and spend.

"The Cupnoodles Museum is the mall's key tenant and is able to attract local families to the mall on weekends. But the mall seems to have no other facilities that can draw them to stay and they will just go to nearby malls to dine and shop," Lee said, adding the venue could have more "children-friendly restaurants and playrooms".

Chung said she remained pessimistic over the future of her shop as the government had not yet put forward any concrete plans for Hong Kong to fully reopen its borders with Macau and the mainland.

"I have waited for so long that I feel hopeless. We have no idea when normalcy can be resumed," the manager said.

Stores at the Shun Tak Centre in Sheung Wan that includes the Hong Kong-Macau Ferry Terminal were also struggling due to a lack of customers since the crossings were suspended in February 2020.

The Post observed that several businesses, including representative offices for various Macau casinos and hotels, had closed their doors. A number of outlets were covered with signs saying "project optimisation in progress" or blocked off with white canvas.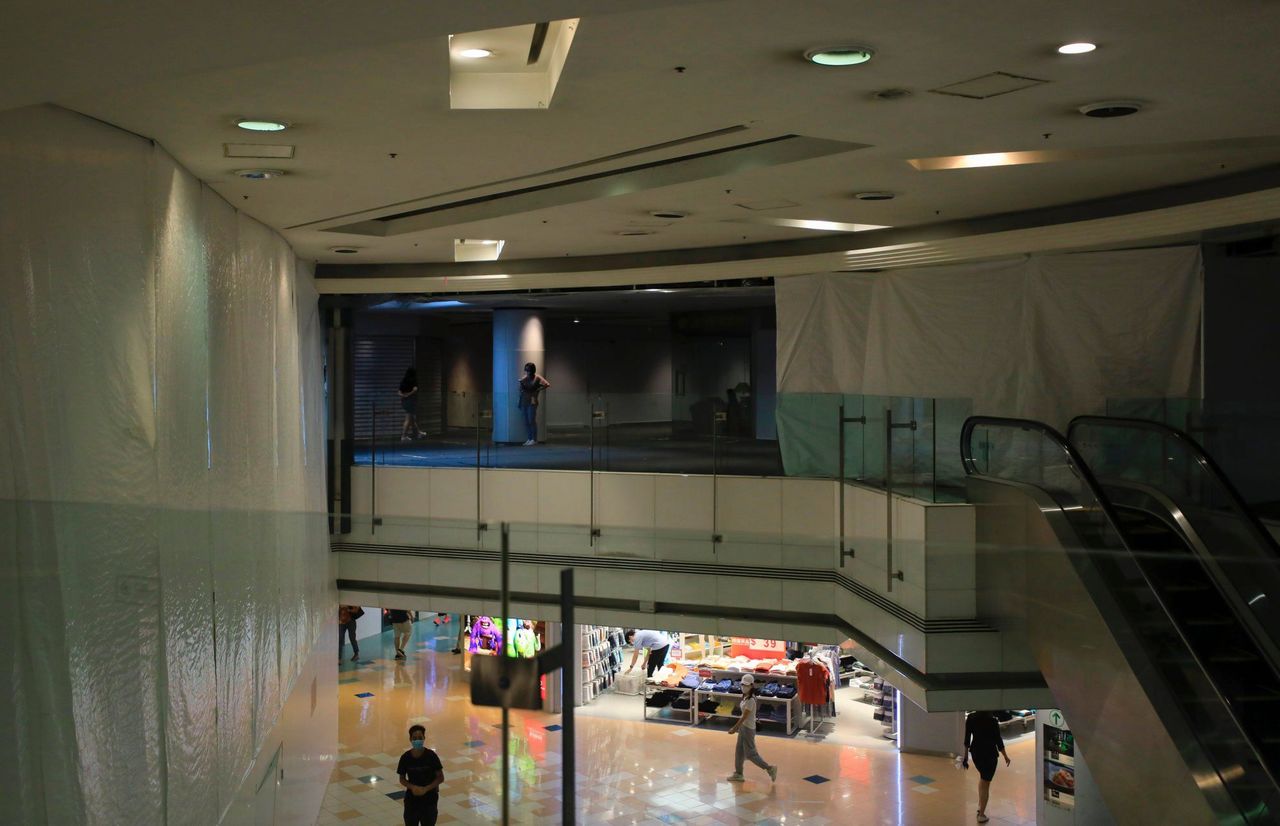 A loss of customers due to the pandemic has hit outlets at Shun Tak Centre hard.

"We have lost all our main customers from Macau. I haven't seen a single customer coming into our shop [for half a month]," a clothing store employee said.

"Our turnover for one day before Covid-19 may equal one month now. Our business hours have also been cut to half a day now, and so has my salary."

Retail expert Lee suggested the Shun Tak Centre invite businesses such as gyms, supermarkets and restaurants to set up operations to attract white-collar workers from nearby office buildings, as well as residents from the Mid-Levels.

But tourism sector lawmaker Perry Yiu Pak-leung on Friday stressed the importance of implementing quarantine-free travel between different parts of China to boost the local economy.

"Even though the government has scrapped hotel quarantine for arrivals, as long as the city's borders with Macau and the mainland are not opened, Hong Kong's economy and tourism industry are still difficult to revive," he said.

The lawmaker was referring to the announcement by the government on Friday that Hong Kong would launch the "0+3" travel scheme from Monday, with inbound travellers required to undergo three days of self-monitoring at either home or a hotel.

The plan will replace the present "3+4" initiative, which involves three days of hotel quarantine and another four under medical surveillance. Hong Kong's current social-distancing rules and the mask mandate will remain in force, while patrons at bars and nightclubs are required to submit a negative rapid antigen test result before entry.

Back at China Hong Kong City shopping centre, Cheng said he was already thinking of relocating his business or setting up an online store to survive.

"The pandemic makes me rethink the shop's possibilities … although it will be a pity if it has to be closed, a new environment may bring us new customers," he said.

The Post has reached out to Sino Group and Shun Tak Holdings, the respective operators of the malls in Tsim Sha Tsui and Sheung Wan, for comment.