Hong Kong can focus on high value-added technologies, attract talent to city and fill chip-making void on the mainland, says one industry expert.
Hong Kong should fill the technological void in China caused by United States sanctions and push for restrictions on the city's start-ups on the mainland to be removed if it wants to become the country's global innovation and technology (I&T) hub, industry experts have urged.

Hopes for the city's I&T future were raised after Chinese President Xi Jinping told scientists and researchers on Thursday that he envisaged Hong Kong as the country's international I&T hub while visiting the Science Park, a call described by its head as "monumental".

A source said Xi made it "clear that Hong Kong will be the international I&T hub of China" while addressing a group of scientists, innovators and young entrepreneurs during the visit, accompanied by Carrie Lam Cheng Yuet-ngor on the final day of her five-year term as the city's chief executive.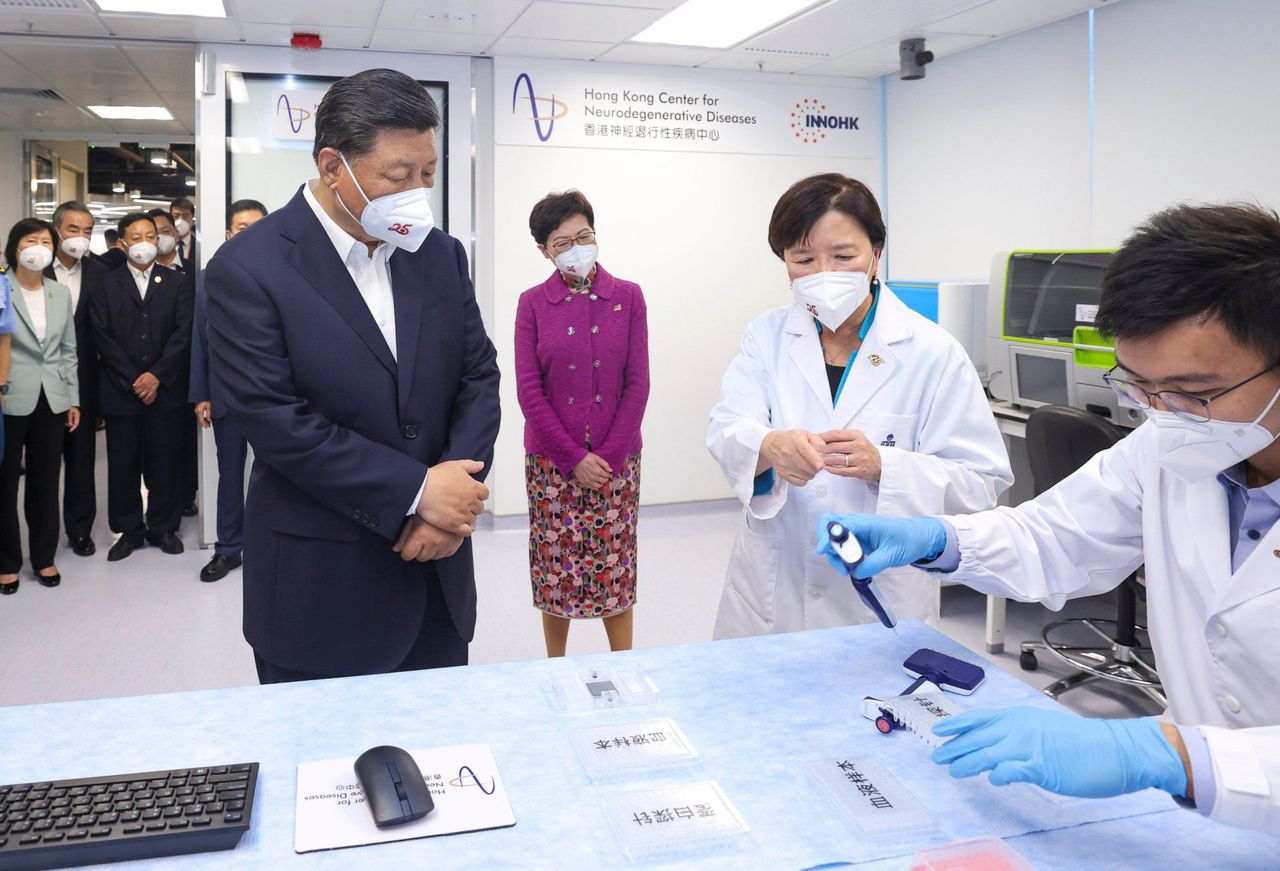 Chinese President Xi Jinping visits the Hong Kong Centre for Neurodegenerative Diseases.

In a video released by the government, Lam also urged the president to offer more innovation projects for Hong Kong to take over.

"Don't just give them all to Shenzhen. We'll also undertake these projects," she said.

Shenzhen overtook Hong Kong in terms of gross domestic product in 2018 due to its advancement on IT development.

John Lee Ka-chiu, who was sworn in as the city's new chief executive by Xi on Friday, vowed to place more emphasis on the "development of Hong Kong into an international I&T hub", saying the government would strive to fully develop a range of emerging industries under the national 14th five-year plan.

Leonard Chan Tik-yuen, chairman of Hong Kong Innovative Technology Development Association, said the city could take advantage of China's technological void caused by the US sanctions on Chinese tech firms such as chip manufacturing technology.

The US has banned Chinese telecommunications giant Huawei Technologies Co from doing business with key chip suppliers such as Qualcomm and Taiwan Semiconductor Manufacturing Company, unless it obtains a licence from the US Commerce Department.

China still lags behind the US and Taiwan in advanced semiconductor technologies, including chip design and manufacturing, despite recent efforts to achieve self-reliance in chips.

"Hong Kong should focus on some high value-added technologies such as chip making and biotechnology and avoid those which require a lot of land for R&D," he said. "Since Huawei is China's largest chip designer, Hong Kong can attract its talent to the city and fill this chip-making void in China."

Renowned neuroscientist Professor Nancy Ip Yuk-yu, head of the Hong Kong Centre for Neurodegenerative Diseases, said her team would actively take part in China's science and technology development following Xi's visit to the centre on Thursday.

The centre was established in 2020 under the government's HK$10 billion InnoHK initiative to develop Hong Kong into a hub for global research collaboration, with initial funding of HK$500 million.

"The researchers at our centre feel very honoured and inspired by President Xi's visit. We are galvanised by his support and will … proactively take part in the country's science and technology development," said Ip, who will also be the next president of the Hong Kong University of Science and Technology in October.

Ip briefed Xi on her team's latest breakthrough in quick and early detection of Alzheimer's disease with a test using only a single drop of blood.

"President Xi both recognised our research results and lauded the significance of our work. He also encouraged us to strengthen collaborations with institutes and universities on the mainland, and translate our research findings into therapeutic applications to benefit society," she said.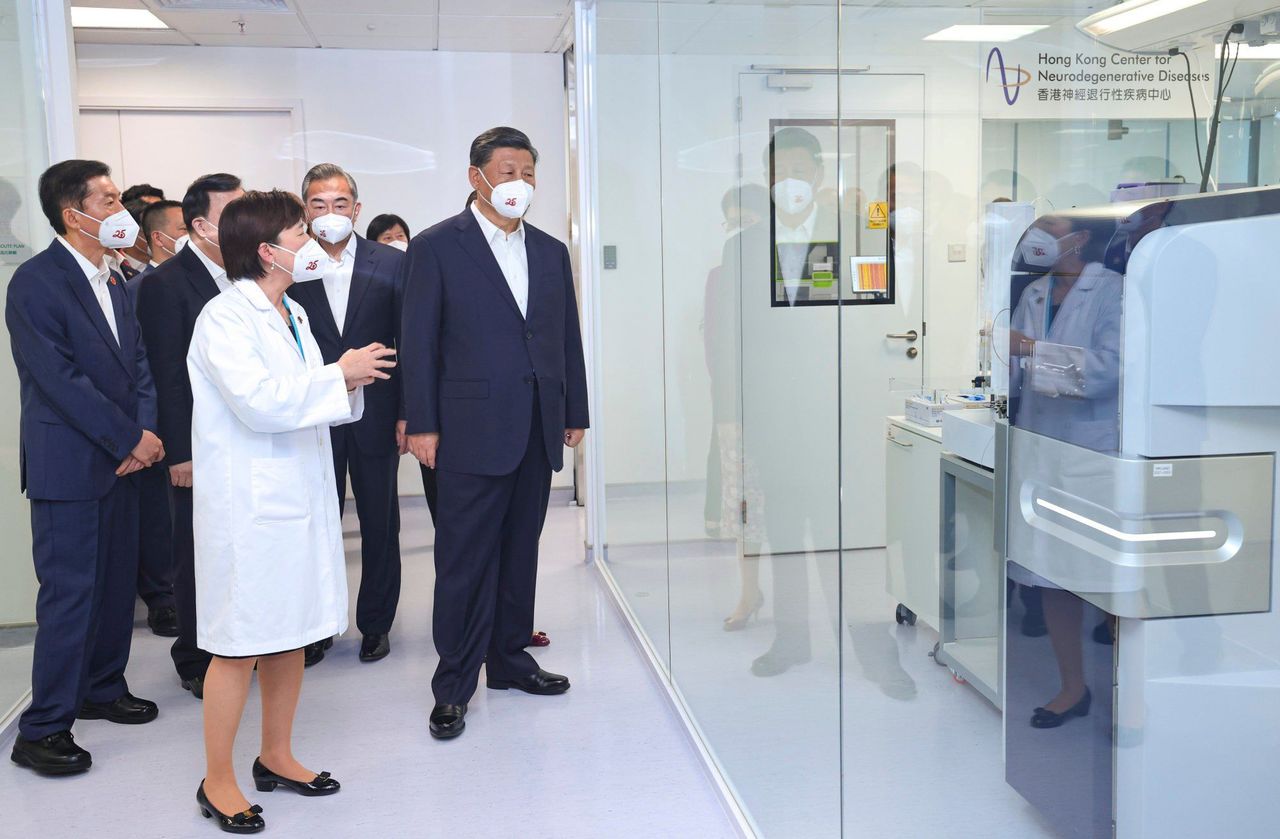 President Xi Jinping visited the Hong Kong Centre for Neurodegenerative Diseases and was briefed on the team's research work.

Chinese University's Professor Dennis Lo Yuk-ming, known for his medical breakthroughs in prenatal tests against Down's syndrome and genetic diseases, told the Post on Friday that Hong Kong needed to resolve some hurdles on the mainland before it could become an international I&T hub.

They included easy access to DNA samples and data, extension of Hong Kong patents to the whole country and allowing Hongkongers to start companies on the mainland for some restricted technologies.

"Hong Kong's market size is really small. How to make local tech firms grow in the Greater Bay Area is a key issue," he said. "But so far it's not easy for some research or tech firms to get access to the mainland samples and data for research purposes. In my case they concern the DNA samples and data."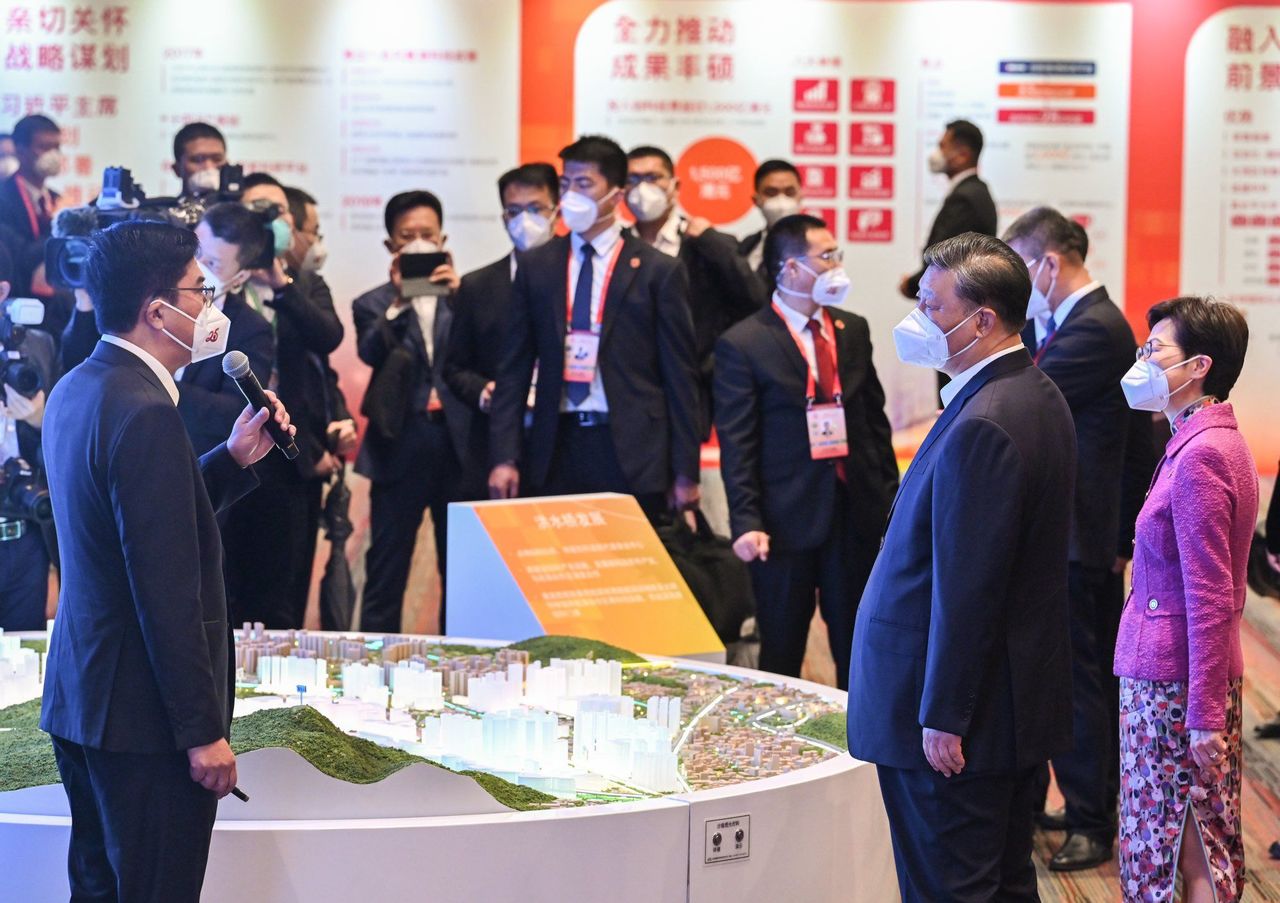 President Xi Jinping at the Hong Kong Science Park.

Lo said locally registered patents would not be enforceable on the mainland, which would hamper the city's development as an I&T hub. Scientists would prefer to register patents on the mainland as they would also be valid in Hong Kong, he added.

"Hongkongers have been barred from opening up tech firms on the mainland for some restricted technologies such as genetic testing. This will hinder Hong Kong's R&D development," he said.

Lawmaker Stephen Wong Yuen-shan said Hong Kong needed to step up cooperation with different universities and institutions in various research areas.

The government has poured more than HK$150 billion (US$19 billion) into the I&T sector over the past five years.