Health minister Sophia Chan made the optimistic projection, while also noting some 30,000 tests sparked by a variant case involving an airport worker had returned no positive results.
Hong Kong administered a record 58,000 doses of coronavirus vaccine on Saturday, with the health chief predicting the local inoculation rate could hit 50 per cent as early as August.

"The numbers have been encouraging," Secretary for Food and Health Sophia Chan Siu-chee told a radio programme earlier in the day. "If we can keep this up, there's a chance for us to see a vaccination rate of beyond 50 per cent by August or September."

Her optimistic projection was supported by health experts who spoke to the Post, although they urged authorities to work harder to encourage young people and the elderly to get their jabs.

The city on Saturday confirmed two new imported infections, from Britain and Russia. The official overall tally stood at 11,911, with 211 related deaths.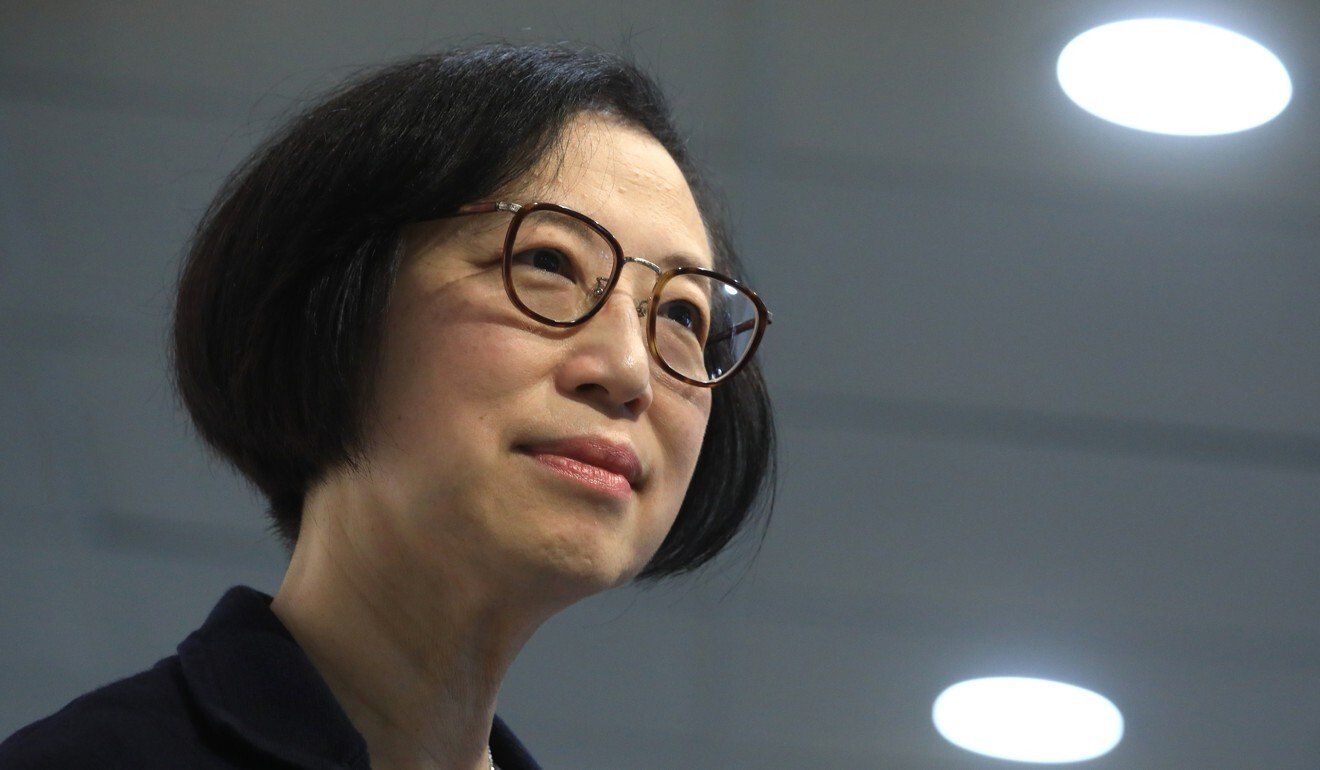 Hong Kong health minister Sophia Chan.

Hong Kong's record came after mainland China set one of its own, administering 24.7 million doses on Thursday alone. The country also announced it had achieved its goal of inoculating 630 million people – or 40 per cent of its population – by the end of June.

"This joint effort by the vaccine developers, manufacturers, regulators and supervising authorities of key sectors of vaccine production is a very important factor to guarantee the supplies of Covid-19 vaccines," Cui Gang, a senior official with the National Health Commission, told state broadcaster China Central Television.

Meanwhile, Hong Kong's planned "cruises to nowhere" scheme, slated to kick off in late July, appears to have suffered a setback, with Royal Caribbean Cruises suspending bookings for voyages aboard its Spectrum of the Seas ship.

A spokeswoman for the company said they planned to revise their schedule for the cruises – which allow vaccinated Hongkongers to take high seas voyages with no ports of call – as they needed more time to arrange manpower and meet government requirements for joining the scheme. She said the company would announce further details next week.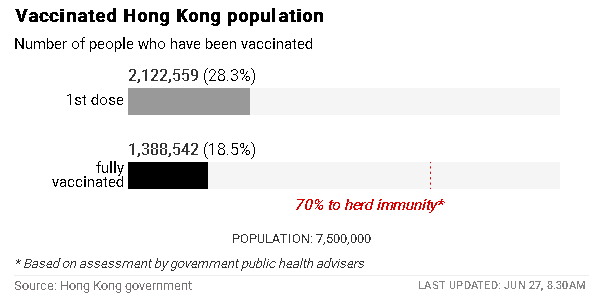 On Saturday, health chief Chan reiterated that a higher local vaccination rate would allow more social-distancing measures to be relaxed, but stressed the city needed 70 per cent of its population inoculated to reach herd immunity.

Almost 28.3 per cent of Hong Kong's 7.5 million residents have received at least one dose of vaccine, while 18.5 per cent had taken both as of Saturday. The 58,441 doses administered on Saturday was the most ever in a single day, while the seven-day rolling average was hovering around 46,922.

On Saturday, a fresh batch of 422,000 doses of the BioNTech vaccine arrived in Hong Kong from Germany. The city has pre-ordered 7.5 million doses of the BioNTech vaccine.

Professor David Hui Shu-cheong, a respiratory medicine expert from Chinese University, agreed with Chan that the city's full vaccination rate could reach 50 per cent by September if the city continued to inoculate between 30,000 and 50,000 people a day.

"It seems that incentives offered by private firms are working. Plus the recent [new infection] involving the Delta variant has made people more nervous [and encouraged more to get jabbed]," he said.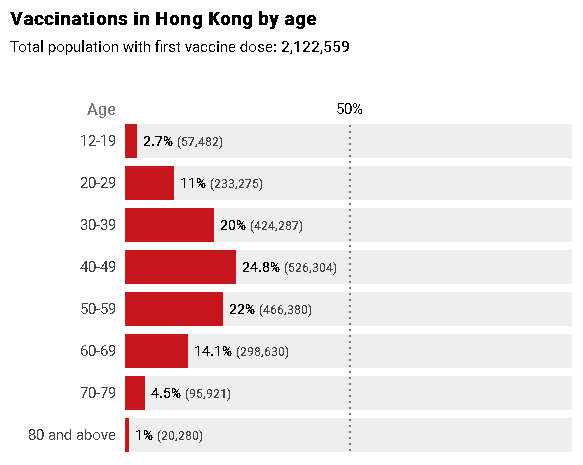 But Hui, who advises the government on the pandemic, pointed to badly lagging vaccination rates among young people and the elderly, urging authorities to do more to encourage the groups to get jabbed, especially since older people were more likely to die from Covid-19. One option, he added, would be to allow the elderly to walk in and get their jabs rather than scheduling appointments.

Respiratory medicine specialist Dr Leung Chi-chiu also said be believed a 50-plus per cent inoculation rate could be reached by August or September, but like Hui, he pointed out the lopsided demographics of the vaccinated population.

Leung added that although a vaccination rate of 70 per cent was generally seen as achieving herd immunity, that number could need to rise as high as 85 per cent to provide protection against more infectious variants of the coronavirus.

Chan also said none of the thousands of people who might have had contact with an airport worker infected with the more contagious Delta coronavirus variant had tested positive.

She confirmed that more than 30,000 people who worked at the airport or lived in the same district as the 27-year-old patient had so far been cleared in a screening exercise.

"From June 23 to 25, we conducted compulsory tests on over 30,000 samples and we haven't found any positive cases," she said.

Some sewage samples from the patient's district were earlier found to contain virus traces, but Chan said subsequent batches tested negative.

The airport worker, whose case ended Hong Kong's 16-day streak of zero local infections, was on Friday confirmed as carrying the Delta variant, first found in India. It was the city's first local case involving the more infectious virus type.

The Department of Health had said genome sequencing results showed the man's infection was identical to that of three arrivals from Indonesia who tested positive this month. The trio are domestic helpers, two of whom were found on June 11 to be infected, before leaving the airport. The third helper tested positive while in quarantine in a Hong Kong hotel.

As to whether the airport's sample collection centre was the source of the worker's infection, Chan said the Centre for Health Protection was still investigating the possible transmission link.

"The patient has visited the sample collection centre on several occasions, matching with other cases carrying identical genome sequencing results," she said. "But we are still investigating whether they actually came into contact with each other."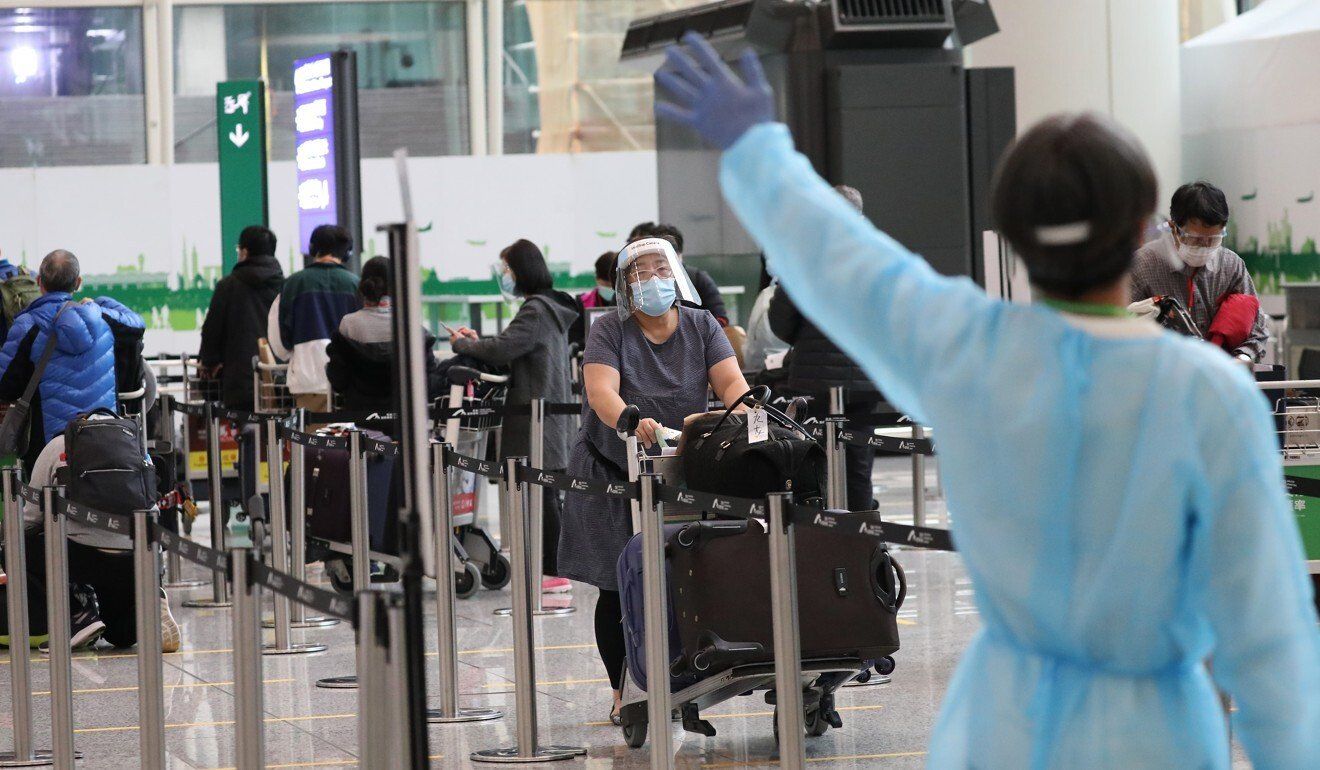 Arrivals at Hong Kong's airport. A sample collection centre has been suspected to be a transmission hotspot for a recent case.

Dr Philip Li Kam-tao, president of the Hong Kong College of Physicians, said the government should step up vigilance against transmission of the Delta variant from the airport.

He pointed out that the vaccination rate among the elderly was far from satisfactory – only 5 per cent for those aged between 70 and 80, and 1 per cent for those aged over 80.

"Many elderly people have this misunderstanding that those who have three highs – high cholesterol, high blood pressure and high blood sugar – are not suitable for the jabs," he said. "However, as long as their conditions have become stable, such as not needing hospital care, they are suitable for getting vaccinated."