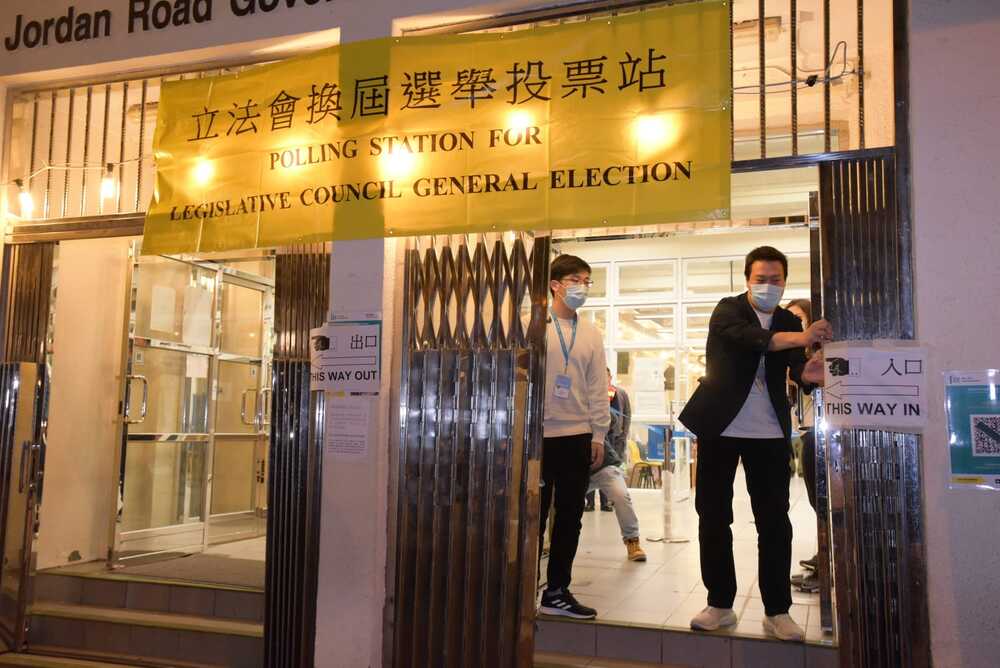 Hong Kong set to see record low turnout rate for LegCo elections
Hong Kong is set to see a record low turnout rate for the patriots-only new Legislative Council election on Sunday, down by half from the exuberant turnout in 2016.
After Beijing revamped the electoral system in May, a total of 153 candidates -- comprising mostly pro-establishment members, some moderates, individual aspirants and emerging elites from mainland Chinese companies -- are competing for 90 Legislative Council seats across the geographical, functional and new Election Committee constituencies.

However, only 20 seats will be filled by direct elections in the geographical sector.

Over 1.3 million ballots had been cast in geographical seats by 9.30pm with a turnout rate of 29.28 percent, which is a drop from the 58.28 percent voter turnout in the previous Legco elections in 2016.

Among 10 geographical constituencies, New Territories South West has the highest polling rate at 30.85 percent, followed by Kowloon East's 30.66 percent and Kowloon Central's 30.50 percent. New Territories South East has the lowest polling rate of 26.66 percent.

The lowest turnout rate for LegCo election was 35.8 percent in 1996, a year before Hong Kong's handover.

Sunday's poll was the first Legco election to use an electronic poll register instead of a paper one. Also debuting was an online system to let voters check the expected queuing times at polling stations, but it broke down in the morning due to overloaded online users. It resumed normal in the afternoon.

Electoral Affairs Commission chairman Barnabas Fung Wah said shortly after 6pm polling hours of 10 polling stations were extended to the latest at 10.52 pm due to technical difficulties for the electronic polling register system and delays in the opening of polling stations.

He said polls at four polling stations in Tsing Yi, Sham Shui Po, Kwai Tsing and Western District were delayed for up to 22 minutes due to unstable connections, power failure and unstable operation of the electronic polling register system.

The polling hours for the polling stations were extended for the affected electors to cast their votes, according to the time delay, Fung said.

The remaining four polling stations in Cheung Sha Wan, Wong Tai Sin, Tuen Mun and Tai Po had delays in their opening time for up to nine minutes as longer time was used to complete specific procedures before the start of the poll.

Fung also said as of 4.30pm, the commission has received 345 complaints, mainly about election advertisements, campaigning activities and voting arrangements.

Although senior officials have in the past week repeatedly called for citizens and civil servants to cast their ballots, the low turnout reflected unenthusiastic response from voters.

Chinese University part-time lecturer in government and public administration Lin Chiu-fai said citizens should compare the voter turnout rate from Sunday's election with the ones before Hong Kong's handover in 1997.

"Voting rate had been driven up during the 2012 and 2016 Legco elections, as Hong Kong society had been politicized and a proportional representation system had been implemented at that time," Lin said.

He said citizens should compare the voting rate with the 1996 Provisional Legco elections and 1999 District Council elections, as the current political atmosphere was similar to that over 20 years ago.

A citizen surnamed Chan, in his mid-50s living in Kowloon City, said it took him less than five minutes to cast his vote in the morning.

"There were three people queuing in front of me, but it still took me less than five minutes to cast my ballot. The electronic poll register was so convenient," Chan said.

But a voter at a Tiu Keng Leng polling station said electoral staff were unable to locate her voter registration in the system and she was led to a separate counter.

"Staff at the polling station had to make multiple phone calls before finally confirming that I indeed registered as a voter, and it took me a few extra minutes, while there were two other voters also experiencing the same problem," she said.

Outside the Ng Yuk Secondary School polling station in Tai Wai, a 62-year-old man Sam said he would consider candidates' past work in the district when deciding his choice.

Poon, 65, who finished casting her vote within the first hour after polling began, said she had to take her parents to vote later in the day.

But Leung, a 30-year-old who has voted before, said she has no intention to vote in this year's election as none of the candidates appealed to her. Mary, 26, also was not interested in voting as "it seems to be unnecessary".