Sources say the changes could come as soon as Monday. Hong Kong confirms three new Covid-19 cases, all imported.
athay Pacific aircrew will soon be spending longer in quarantine after returning to Hong Kong from countries deemed at high risk of Covid-19 under rules set to be tightened by health officials, the Post has learned.

The updated regulations – intended to reduce the risk of infections entering the community – could come into effect as soon as Monday, according to three sources.

But while the rules will apply to all local airlines, it will be the city's sole long-haul carrier that faces the greatest impact as it continues to struggle through a pandemic that has battered its bottom line.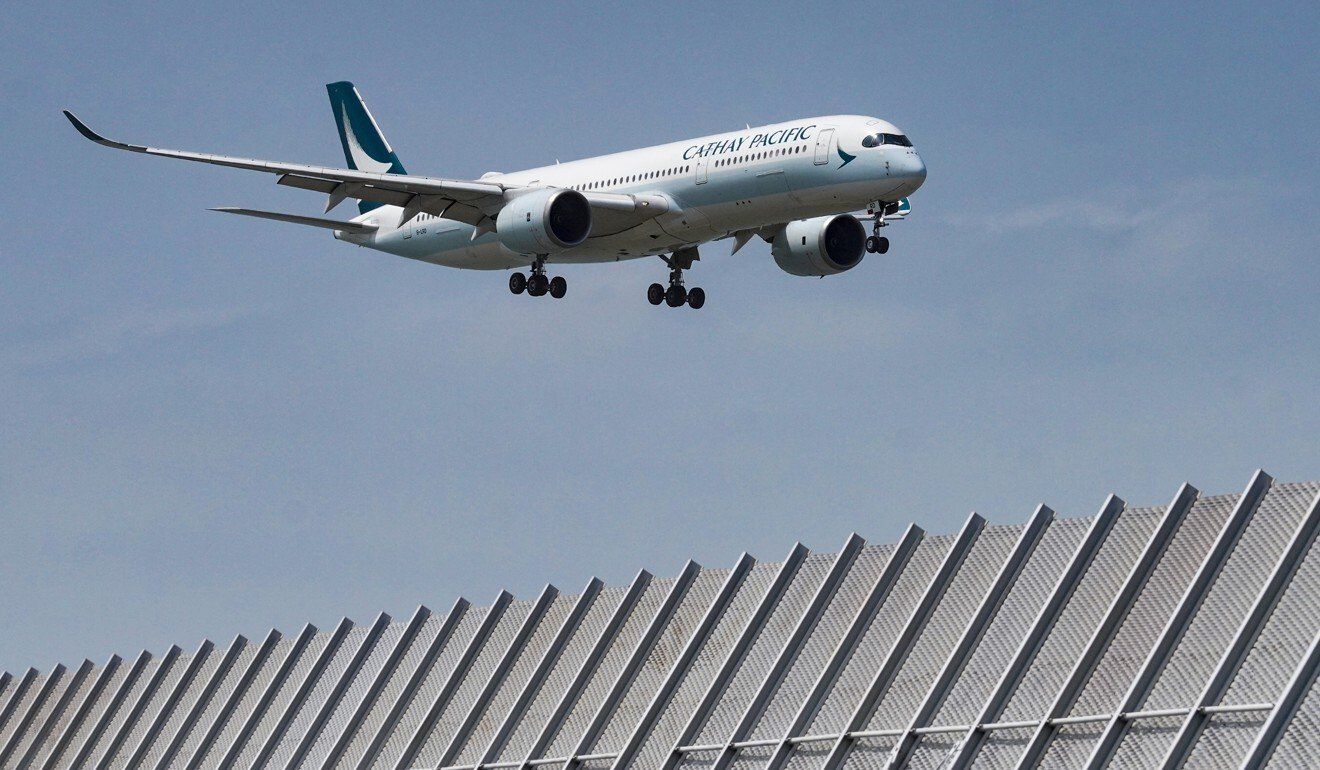 Cathay Pacific has struggled immensely amid a near-total halt to leisure air travel during the pandemic.

The planned tightening of rules emerged as Hong Kong confirmed three new Covid-19 cases involving arrivals from Qatar, Germany and the United Arab Emirates. They all carried the L452R mutation, which is linked to several coronavirus variants, including the more infectious Delta one.

The city's official tally now stands at 12,152 infections, with 213 related deaths. Fewer than five preliminary-positive cases were also reported.

In mid-August, quarantine times for passengers from more than a dozen high-risk countries jumped to as long as 21 days, upending travel plans and drawing condemnation from business groups.

A month later, those changes are about to hit home for aircrew as well.

"After upgrading the US and other countries to Group A, the exemption conditions were not adjusted immediately, to allow time for airlines to adapt, but tighter conditions will apply soon, including longer isolation periods for cabin crew," a source familiar with the policies said.

Another source said that the quarantine period could be lengthened to as much as 14 days.

Cathay Pacific declined to comment.

Hong Kong, the world's busiest cargo airport, has been adjusting control measures related to aircrew isolation times during the course of the pandemic to allow for the free flow of airborne goods.

At the same time, the city has been tasked with a "zero-infection" mission to pave the way for reopening the land border with mainland China.

Locally based, vaccinated aircrew returning from the United States currently only need to quarantine for seven days upon arrival in Hong Kong despite the US having been in the high-risk category since August 20 – an attempt by authorities to mitigate the impact on airline operations.

Those local crews returning from the pre-August list of destinations deemed high risk must quarantine for 14 days if vaccinated, or 21 if unvaccinated.

But the isolation rules for aircrews have not changed since 15 countries – including France, Malaysia, Thailand and the United Arab Emirates – were moved to the "high-risk" tier, taking effect on August 20.

Australia was simultaneously moved from low to medium-risk, meaning aircrew travelling from that country remain subject to no quarantine.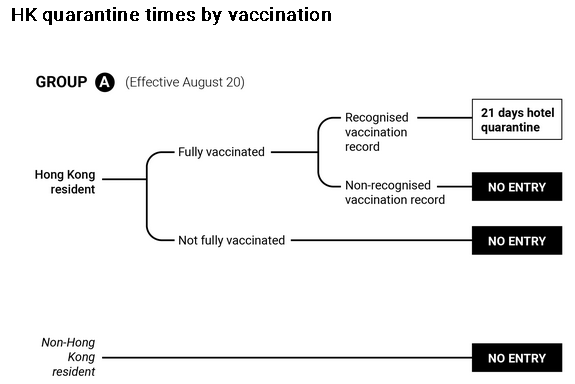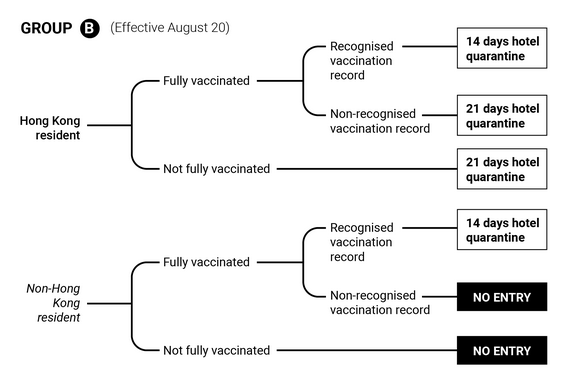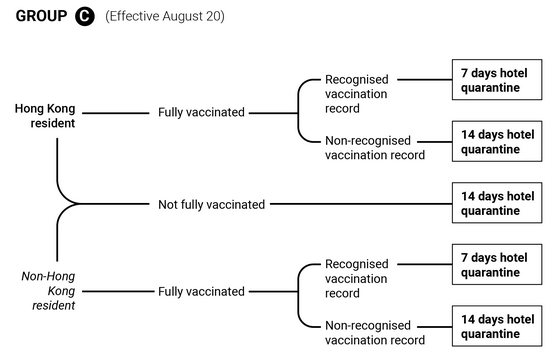 But three separate sources said changes to those rules could now be just days away.

"It's aimed at preventing the importation of infections," one of the sources said.

If isolation periods are lengthened, industry sources have suggested Cathay would end layovers in Group A countries where it had yet to do so and instead fly on to medium-risk countries so crews can receive adequate rest or double up on aircrew to fly straight back to Hong Kong.

It was also expected to increasingly rely on a "closed-loop" operation in which aircrew fly for three weeks, then quarantine in a hotel for two weeks before returning to the community.

Additionally, greater physical separation could be introduced between cabin crew and pilots, especially during preflight briefings, to shield cockpit crew from more punitive measures.

A vaccinated Cathay flight attendant recently returned a positive Covid-19 test while in quarantine after operating a passenger flight from New York. The case was disclosed by health authorities on September 5.

A Transport and Housing Bureau spokesman told the Post: "Adjustments, if any, to the quarantine requirements applicable to aircrew will be disseminated to relevant stakeholders as appropriate."

In June, Cathay said it aimed to restore its passenger flight capacity to 30 per cent of pre-coronavirus levels by the fourth quarter this year, which begins next month.

However, since that target was announced, Hong Kong has only tightened its grip on its borders, and much-hyped travel bubbles have failed to materialise.

The airline had also hoped to be operating as much as a fifth of its pre-pandemic flight schedules by August, benefiting from a short-term boost driven by student travel out of the mainland. Cathay is expected to disclose its August business performance soon.

Hong Kong is slowly starting to open with the mainland under a quarantine-free scheme called "Come2HK". The plan, which has not been reciprocated by officials across the border, allows a maximum of 2,000 non-residents with negative test results into the city without quarantining each day.