The government will produce the bags, which will cost HK$1.70 for one about the same size as what supermarkets offer for groceries.
Residents will have to pay to throw out their trash under a bill lawmakers are expected to pass on Thursday, 16 years after the idea was first proposed to help tackle Hong Kong's growing amount of rubbish.

But lawmakers called on the Environmental Protection Department to clarify how it intended to enforce the new measure, which could cost the average household about HK$51 (US$6.60) a month to buy the required bags.

"I definitely am in support of this bill, but I hope the government takes up strict enforcement to avoid any issues with hygiene," said lawmaker Elizabeth Quat of the Democratic Alliance for the Betterment and Progress of Hong Kong during the second reading of the bill amending the Waste Disposal Ordinance at the Legislative Council on Wednesday.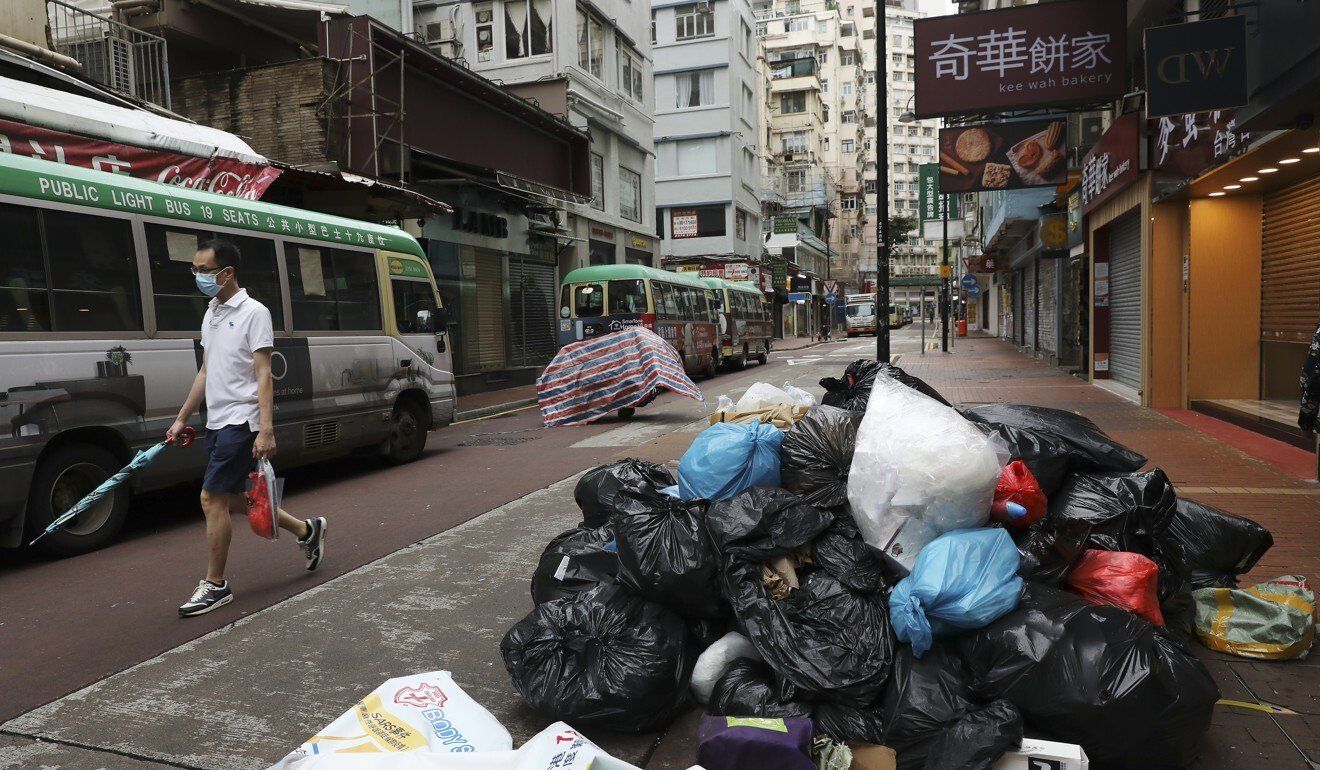 Rubbish is left on the street in Causeway Bay.

Buildings without owners' corporations, residents' organisations or property management companies could become overwhelmed by uncollected trash, which could attract rodents, she warned.

Peter Shiu Ka-fai from the Liberal Party urged the government to consider how to help poorer residents pay the new fee but said the overall benefits of the waste charging scheme far outweighed the costs.

"If you want to increase the burden of some residents – even though you may be correct from an environmental angle – for them the extra cost might be too heavy," Shiu said.

The scheme was first proposed in 2005, but the bill has faced repeated hurdles in becoming law. Legislators had previously questioned how the government would enforce the rules and worried about illegal dumping worsening public hygiene.

After a long public consultation period, environment minister Wong Kam-sing finally sent the bill to Legco in 2018, but it ended up being shelved last year following deadlock among lawmakers, who traded blame across the aisle for the hold up.

Despite the delay, local green groups remained staunch supporters of the scheme, saying it would encourage residents to sort recyclable materials from their trash.

The department will be given at least 18 months to prepare for the implementation of the new system, after which lawmakers will review its progress and decide whether the economic situation was healthy enough for authorities to start charging for trash.

Under the scheme, residents, as well as operators of street-level shops that use government refuse collection services, will be required to buy one of nine types of rubbish bags produced and sold by the government.

A standard 15-litre bag, similar in size to ones used by supermarkets, will cost HK$1.70, and an average three-person household is projected to spend HK$51 per month on them. A smaller 10-litre bag will be HK$1.10.

Packs of 10 will be available at convenience stores, post offices, petrol stations and special vending machines, according to the department.