Hong Kong's government priced its first green bond in euros as it plans to issue US$22.5 billion of the sustainable financial instrument over the next five years.
Hong Kong's government has raised US$3 billion (US$1.47 billion) through a sale of green bonds, pricing a tranche of them in euros for the first time as it builds a multicurrency portfolio of financial instruments to hone the city's role as Asia's hub for sustainable finance.

The entire offering of eurobonds and dollar-denominated debt was triple the size of first US$1 billion green bond sold in 2019 and outpaced the US$2.5 billion of 30-year green bond priced in January.

The 20-year tranche of the latest offering was the longest euro-denominated green bond issued by an Asian government, according to the Hong Kong Monetary Authority (HKMA), the city's de facto central bank. It underscores the city's HK$175.5 billion (US$22.5 billion) plan for green bonds over the next five years as Hong Kong strives to become an international green financial centre. The government has gone to market with three green bonds since first announcing its green bond programme in 2018.

"The inaugural euro-denominated offering has also allowed us to reach out to a new group of investors, drawing their attention to the sustainability journey of and financial opportunities in Hong Kong, providing momentum for further growth of our financial market," the Financial Secretary Paul Chan Mo-po said in a news release.

Green bonds are fixed-income financial products designed to fund projects that are environmentally friendly.

Hong Kong plans to increase the use of wind, waste-to-energy and solar power to generate electricity in the coming years, part of the push to reach carbon neutrality by 2050, according to the special administrative region's (SAR) latest climate action plan unveiled in October.

Proceeds from the green bond sale will go to the city's Capital Works Reserve Fund to finance or refinance public works projects that provide environmental benefits and support the sustainable development of Hong Kong.

The green bond offering comprised a US$1 billion 10-year tranche, a €1.25 billion (US$1.42 billion) 5-year tranche, and a €500 million 20-year tranche. The bonds are expected to be settled on November 24 and be listed on the Hong Kong and London stock exchanges.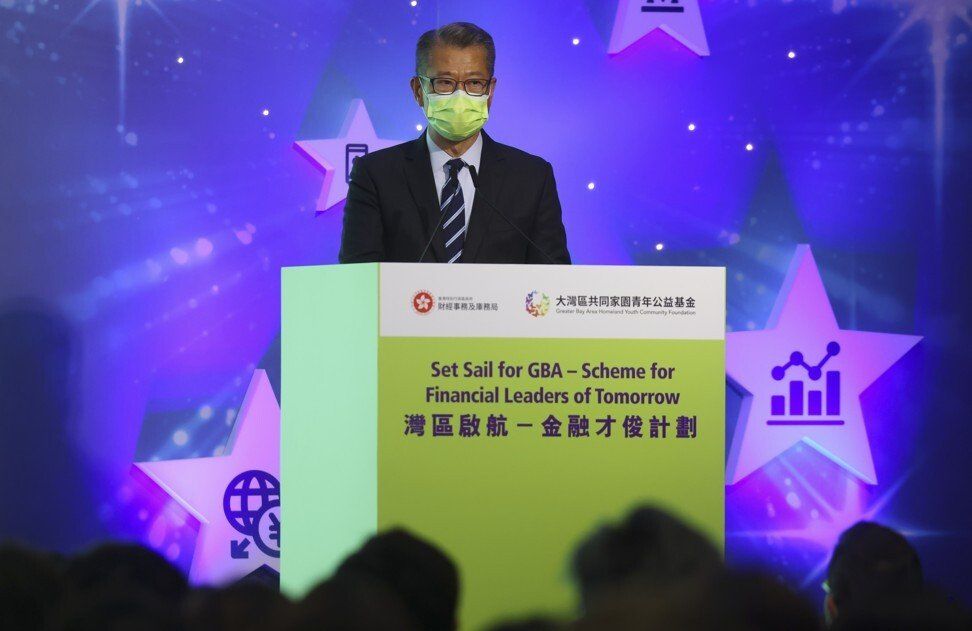 Financial Secretary Paul Chan Mo-po speaks at '"Set Sail for GBA – Scheme for Financial Leaders of Tomorrow" kick-off ceremony on Thursday.

"The Hong Kong government continues to be a leader in this space, not just through its own regular green bond issuance, but also through its advocacy and policymaking efforts to develop Hong Kong into a global green finance hub," said David Liao, HSBC's co-CEO for Asia Pacific.

The dollar tranche attracted nearly three times more orders than its issuance size, while the 5-year and 20-year euro tranches attracted more than €2.2 billion in orders.

For the dollar tranche, 72 per cent of the overall allocation went to Asian institutional investors while the remaining 28 per cent were snapped up by European investors, the HKMA said. The euro tranches were dominated by European investors, with 27 per cent distributed to Asian investors and the remaining 73 per cent to European entities.

Banks received 63 per cent of the US dollar allocation, with 16 per cent going to fund managers and 21 per cent to central banks, sovereign nationals and others, the HKMA said. Fund managers, private banks and insurance companies were the largest takers of the euro offering, accounting for 56 per cent of the distribution.

"The objectives of establishing the HKSAR as a green financial hub and forging a path for other HKSAR and [Asia-Pacific] issuers to follow as they embark on their respective sustainable initiatives remain firmly in sight," said Javier Carballo, managing director for Asia-Pacific debt capital Markets at Credit Agricole, the joint global coordinator with HSBC on the offering.