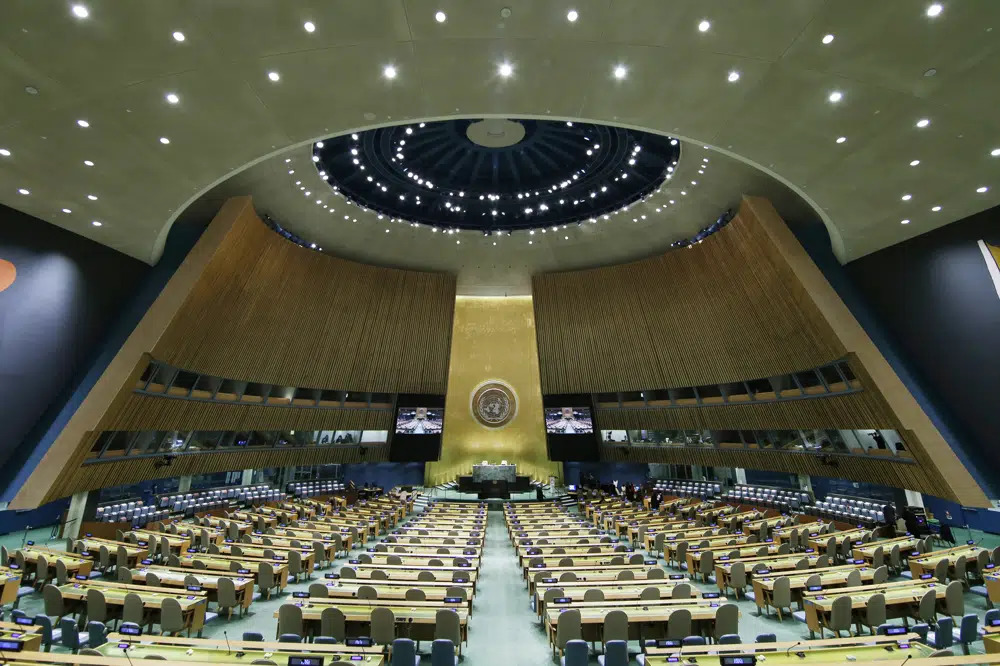 Hong Kong sees more pro-Beijing voices at UN rights review
Hong Kong supporters of a tough national security law imposed by China's ruling Communist Party have set their sights on a United Nations session, drawing concern from rights advocates.
The law, which critics say Hong Kong authorities have used to crush dissent following massive 2019 protests, has been a focus at the U.N. Committee on Economic, Social and Cultural Rights' two-day hearing on China that concludes Thursday in Geneva. The committee reviews respect of those rights in nearly all U.N. member states every few years.

Of some 30 reports on Hong Kong submitted for the session, more than half upheld the broadly applied national security law.

None of the organizations — some of which were led by pro-Beijing politicians — that provided positive reports filed a submission in the previous review nine years ago, prompting concern from rights advocates that their participation could sway how the committee views human rights situations on the ground. They worry whether events are being reported accurately, especially after some other local civil society groups have been silenced or forced to disband under the sweeping legislation.

The submission trend is concerning, Amnesty International researcher Kai Ong said, because the information from the reports is key to getting independent and on-the-ground observations on how human rights in Hong Kong are being protected or violated.

"It is worrying for the U.N. mechanism itself," she said. "But it reflects more broadly the uncertainty that many civil society organizations face because it shows that a lot of their work in many areas can be criminalized by Hong Kong government nowadays."

Hong Kong returned to China's rule in 1997 under the promise that the former British colony could retain its own political, social and financial institutions for 50 years.

But after Beijing imposed the law on the former British colony in 2020, the city's once vibrant civil society shrank drastically. Activists fled abroad or were jailed under the law. Unions and other independent organizations closed down. The United States imposed sanctions on officials it said were to blame for the abuses.

The committee has received "unprecedented amount" of submissions from non-governmental organizations, indicating significant concerns over the human rights situation in China, Hong Kong and Macao, said Michael Windfuhr, the committee's rapporteur on China.

"We also received information of those who said the national security law was positive, just to reflect this," Windfuhr said Wednesday as he grilled Hong Kong officials over the implementation of the law.

One of those positive responses came from Kam Man-fung, deputy secretary general at One Country Two Systems Youth Forum, a Hong Kong-based think tank seeking debate and dialogue between young people in the semi-autonomous city and the mainland.

Kam said he was partly motivated by the idea of "telling China's story well" — a phrase that has been used by Chinese President Xi Jinping to encourage positive depictions of the country.

Hong Kong has become a focus under heightened US-China tensions, which motived him to pay more attention to international affairs, Kam said.

"I just want the world to understand my country and my birthplace more comprehensively," the pro-Beijing New People's Party member said. He said his report was entirely self-initiated.

While pro-Beijing groups were vying to get their side of the story heard by the U.N., Amnesty International said in its report that some other local NGOs, which used to participate in the review, "were forced to disband, prosecuted, or deterred from continuing international advocacy work" out of fear of reprisal and violating the national security law.

The Hong Kong government had not given its assurance that NGOs participating in a different U.N. committee's review in 2022 wouldn't face any retaliation, said Ong. Some local groups also told Amnesty they did not want to go to the hearing in Geneva in person because they worried about surveillance and being monitored by the Chinese authorities, she said.

On Wednesday, the Chinese delegation said NGOs that provided information to the review would not be retaliated against.