Ex-lawmaker Nathan Law led group of eight Hongkongers running the 2021 Hong Kong Charter project. Web hosting company Wix apologises for removing site 'by mistake' after police asked for it to be closed.
A website run by a group of Hong Kong activists and fugitives overseas that called for the "liberation" of the city was briefly shut down, after police wrote to the company hosting it saying messages posted there breached the national security law.

Wix, the Israeli web hosting service provider, on Thursday apologised for "mistakenly removing the website", hours after ex-lawmaker Nathan Law Kwun-chung, who ran the site, called its abrupt closure from Monday to Thursday "a clear example of China's long arm of influence".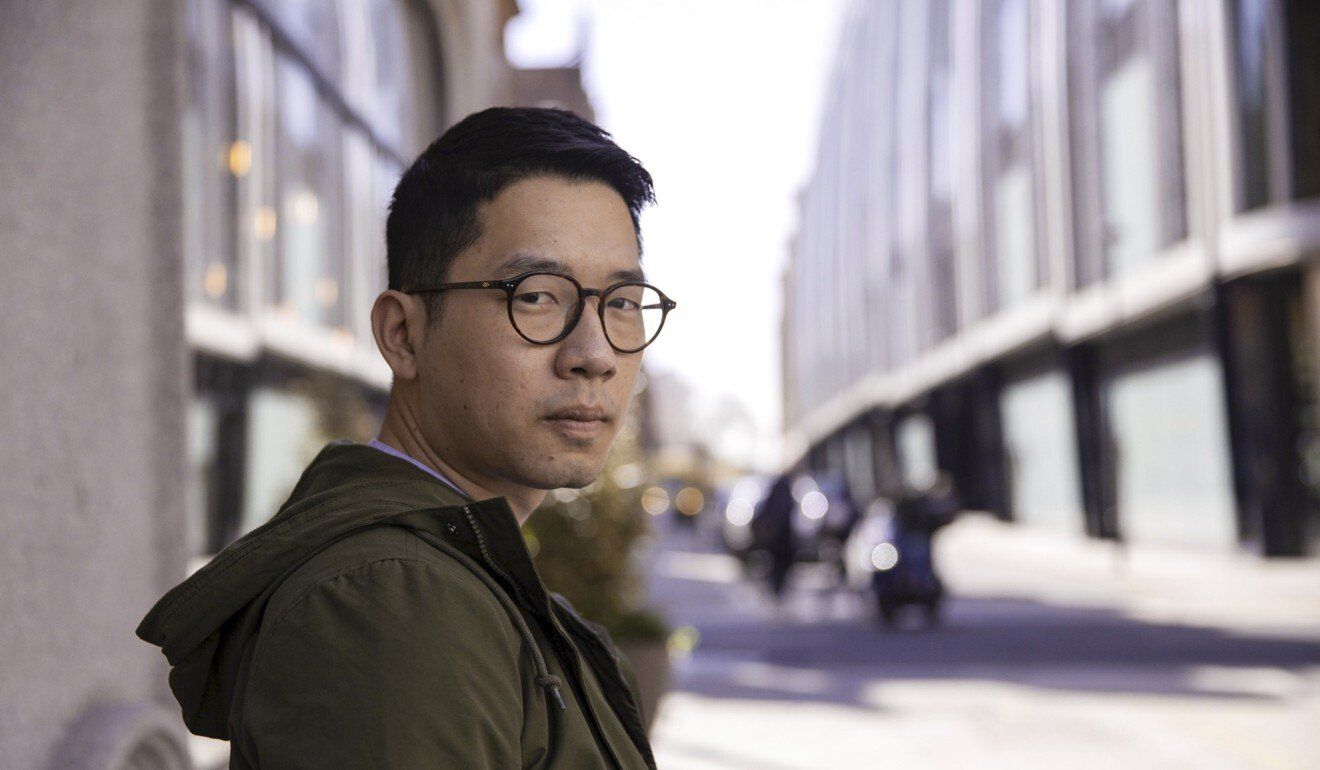 Nathan Law is in self-imposed exile in London.

The website, 2021HKcharter.com, was launched in March by a group of eight activists and fugitives overseas. It sought to unite people like them, and the international community, in the fight against what it called suppression of the city's freedoms and autonomy.

In a post on his Twitter account on Thursday, Law said Hong Kong police had asked Wix, a cloud-based development platform headquartered in Israel, to "disable our website, otherwise the company could be prosecuted".

"Wix complied," Law tweeted. "It shows that our freedom of speech is not protected even when we are not in Hong Kong and China."

But in a reply to questions from the Post, Wix, which is listed on the Nasdaq, said the website was taken down by mistake.

"We have reviewed our initial screening and have realised that the website never should have been removed and we would like to apologise," Wix said. The website has been reinstated.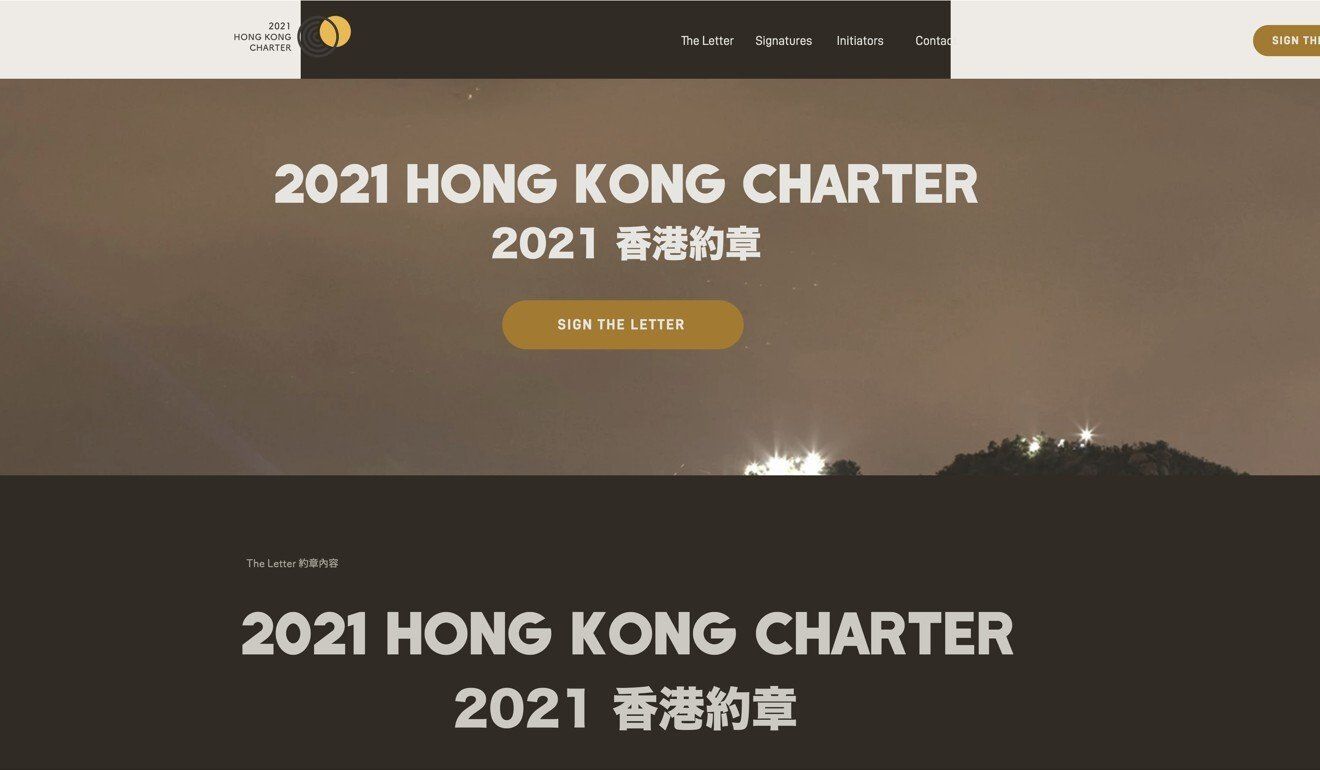 The website was launched in March.

"We are also reviewing our screening process in order to improve and make sure that mistakes such as this do not repeat in the future," Wix said.

Law, who is in self-imposed exile in London after fleeing Hong Kong, also posted the letter police sent to Wix on May 24 on his Facebook page. In it, officers reference the security law and ask the company to remove the website "within the next 72 hours".

Police, citing Article 43 of the national security law, go on to warn the company that a failure to comply could leave it liable to a fine of HK$100,000 (US$13,000), and its senior executives facing six months in prison.

They also said some messages on the website, including ones calling for an end to one-party rule in China, were "likely to constitute an offence endangering national security".

In a statement, Law said it was "outrageous that a website advocating democracy, even though it is located outside Hong Kong, might be blocked just because China considers it subversive".

He added: "The world's democracies should be aware of China's expanding might, especially after the introduction of the new national security law.

"World leaders should put in place robust safeguards to defend online freedom of expression from Beijing's new form of overseas censorship."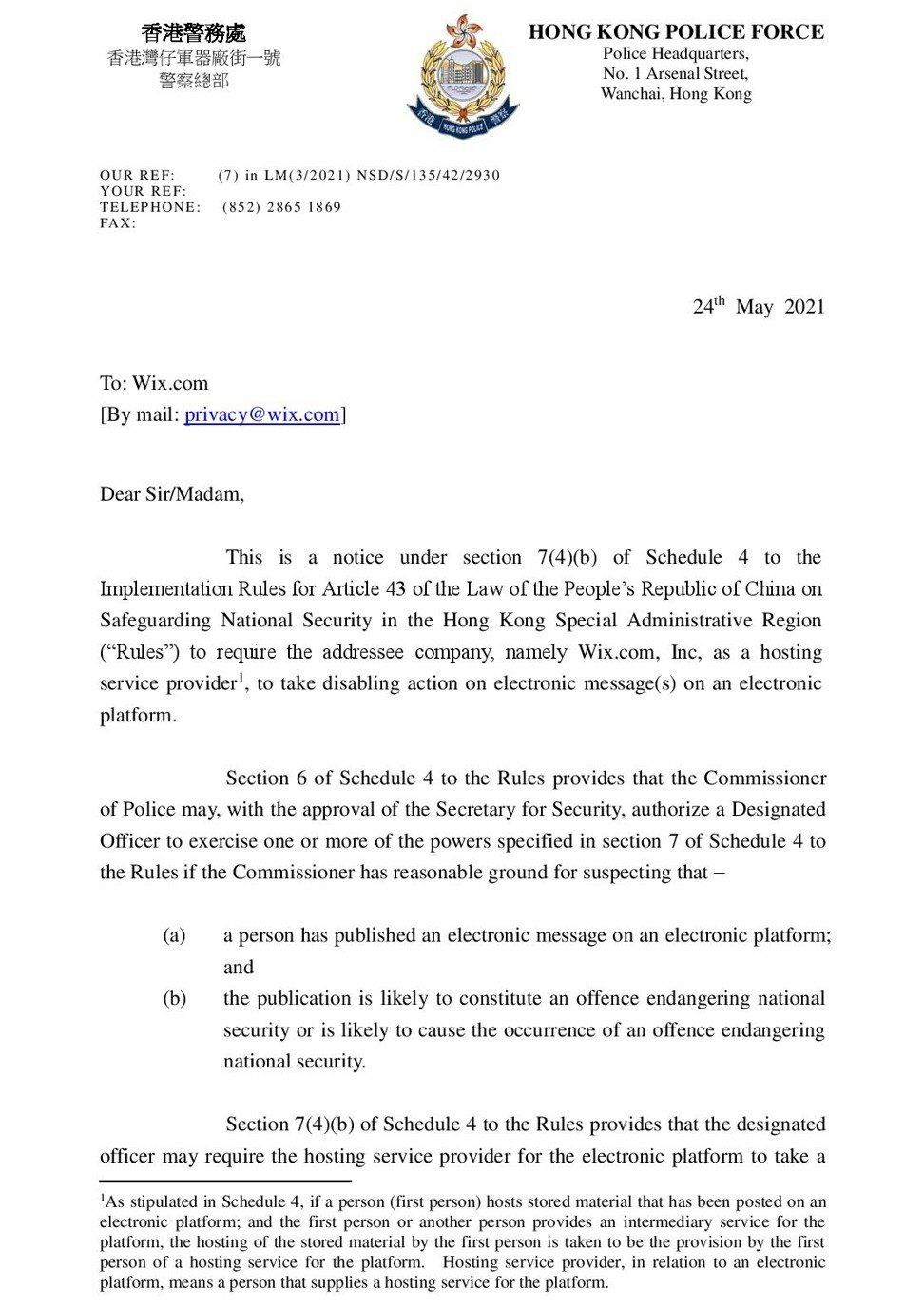 Hong Kong police's letter to Wix.

The Hong Kong Police Force said it would not comment on individual cases, but that it would take action based on practical situations in accordance with the law.

At the heart of the issue is a 25-point document posted on the website that contains statements on Hong Kong, mainland China and the international community, and calls for the "liberation" of the city and the end of China's one-party rule – slogans that are now deemed in violation of the law banning acts of subversion, secession, terrorism and collusion with foreign forces.

It also mentions issues in relation to Tibet, Xinjiang and Taiwan, and urges the international community to "stand together, to safeguard democratic values under the threat of totalitarianism".

According to its website, Wix.com is a cloud-based development platform for clients to create their own websites. It is headquartered in Israel, with offices in Canada, the United States, Germany, India, and Japan, among others.