Ricky Chiu Yin-to was among the first to come up with affordable and accurate test kits for the coronavirus.
Nucleic acid testing for Covid-19 has become second nature in Hong Kong, and scientist Ricky Chiu Yin-to plays a big part in that, having been among the first to look into coming up with affordable and accurate testing tools for the public just three weeks after the coronavirus outbreak began in 2020.

His swift action and dedication earned him recognition on Friday when he became one of nine winners of the InnoStars Award, an accolade presented by think tank Our Hong Kong Foundation and founded by former city leader Tung Chee-hwa to innovative scientists in the city.

Born to and raised in a family filled with literature and history scholars, Chiu chose a markedly different path for himself from a young age, and had always aspired to become a scientist.

After completing Form Five in a local secondary school, Chiu travelled to the United States in pursuit of this dream. He chose to study biomedical engineering, went on to earn a doctoral degree, and soon realised his unique passion for developing rapid tests.

"The first funding my team and I got was to develop a rapid test for detecting tooth decay," he recalled. "It's caused by one specific bacteria in the oral cavity and many parents don't know that children can get it just through being fed food by adults."

In 2015, he founded biotech company Phase Scientific and returned to Hong Kong in 2017 to focus on the development of diagnostic tools for cancer.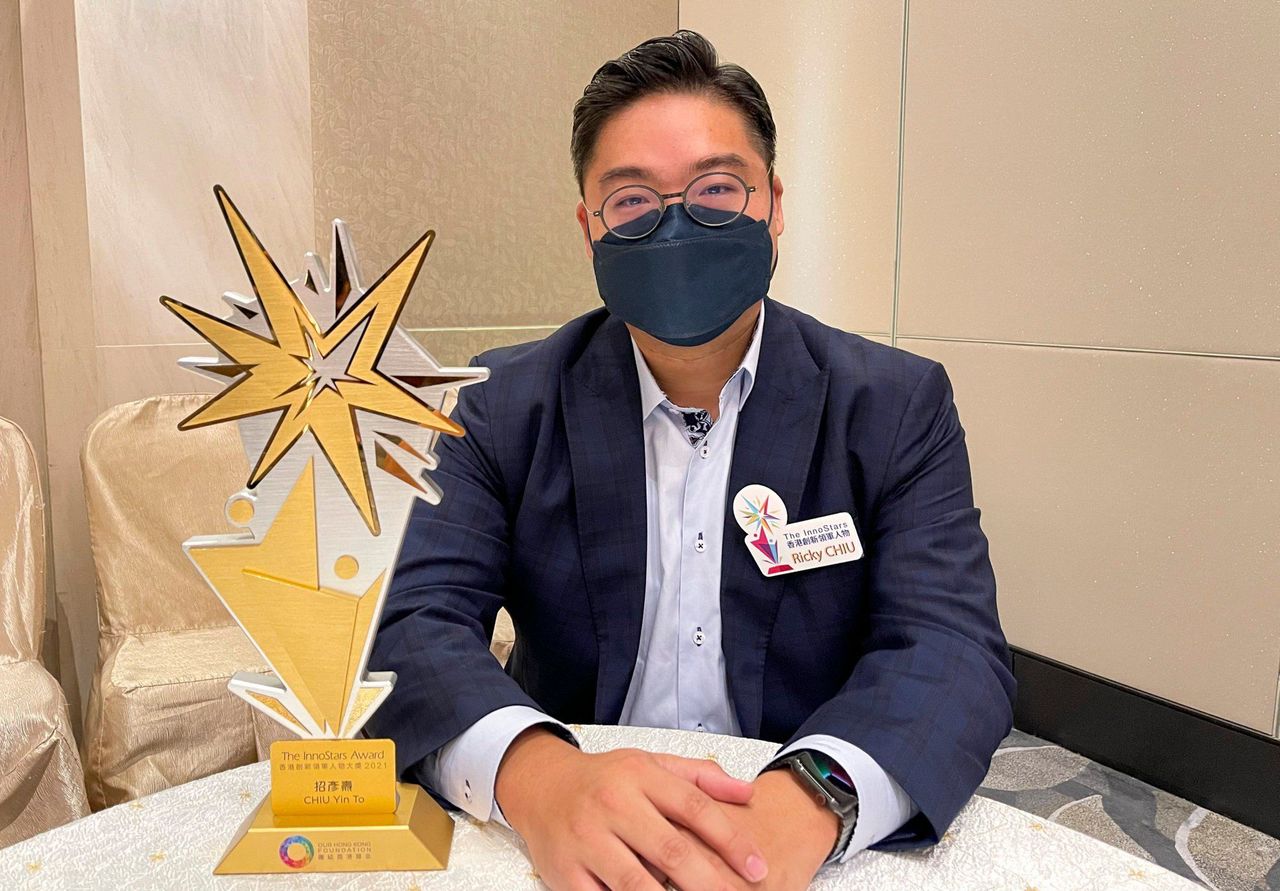 Ricky Chiu was awarded for developing affordable Covid-19 testing tool within three weeks.

His journey took a pivot in early 2020 when Covid-19 hit. The coronavirus was a painful reminder for Chiu of the helpless days Hong Kong endured during the severe acute respiratory syndrome (SARs) crisis in 2003, when the public had little tools to detect the deadly virus early.

Chiu sprang into action. His teams in Hong Kong and the US took advantage of the time difference, working around the clock on research and development work. In just three weeks, his company successfully developed a Covid-19 nucleic acid test kit.

"Nucleic acid tests and rapid antigen tests are based on the same technology. Our focus in the near future will be on more rapid tests for different infectious diseases," said Chiu. "By developing affordable and simple rapid test tools, people can better understand their health situations and make better medical decisions."

To Chi-ho, chair professor of experimental optometry at Hong Kong Polytechnic University, was also acknowledged at the awards for inventing two types of spectacle lenses that effectively slowed the progression of myopia among schoolchildren by 60 per cent.

For To, it was the fruition of research that began 20 years ago after a seminar.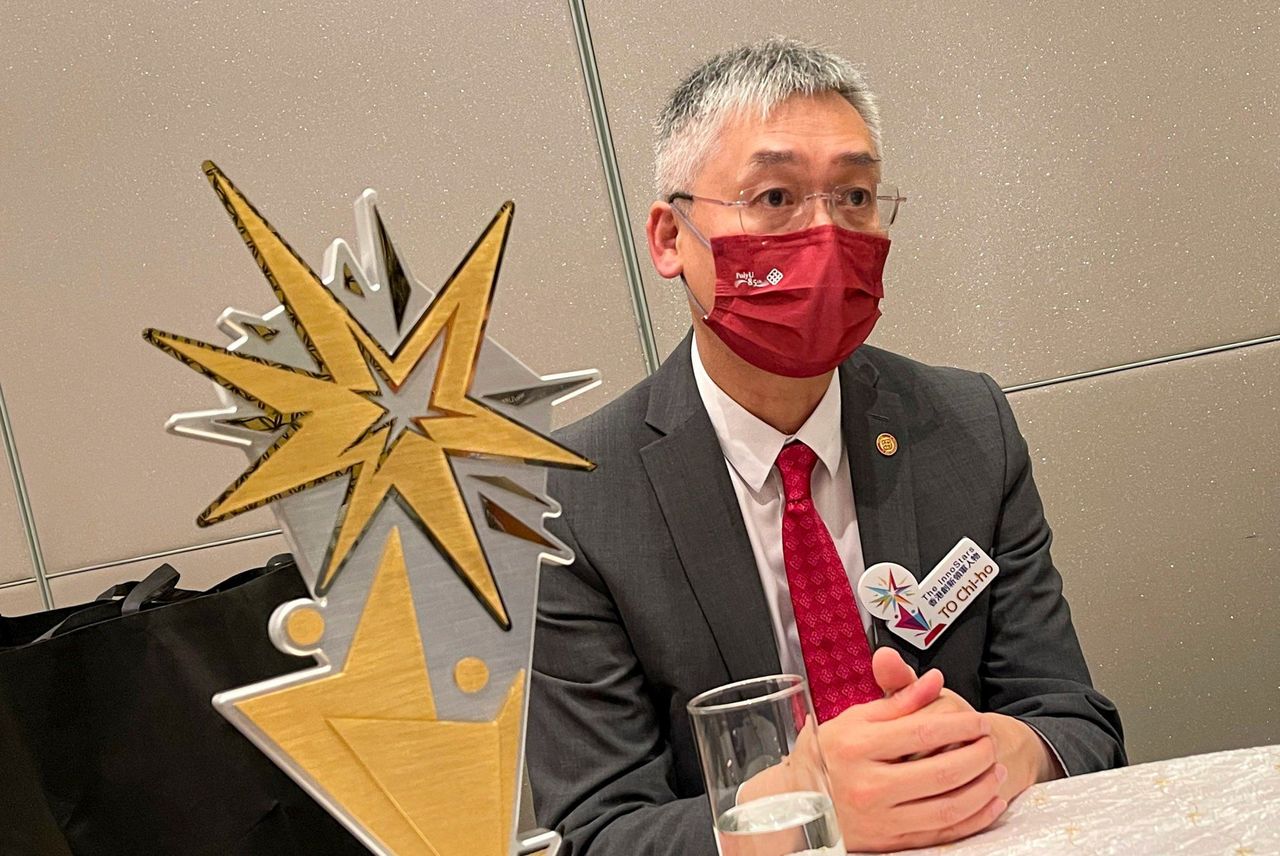 Professor To Chi-ho was awarded for inventing spectacle lenses that help slow the progression of myopia among school students.

"Parents were worried because they didn't have any solutions to the seriousness of their children's myopia. It was the first time that I deeply felt the pain of myopia patients," he said.

More than 200,000 boxes of one of these correction lenses have been sold in mainland China as of September last year. The other has been introduced to over 20 regions in Europe and North America, serving as alternative solutions to address myopia.

Incumbent health minister Lo Chung-Mau was also on stage to receive an award on Friday. As the former chief executive of the University of Hong Kong-Shenzhen Hospital, he led the facility to become the youngest "3A hospital" in Guangdong. The grading is the highest in the mainland hospital accreditation system.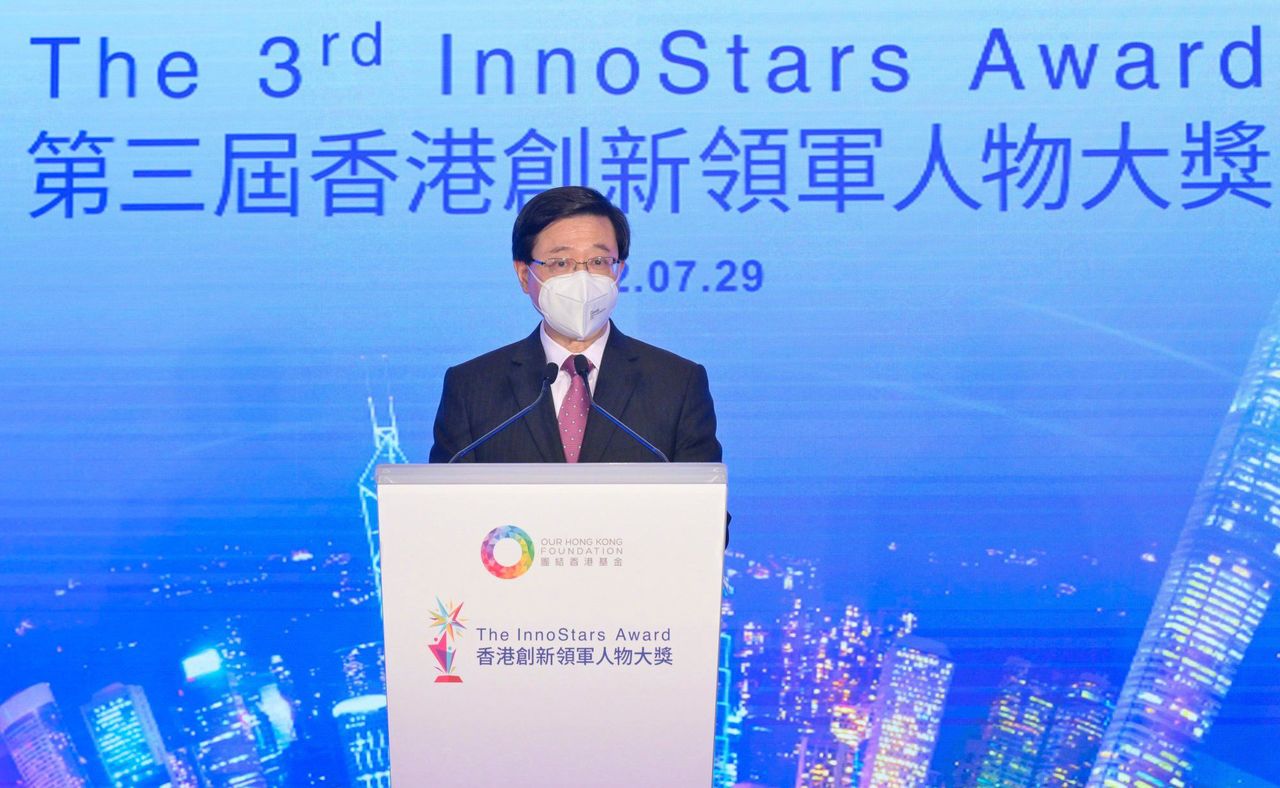 Hong Kong leader John Lee speaking at the presentation ceremony.

Hong Kong Chief Executive John Lee Ka-chiu, who was at the event to present the awards, could not help but open his arms to greet Lo when the latter took the stage.

In his keynote speech at the event, Lee said his administration is determined to develop the city into an international innovation and technology hub with the support of the central government.

"Our city is also gifted with the unique advantage in leveraging our close ties with the mainland, while connecting the world at large, which has been a favourable factor to pool together top-notch talent people from all over the world," said Lee.