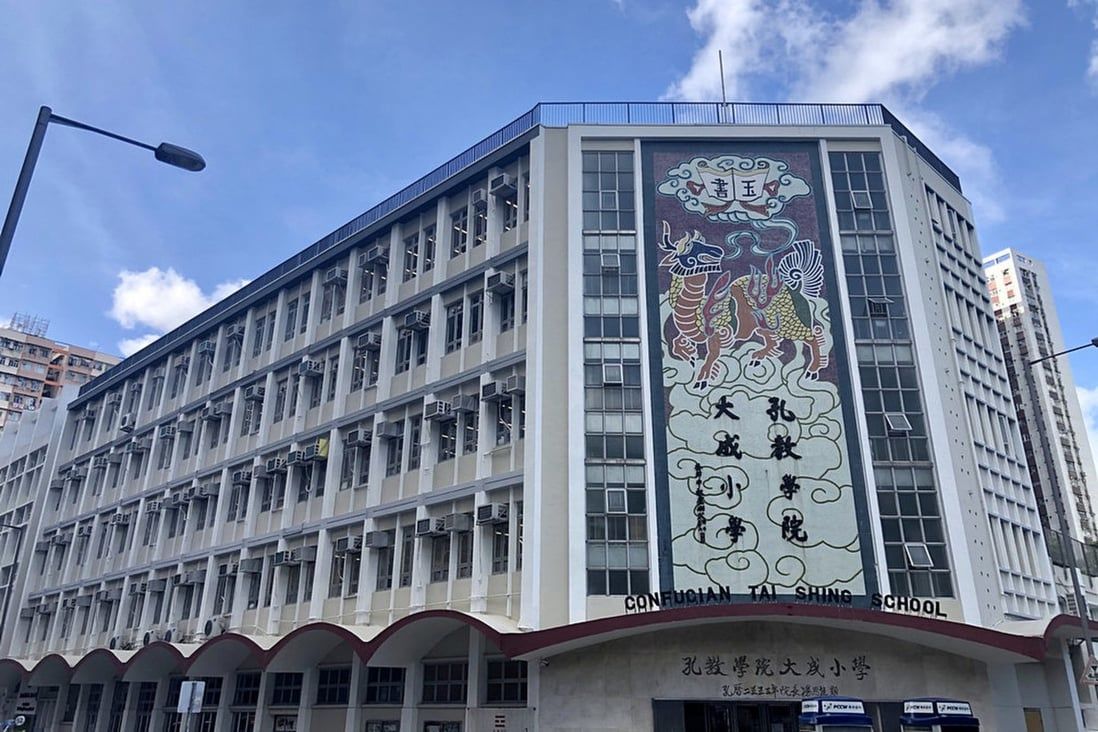 Hong Kong school facing axe slams authorities over focus on student enrolment figures
Principal of Confucian Tai Shing Primary School also says 60-year-old institution could turn into non-profit private campus as last resort.
A Hong Kong primary school facing the axe over a shortfall in new students has hit back at education authorities for focusing on minimum enrolment figures, accusing them of failing to consider the quality of teaching on offer.

Debe Yuen Poon Suk-han, principal of Confucian Tai Shing Primary School in Wong Tai Sin, on Monday also revealed last-resort plans for the 60-year-old institution to stay afloat by turning it into a non-profit private school.

The school is one of five local institutions that will not receive government grants to run Primary One classes in the next academic year after failing to secure at least 16 pupils, which is required to open a class.

"We appreciate that Hong Kong has a low birth rate and experienced a fall in its student population," she said.

"But if the Education Bureau only cares about the number of pupils recruited or sent through the central allocation system, without taking into account the efforts a school has made, the academic performances of its students and their progress, such a way to implement a policy has much room for debate."

The principal said the school had no plans to close and was prepared to privately fund a Primary One class for the next term with sponsoring body the Confucian Academy to pay all fees for students who had already signed up for six years of education there.

The annual cost of running a Primary One class can reach about HK$1.5 million (US$191,130), the Post has learned.

"We see that we have the commitment and responsibility to those who have sought to join our school," Yuen said, adding that parents had been told about the plans and had expressed their support.

"Our school is the only one in Hong Kong with a mission to promote Confucianism. We would not like to see Confucian thought unable to be promoted here just because of the Education Bureau's decision this time," she added.

The principal also said the idea of merging with another institution would not work either since the sponsoring body only operated one primary school, as well as a secondary one.

"We have applied to the government to run 'private' [Primary One] class and have plans to turn the school into a non-profit private institution in as early as three years," she said.

Operating in Wong Tai Sin since 1963, the school currently runs 14 classes, comprising a class each from Primary One to Three, two for Primary Four, three for Primary Five and six Primary Six sections.

The school ran 19 classes during the last academic year.

A spokesman for the bureau said it was the prevailing policy that aided schools that failed to attract the necessary 16 pupils would not receive grants to run Primary One classes during the next academic year.

"The government will also stop offering any grants to the school after the third year. In general, schools in question will usually close after three years of having no Primary One classes," he said.

According to the bureau, schools that failed to meet the quota could consider options such as running primary classes on a private basis, merging with other institutions or ask for authorities to make a special inspection.

"The bureau has received proposals by schools that were not offered grants to run Primary One classes in the 2023-24 school year. We are reviewing the submissions and will notify the relevant schools when a decision on whether their proposals are accepted is made," the spokesman said.

The four other institutions facing the axe are Po Yan Oblate Primary School, also in Wong Tai Sin; the Church of Christ in China Cheung Chau Church Kam Kong Primary School on Cheung Chau; St Charles School in Kennedy Town and the Salvation Army Centaline Charity Fund School in Chai Wan.

The Post earlier reported the Salvation Army Centaline Charity Fund School would merge with the Salvation Army Ann Wyllie Memorial School in Chai Wan.