'She knows if she does things right, she can keep up with the best,' says the 20-year-old's coach Ben Koppelaar ahead of their outing at Enoshima Yacht Harbour.
History-making Hong Kong sailor Stephanie Norton is preparing for her Olympic Games debut in the strongest way possible – by training alongside the reigning Olympic champion.

The 20-year-old Norton, who became the first women's dingy sailor to reach the Olympics via a competitive route since the 1996 Atlanta Games after qualifying in Oman in April, has spent the last two and a half months training in the Netherlands.

With the help of Hong Kong coach and Dutch native Ben Koppelaar, Norton has been soaking up knowledge from the likes of 2016 Rio Olympics laser radial gold medallist Marit Bouwmeester.

"We've been lucky enough to train with the Dutch team so we've basically had the same preparations as them. We were able to train with a couple of boats so that's worked out really, really well because Steph was the only laser radial sailor in Hong Kong," said Koppelaar, who was part of the Dutch Olympic men's coaching team five years ago.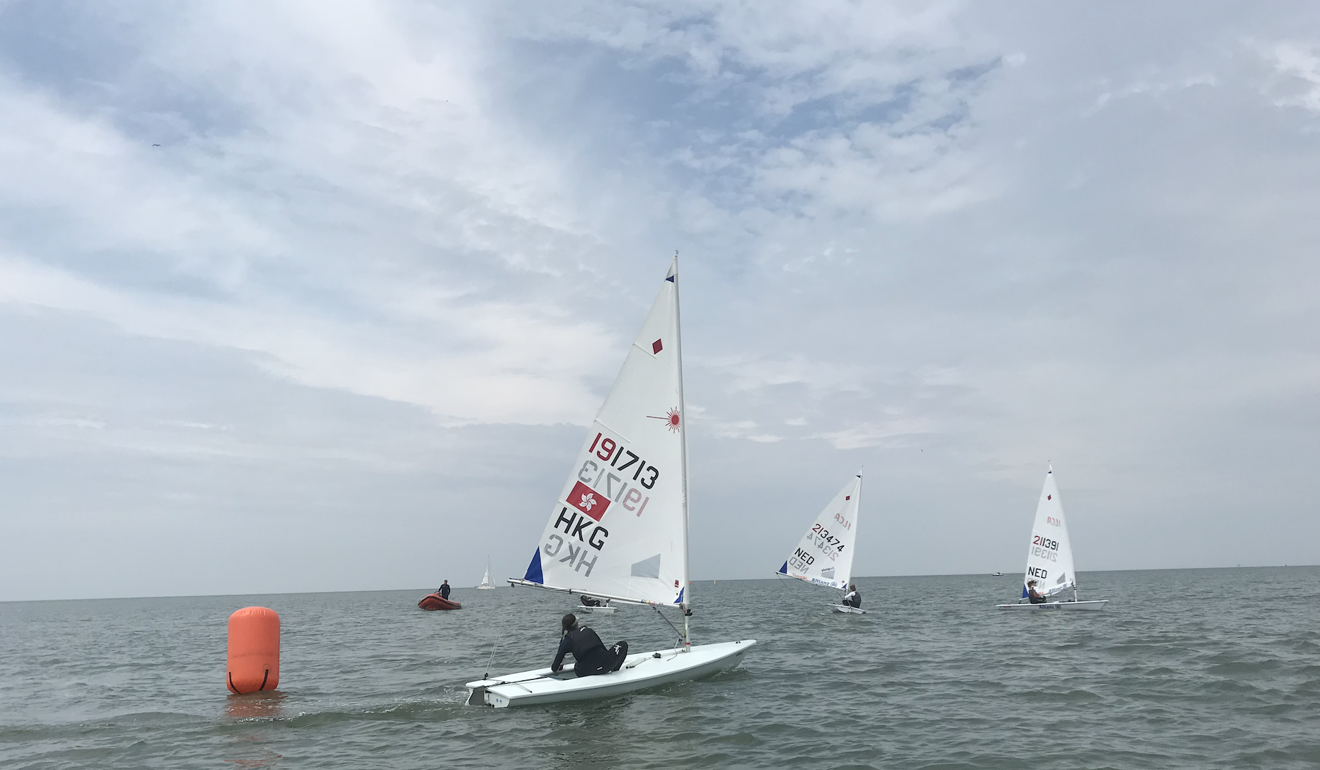 Hong Kong sailor Stephanie Norton training with Dutch sailors in the Netherlands before their Tokyo 2020 Olympic Games competition in Japan in July.

Koppelaar and Norton were also part of the professional contingent offering tips at Trytopia's sailing "taster event" last week, aimed at Hongkongers and Asians – of all ages and proximity to watersports – living in the Netherlands.

"We've been able to do some racing and starting practice, and she's also seen the level of the Dutch girls – to see what she needs to work towards, and to be inspired as well."

Team Norton – composed of Hong Kong Sports Institute head coach Jamie Boag, double-handed coach Rory Godman and single-handed coach Koppelaar – will fly to Japan on Monday where they will undergo mandatory quarantine near the Olympic watersports site in Enoshima.

There is some way to go to reach the skill set of Bouwmeester, a 2012 London silver medallist and medal favourite for the postponed-Tokyo 2020
Games.

"She's 33 and Steph is only 20 so it's quite a big gap, but it's good for her to see what she still has to improve on, and how hard somebody who's been doing it for 15 years still trains in the gym. At the same time, Steph was already ahead of her in some conditions. These are just training races but at least she's showing some potential. She knows if she does things right, she can keep up with the best," he said.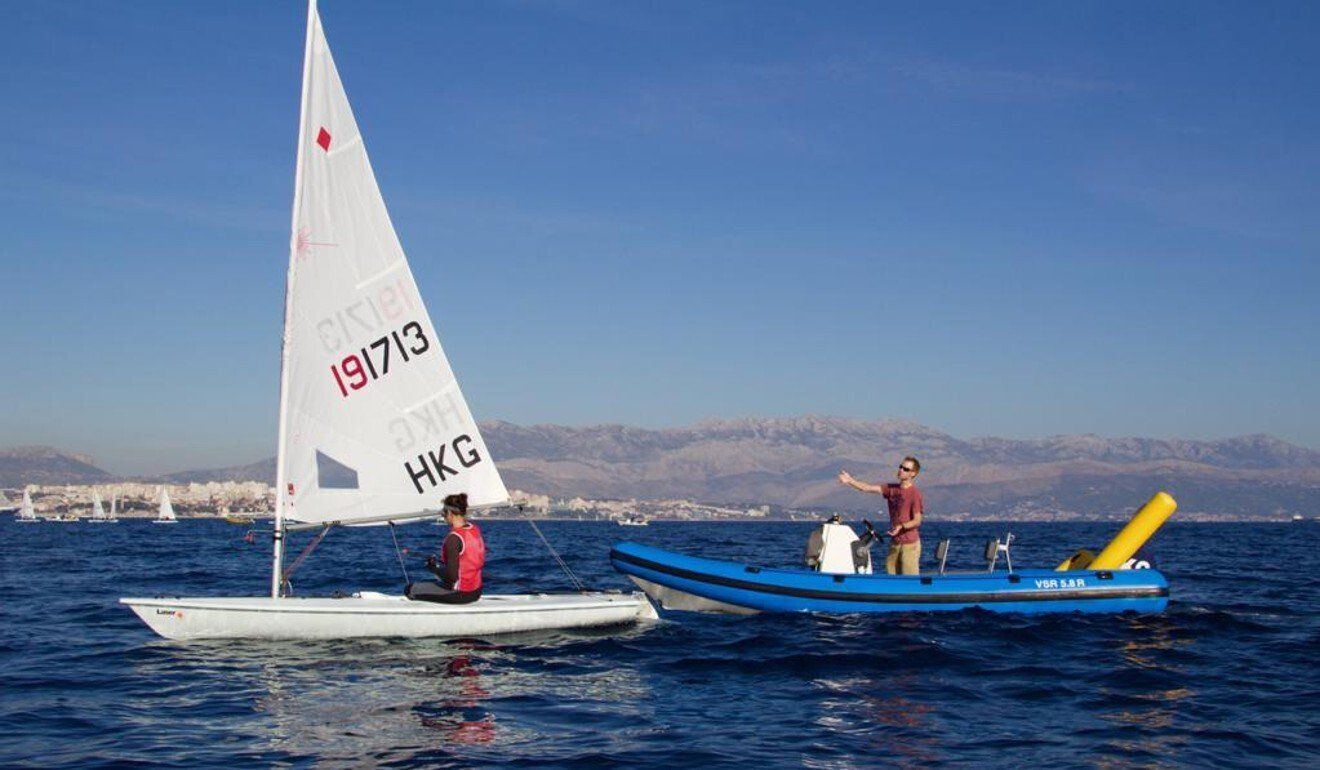 Hong Kong women's sailor Stephanie Norton and single-handed coach Ben Koppelaar in training in the Netherlands in June.

Given that it will be only her third senior event – her first was the Tokyo qualifier in Oman and second the Allianz Regatta World Cup event in the Netherlands last month – expectations are tempered. The goal is to demonstrate what Norton has learned in the lead-up and give her a lift ahead of the 2022 Asian Games in Hangzhou and 2024 Paris Olympics.

Norton's valuable experience with the Dutch contingent simply could not be replicated back home. Koppelaar, who is well-versed in laser radial, also recruited another men's sailor to help imitate various racing scenarios.

"Steph is improving quickly. She also has a good physique as she's quite tall. I've been telling her things are going well but it's difficult for her to see that if she doesn't have a regatta to challenge some of the other girls," he said."She realises she can do it, but it also reminded her that she needs to work really hard because she doesn't want to finish last at an Olympics or anything like that."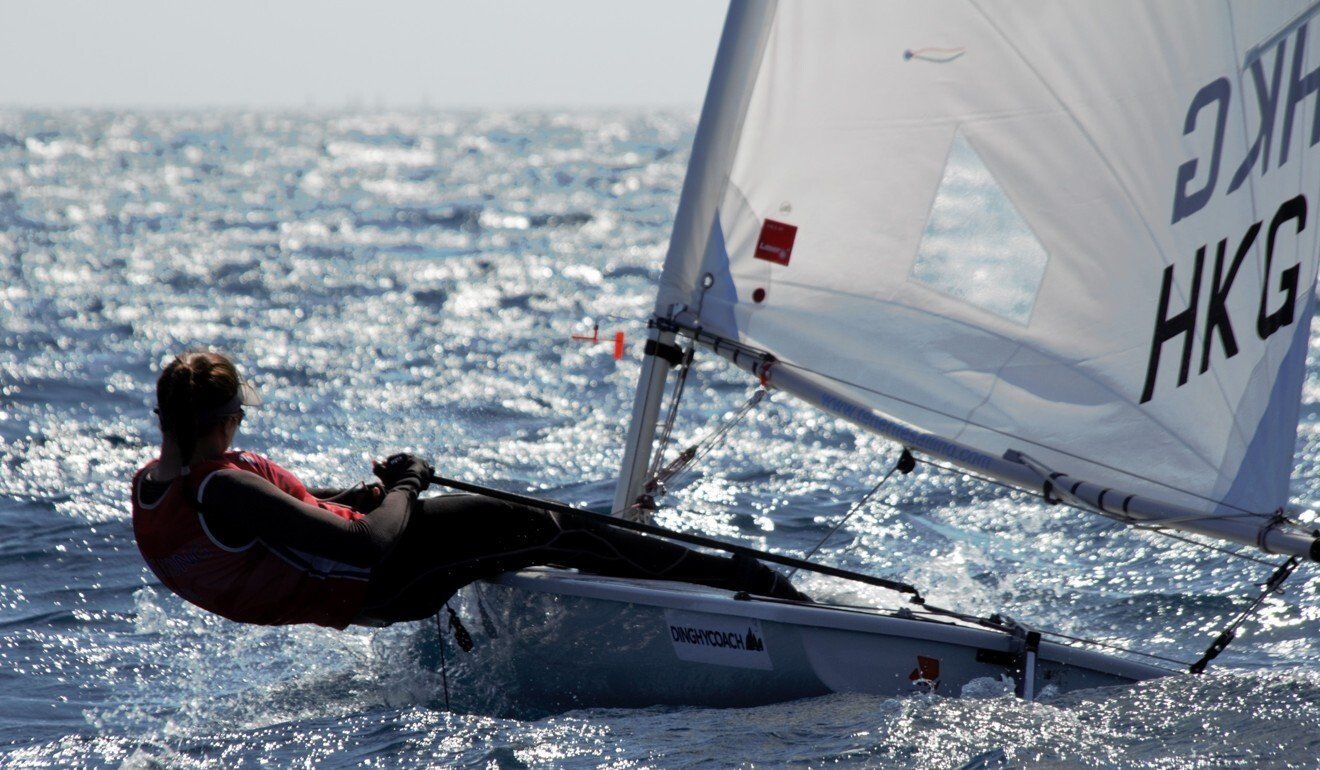 Hong Kong laser radial sailor Stephanie Norton training ahead of her Olympic Games debut.

Despite the Covid-19 pandemic continuing to meddle with the sport's landscape – the Asian Sailing Championships were cancelled in February – Koppelaar insisted Team Hong Kong is prepared for the meticulously controlled, socially distant event later this month."We were stuck in Hong Kong basically from March to December last year. It is [a whirlwind for her], but it will be the same challenged we faced at the qualifier events. The approach we've taken is to try and learn as much every day and see it as a normal race. Of course there is more attention," he said.

As for when Hong Kong's top sailors can turn to the city for big-game preparations in future – as opposed to constantly travelling overseas – there is clearly a long journey ahead.

"Right now maybe the gap is [widening] even more because Steph's getting so much better after having this opportunity to train with the best in the world. Hong Kong has youth programmes but it's still developing," Koppelaar said.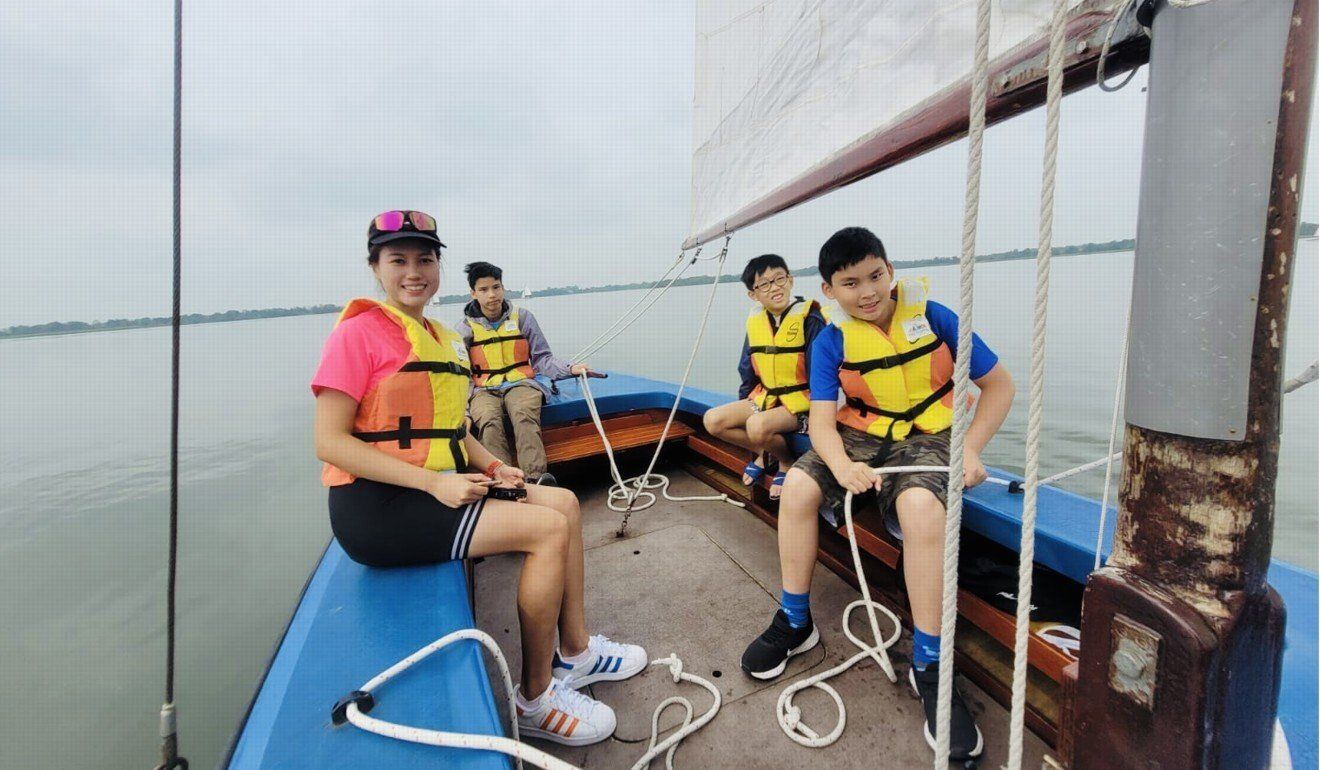 Trytopia's Jessie Chan with Hong Kong youths based in the Netherlands during a sailing and watersports taster session in July.

"I hope young sailors, especially girls, see what is possible [through Norton's achievements] and are interested in trying the sport. It would be great if there were more athletes because there aren't too many in Hong Kong and there is no national competition.

"Ultimately, you want to have a strong base with new talents coming up and fighting the ones who are already at the top. Pushing each other to new levels. But it's not there yet, which is why we spend quite a lot of time overseas. Steph has training partners and competitions nearby that she can join, both of which are not present in Hong Kong."

Regarding Enoshima, Koppelaar is well aware of the island off Kanagawa Prefecture having previously taken Hong Kong sailor Nicolas Bezy, who narrowly missed out on a Tokyo spot. It will be Norton's first crack at the course.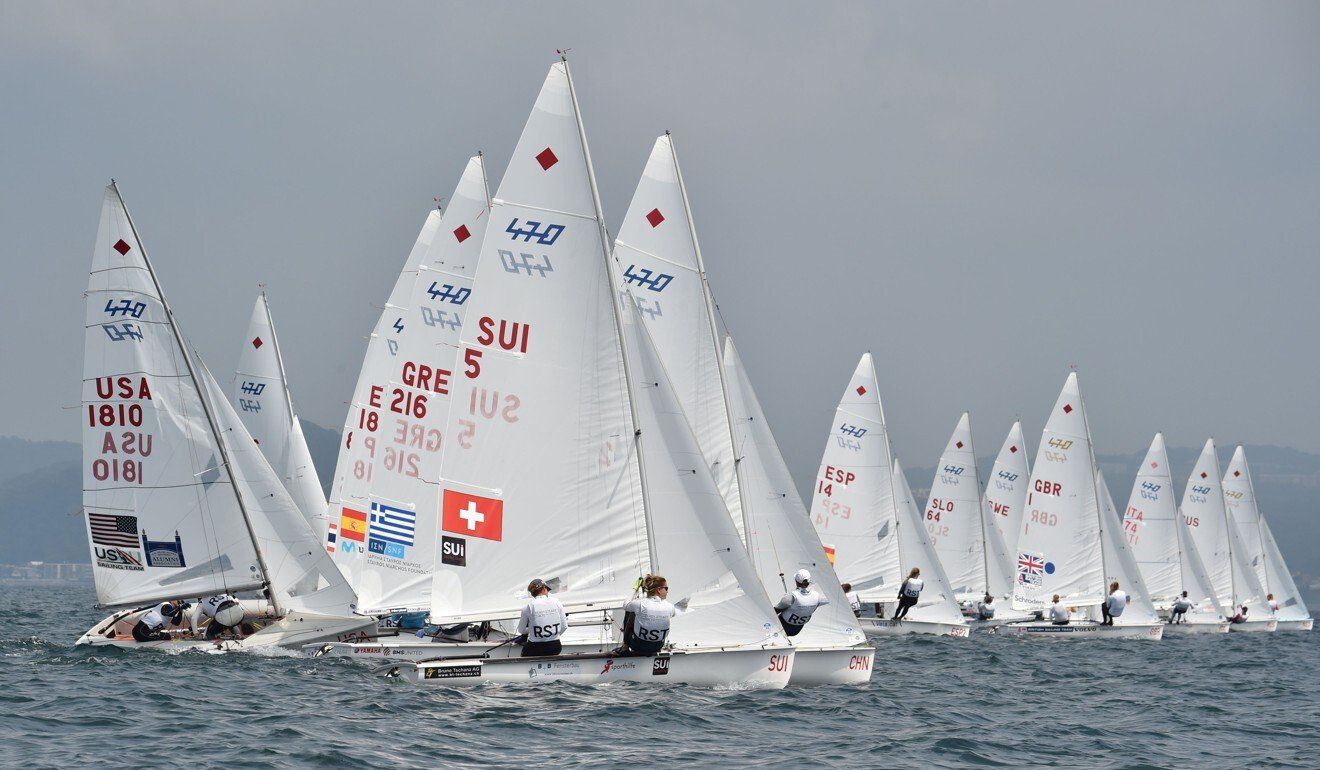 Sailors in the women's two-person dinghy 470 class competition in a sailing test event before the Tokyo 2020 Olympic Games in Enoshima Island in Kanagawa Prefecture, Japan in 2019.

"The topography will definitely be influenced by the wind. The presence or absence of a typhoon nearby will also change things dramatically. So what we've been doing is training at different venues with a lot of tides and strong waves, and also lighter winds and flatter water because these are all the conditions we can face," he said.

"The Olympics will bring a bit of fire and motivation for [Norton] to work hard. There will be 44 girls racing and we don't really have a result goal, but I think if she finishes better than 35 then we're already quite good."

The Tokyo Olympics sailing competitions are scheduled for July 25 to August 4 in Enoshima Yacht Harbour.

At the 1996 Games, Hong Kong's Cheung Mei-han and crew Tung Chun-mei competed in the women's two-person dinghy, while Chan Yuk-wah and Andrew Service competed in the men's.