As Hong Kong looks to set up an AI supercomputing centre, it must watch out for construction costs, define the goals of the project clearly and ensure the city has enough local talent to realise its potential.
Computing power has become a core driver of the development of the digital economy. The white paper on China's computing power development index released by the China Academy of Information and Communications Technology in November last year estimates that every yuan invested in computing power would increase economic output by three to four yuan.

Moreover, computing power has a significant correlation with gross domestic product. Of the top 20 countries by computing power in 2021, 17 are among the top 20 economies in the world. The top five countries by GDP – the United States, China, Japan, Germany, and the United Kingdom – were also the top five in terms of computing power.

Hong Kong's budget this year proposes to study the feasibility of establishing an artificial intelligence supercomputing centre to promote AI development and scientific research. The study will be completed by 2024. For the plan to succeed, the government should have two major considerations: the positioning of the centre and talent training.

Sun Dong, secretary for innovation and technology and industry, said that if one made reference to the supercomputing centres in neighbouring areas, the investment involved could be to the tune of billions of dollars. Further, the globally tight supply chain of hi-tech products, especially computer chips currently, adds to the complexity of the undertaking.

To make good use of public funds, we could learn from the mainland's experience.

First, beware of price chaos. It has been reported that the construction cost of the same AI computing centre – with computing power of 100 PFlops (FP16) – could differ by as much as six times between mainland cities, costing 75 million yuan (US$10.7 million) to build in one city and 460 million yuan in another. This, coupled with low price transparency, means extra caution is warranted to ensure funds are wisely spent.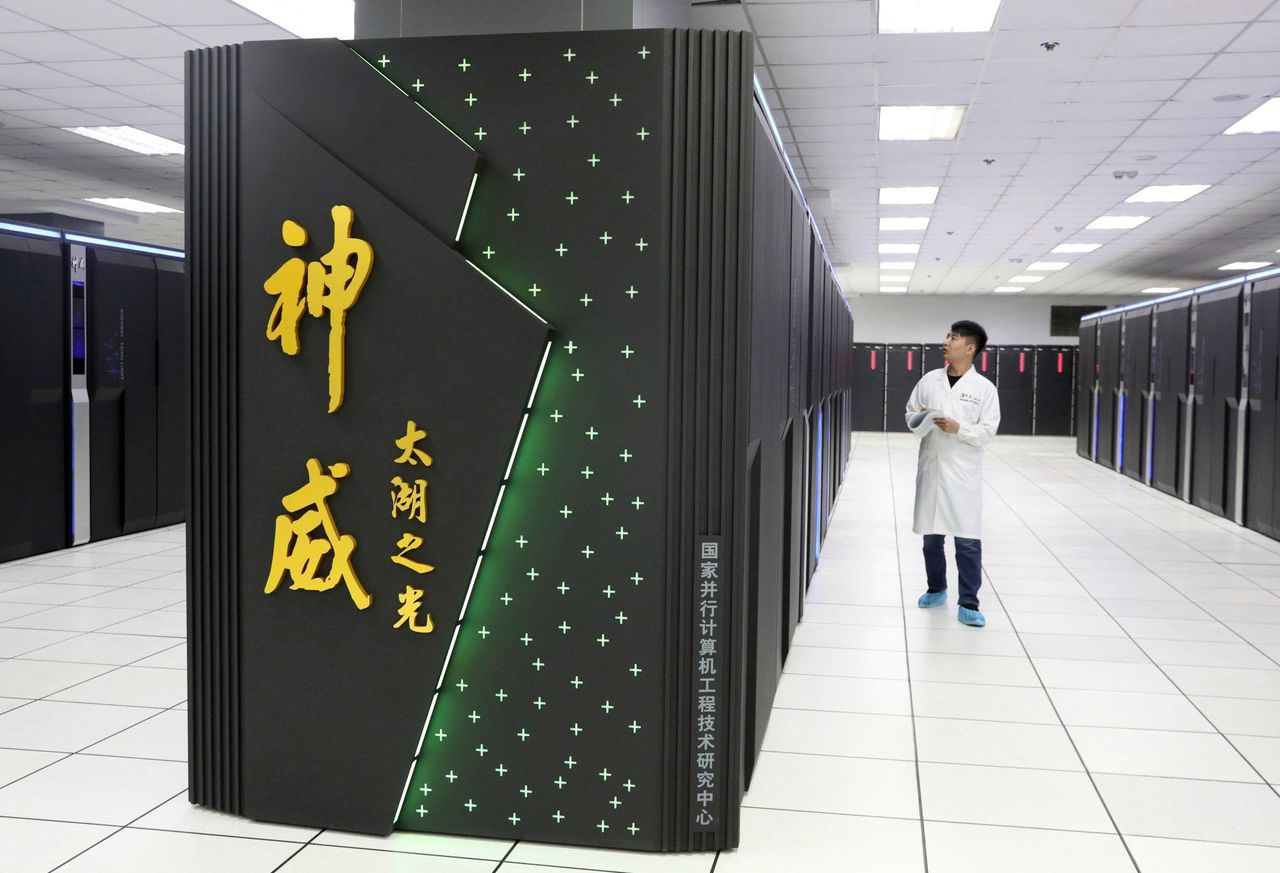 A worker monitors the Shenwei TaihuLight supercomputer at the National Supercomputer Center in Wuxi in eastern China's Jiangsu province on August 29, 2020.

Second, it is extremely important to define the role of the centre well.

In January this year, Ningbo in Zhejiang province launched its first AI supercomputing centre. With an investment of 585 million yuan in the first phase of the project, the centre is positioned as a two-in-one, serving both as a supercomputer operation providing public services (like a general hospital), and also as an AI computer centre (similar to a specialised hospital) for the project needs of businesses.

The Ningbo centre has three main goals. It will support research and development at the city's many provincial and national key laboratories, business technology centres and universities. It will promote smart governance in areas, such as weather forecasting and disaster warnings, which require analysis of a massive amount of data. It will also boost the development of the AI ecosystem by incubating cloud computing, big data and AI companies.

Do these goals appear to be similar to those of Hong Kong? We must first define our own goals and priorities, and analyse the strengths and weaknesses of neighbouring cities to identify the best strategy.

In addition to hardware, we should also think about software in the form of talent. The government has stressed sourcing talent from around the world. However, in a recent interview, Professor Chan Ching-chuen, the first person in Hong Kong to be elected to the Chinese Academy of Engineering who has been described as the "father of Asian electric vehicles", likens the government's global recruitment drive to a "flower arrangement" and says we also need to "plant flowers" by cultivating local talent.

In 2011, the Hong Kong Observatory signed a cooperation agreement with the Shenzhen Meteorological Bureau, with Hong Kong providing professional forecasting knowledge and technology, and Shenzhen providing high-computing resources and infrastructure, to jointly develop numerical weather prediction technology. Now, Shenzhen has boosted its own knowledge and skills and sophisticated digital infrastructure, but what about Hong Kong?

Hardware is relatively easy to come by but talent is definitely harder to find. For example, take the Common Spatial Data Infrastructure (CSDI) launched last year. The portal, a key initiative under Hong Kong's smart city blueprint, enables people to search for, view and download various kinds of spatial data for free. This data could be used in a range of applications.

However, due to a lack of corresponding educational resources, there are still not enough professionals with the skills to use it, so the huge potential of spatial data cannot be realised.

Nurturing Hong Kong's digital economy, building a smart city and developing AI technology ultimately relies on availability of talent. Therefore, in addition to planning for the hardware of the supercomputer centre, it is also necessary to strengthen the relevant education and offer professional training to cultivate more local digital professionals, so that the potential of the large investment in hardware can be realised.