Secretary for Security Chris Tang says city already has 'over 50 different offences' laid out in various ordinances to handle cases of human trafficking.
Hong Kong's security chief has insisted the city already has "sufficient and robust" legal mechanisms to combat human trafficking, dismissing calls for tougher penalties and enhanced protections for victims scammed into travelling overseas for work or romance.

Secretary for Security Chris Tang Ping-keung on Friday also said authorities had maintained an initial screening measure to identify any potential victims among arrestees such as illegal immigrants or sex workers.

"Hong Kong is never an originating country, transit place or destination for human trafficking. As a matter of fact, we have over 50 different offences, in different ordinances that can handle situations relating to trafficking in persons," he said.

"So we have sufficient laws and a robust system in handling, if there are any trafficking activities in Hong Kong."

Under the current system, Hong Kong has no specific legislation that addresses human trafficking into and from the city, while most of the offences used to combat such activities are laid down in laws for other crimes, as well as ones governing employment and immigration.

Chris Tang, secretary for security, briefs the media on human trafficking cases involving Hongkongers who have been held captive in Southeast Asia.

Tang made the remarks during a media briefing where he was asked about government efforts to help rescue Hongkongers being held captive in Southeast Asia after being tricked into travelling there as a result of employment and romance scams.

The security minister said that Hong Kong's law enforcement agencies this year received 41 reports of residents who had been forcibly detained in the region as of Friday.

Among the victims, 17 residents are still being held captive, comprising four in Cambodia and 13 in Myanmar.

The remaining 24 are confirmed as safe, with six having returned to Hong Kong on Friday with the help of mainland Chinese and city authorities, taking the number of victims safely back in the city to 22.

Another resident was expected to arrive in Hong Kong on Friday night, a spokesman for the Security Bureau said.

Since local media began covering the kidnappings earlier this month, experts have urged authorities to learn from other governments and enact a new anti-trafficking law featuring harsher penalties, granting courts jurisdiction to handle cases that occurred overseas and protections for victims forced to commit other crimes under duress.

Patricia Ho Pui-chi, a University of Hong Kong principal law lecturer who has campaigned for years for human trafficking legislation in the city, said she disagreed with Tang's remarks that existing laws were sufficient.

"When the matter is so severe, we should not hesitate to legislate to stem such a crime as soon as possible," she said, referring to the recent cases involving Hongkongers.

Ho also said more discussions needed to take place on how prevalent human trafficking was in Hong Kong, noting the city was among only a handful of jurisdictions that did not have legislation that specifically dealt with such crimes.

Experts have also called for the government to increase the use of screening measures at the city's airport to locate potential victims among outbound travellers.

But the security minister on Friday dismissed such concerns, saying response measures were already in use across the city.

"We have a very robust initial screening mechanism, to try to identify if there is any person being trafficked in or out of Hong Kong," Tang said, adding the system was largely used to monitor groups such as illegal immigrants, sex workers, foreign domestic helpers or those working in the city without the correct documentation.

Authorities identified one victim of human trafficking after conducting 7,700 screenings last year, he said, while three were discovered in 2020 after 6,900 procedures.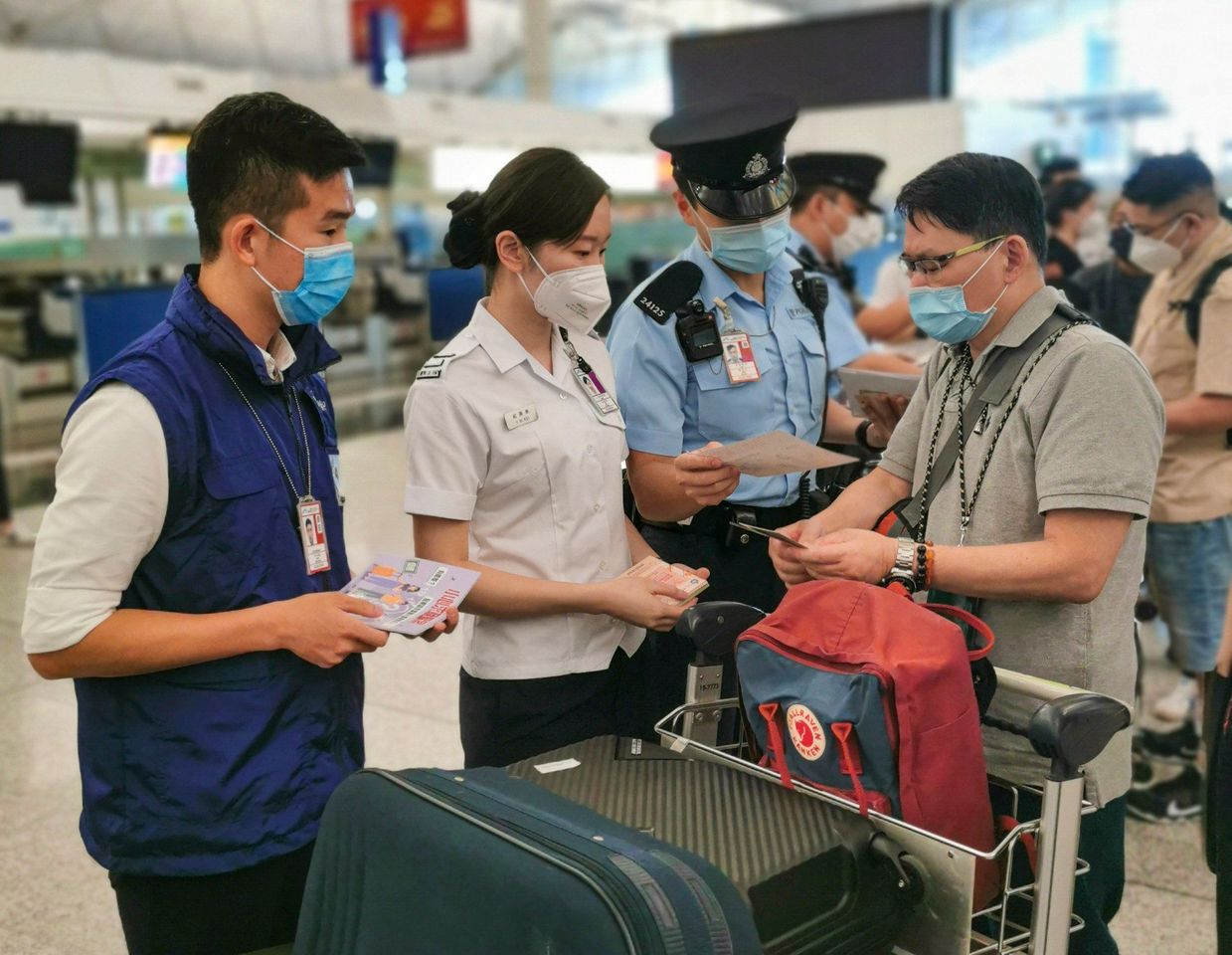 Police and immigration officers distribute leaflets at the airport warning travellers against employment fraud and other potential risks while overseas.

Asked if Hong Kong's police and immigration authorities could have developed stronger ties with their counterparts in Southeast Asia to fight organised crime, Tang said local law enforcement had pre-existing means for facilitating joint efforts with overseas agencies.

"We also have robust cooperation with overseas law enforcement agencies, by either bilateral basis, or through Interpol channels to tackle those cross-jurisdictional offences," Tang said.

The Security Bureau established a cross-departmental task force last week to coordinate police and Immigration Department efforts. The force has been investigating the cases, and arrested seven Hongkongers in connection with scams to lure victims to the Southeast Asian countries.

The Immigration Department has been contacting the families and victims in need, with a WhatsApp hotline available for people to seek help.

Last month, Hong Kong released figures on the city's law and order situation in the first half of this year.

From January to June, a total of 31,434 crimes were recorded, an increase of 1.8 per cent compared with the same period last year.

A total of 12,326 deception cases were reported in the first half of this year, representing a jump of 41.7 per cent compared with the first six months last year.