Ip says headline of news report about comments she made during interview with Bloomberg Television have caused misunderstanding.
Top Hong Kong government adviser Regina Ip Lau Suk-yee has pledged to be more careful when speaking in public after media reports quoting her on scrapping extra stamp duty for mainland Chinese homebuyers briefly drove up property stock prices and forced the administration to clarify no reduction was under discussion.

Ip, who is the convenor of the Executive Council, the government's key decision-making body, on Saturday said the headline of a news report about the comments she made during an interview with Bloomberg Television earlier in the week had caused the misunderstanding.

"The stock market fluctuations were caused by the headline of the Bloomberg article because I was responding to a question on how to attract talent and said [waiving stamp duty] could be considered. But the Bloomberg headline said the government had been considering it, so it caused some misunderstanding," she said. "The interview was conducted in a short period of time. I will be more careful and explain things more clearly in the future for sure".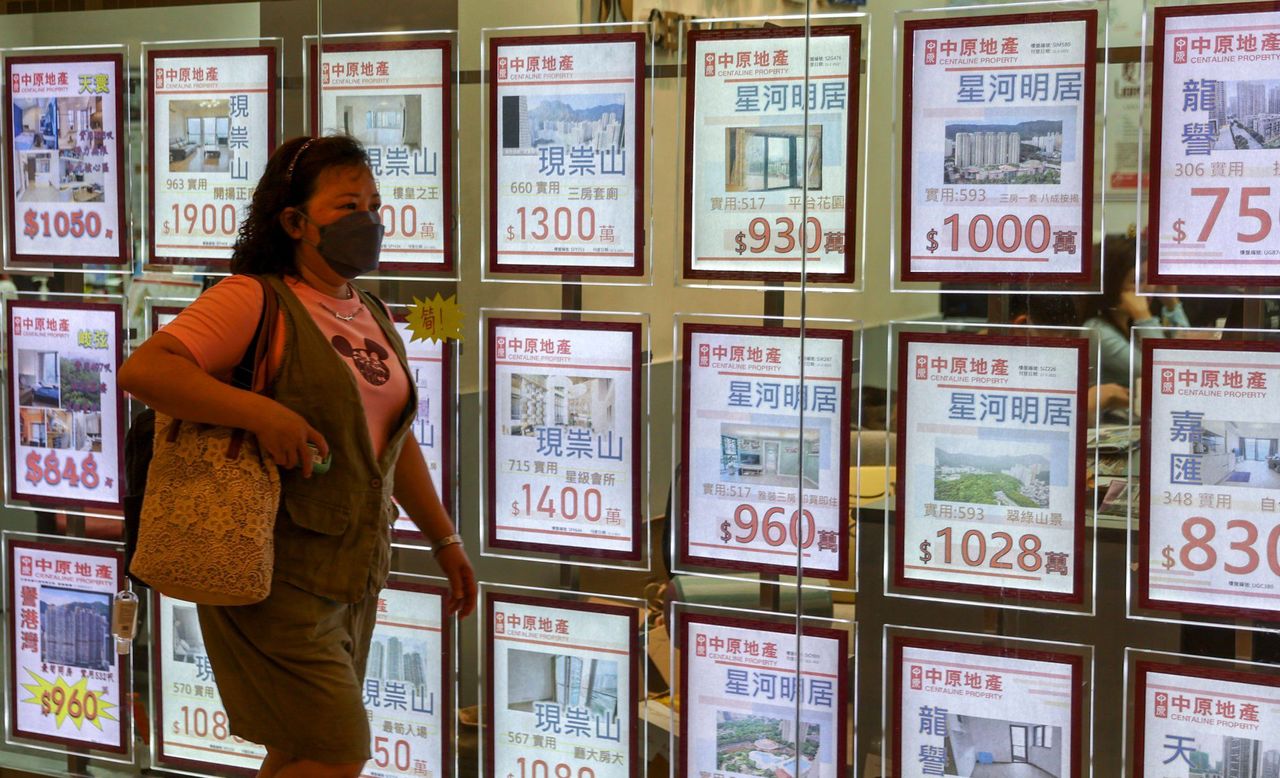 Residential property advertisements displayed on the window of a real estate agency in Wong Tai Sin.

In the Bloomberg interview on Tuesday, Ip was asked what measures the government could take to improve the economy, which has suffered during the Covid-19 pandemic. She replied the city "may consider waiving extra stamp duty on homes for mainland Chinese buyers as a way to shore up the economy and reverse a brain drain".

Mainlanders must pay a 30 per cent tax on home purchases in Hong Kong, double what locals who are not first-time buyers pay, as part of measures introduced a decade ago to curb speculative buying.

Following her comments, local property stock prices jumped, with the Hang Seng Index rising by as much as 1 per cent at one stage, and the Property Index advancing by up to 2 per cent.

Ip told the Post later that day she was only conveying an idea of her New People's Party, one she intended to suggest to Chief Executive John Lee Ka-chiu as part of his policy address consultations.

The Financial Secretary's Office moved to do damage control, clarifying the government had not been discussing relaxing stamp duties for property.

Ip on Saturday also argued an Exco convenor would cease to be influential if that person stopped making public remarks about policy, stressing the function of the role was to explain government thinking.

She pointed to her predecessor Bernard Chan, saying he had worked hard to explain government policies to foreign media, although she pledged to carry out that responsibility more carefully.

The veteran politician triggered another controversy earlier this week when she called on the government to review plans to redevelop part of an exclusive golf course for housing. Ip, who is a member of the Hong Kong Golf Club that manages the course, was accused of being guilty of a conflict of interest.

She reiterated on Saturday that she and other Exco members with golf club membership were not involved in any discussions relating to the redevelopment, and that she would not take part in such talks in the future.