All emergency ambulance transfers will be diverted to other public hospitals, while non-Covid-19 patients will be discharged or transferred, insider says.
Queen Elizabeth Hospital will become the third public health care facility in Hong Kong to be dedicated to treating serious Covid-19 patients, the Post has learned, as health authorities struggle to manage a surge in infections.

Queen Elizabeth, the leading hospital in Kowloon with more than 2,000 beds, started the conversion process on Tuesday, in the hope of providing better care for seriously ill coronavirus patients, a medical source revealed.

"We hope to focus our resources to do better," another insider said. "This is not just a slogan … there are clinical needs."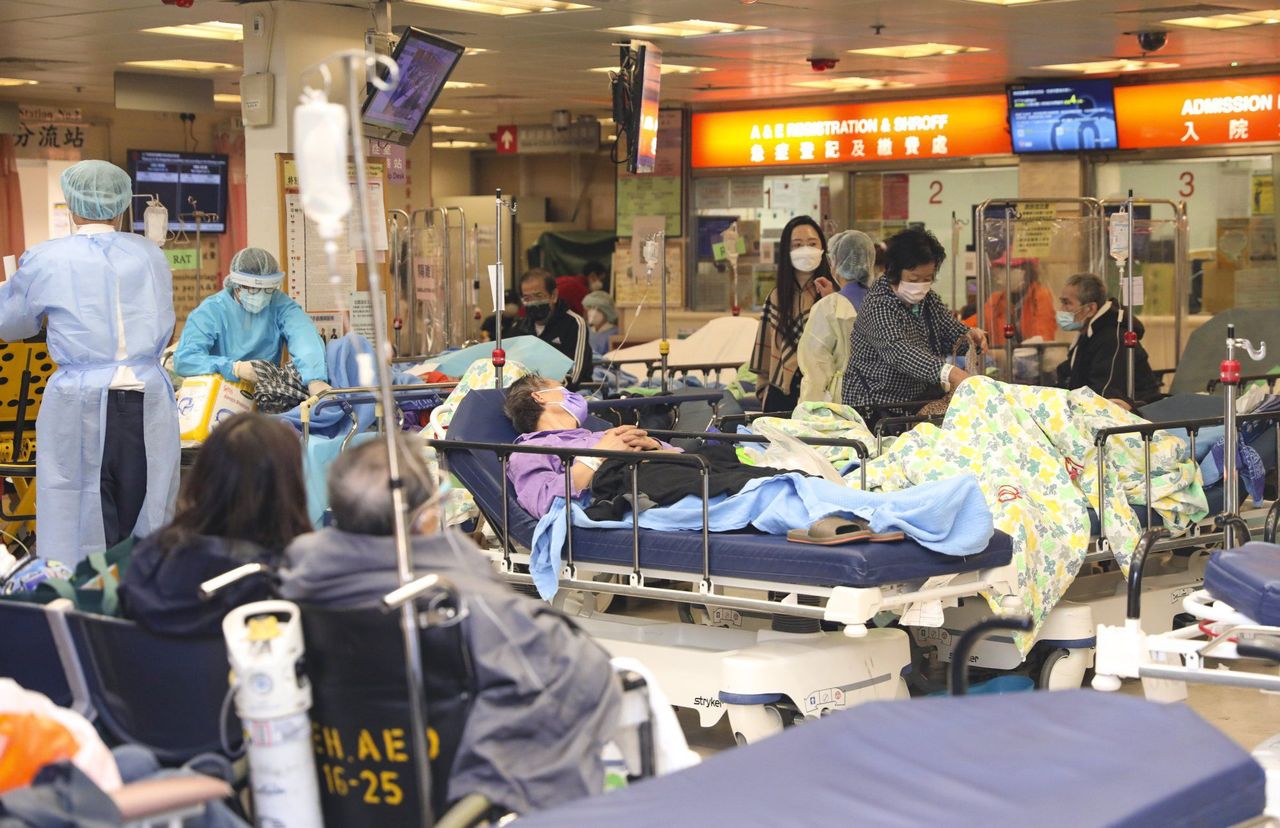 Queen Elizabeth Hospital joins Tin Shui Wai Hospital and North Lantau Hospital in dedicating itself to the Covid-19 fight.

Tin Shui Wai Hospital began reserving its 300 beds for Covid-19 patients on February 26 and accepts only residents in urgent medical need, while diverting others to Tuen Mun Hospital.

North Lantau Hospital designated its 160 beds for Covid-19 care on March 2, but maintains its accidents and emergency department for critical patients who are not infected, with others sent to Princess Margaret Hospital.

After the conversion, Queen Elizabeth Hospital will move about 400 of its Covid-19 patients languishing in corridors into clinical wards and take in about 100 others being treated in nearby Kwong Wah Hospital, the medical source revealed.

All emergency ambulance transfers will be diverted to other public hospitals, while non-Covid-19 patients will be discharged or transferred to other public or private hospitals or residential care homes.

Stable Covid-19 patients who were not fit for discharge will be sent to other public hospitals or the CUHK Medical Centre, which has reserved 24 beds for coronavirus patients.

Dr Sara Ho Yuen-ha, a chief manager at the Hospital Authority, did not confirm the plan at a regular Covid-19 press briefing on Tuesday, but said the authority had been working to increase its capacity to take in infected patients.

"The most important point for us is to decrease the mortality and severity of cases and also the infection rate," she said. "All along the Hospital Authority has been converting different units, including wards and even whole blocks and whole hospitals to receive Covid positive patients. We will continue to convert other units to increase our capacity to intake these patients. We are still undergoing the preparatory work so we will announce once ready."

The city remains caught in the grip of the fifth wave of infections, with 28,475 cases and 160 deaths confirmed on Tuesday. Hospitals are treating 8,010 Covid-19 patients, of which 3,722 are aged 80 or above, 1,624 between 70 and 79 years old and 1,185 between 60 and 69. Sixty-eight infected residents are being treated in intensive care units, eight of them aged 80 or older, 17 who are between 70 and 79, and 26 between 60 and 69.

Dr Tony Ling Siu-chi, president of the Hong Kong Public Doctors' Association, said his organisation was still trying to learn more details about the conversion plan of Queen Elizabeth Hospital, noting it did not ask the group's opinion about the move.

Patients' Rights Association spokesman Tim Pang Hung-cheong said it was a mammoth task for the hospital to transfer its existing non-coronavirus patients, including cancer or orthopaedic patients, to other medical facilities.

"It is a colossal project. The hospital needs to provide seamless arrangements to transfer the existing non-Covid patients to other facilities," he said. "Theoretically, it is not impossible, but the execution is a very big challenge. We'll need to wait and see if it will produce the best desirable effect for patients."

Pang said the transfer arrangements would be very complicated as management needed to ensure that the patients' medical records were properly passed onto the relevant hospital or residential care home.

"Queen Elizabeth Hospital should also ensure that the patients continue to have a proper medical follow-up at the new facilities," he said. "Some patients may worry that the new batch of doctors or nurses might not have a good grasp of their conditions and may mix up their treatment and diagnosis."

Pang acknowledged that private care facilities had the capacity to receive the hospital's patients but warned Queen Elizabeth must ensure the new facilities had the same medical equipment for patients with special needs.

But he agreed there were some advantages to converting the hospital into a Covid-19 facility as doing so would reduce cross-infection risks among other patients.