For most mainlanders, travelling to the city remains frustratingly out of reach and ones who do obtain a visa face seven days of quarantine on the journey back.
Hong Kong's decision to scrap Covid-19 hotel quarantine for arrivals from Monday has been widely hailed as a long-overdue step in the right direction towards reviving the local economy, but one group of travellers is less than jubilant about the news: mainland Chinese.

Residents who had delayed trips to the city, including business executives, on Saturday said the relaxation would benefit them little as they were still subject to the mainland's own requirement that returnees spend seven days quarantining in a hotel. Critically, tourist visas to Hong Kong remain frustratingly out of reach, and economists have joined mainlanders in calling for fully restoring travel across the border, arguing the city's return to growth could be undercut if its traditional base of mainland big spenders stayed away.

For Amber Liu, who works for an online business publication based in Shanghai, Hong Kong's announcement on Friday only served to remind her that a top destination in the south of the country was tantalisingly close but effectively no nearer than the other side of the world.

"I want to go hiking, to Disneyland, and see the night view of Victoria Harbour. I've never been to Hong Kong before, but I was born on the day of the city's handover," she said, referring to the transfer from British to Chinese rule on July 1, 1997. "I really want to go there to feel the vibe of the city, but I can't now, it's annoying, really annoying."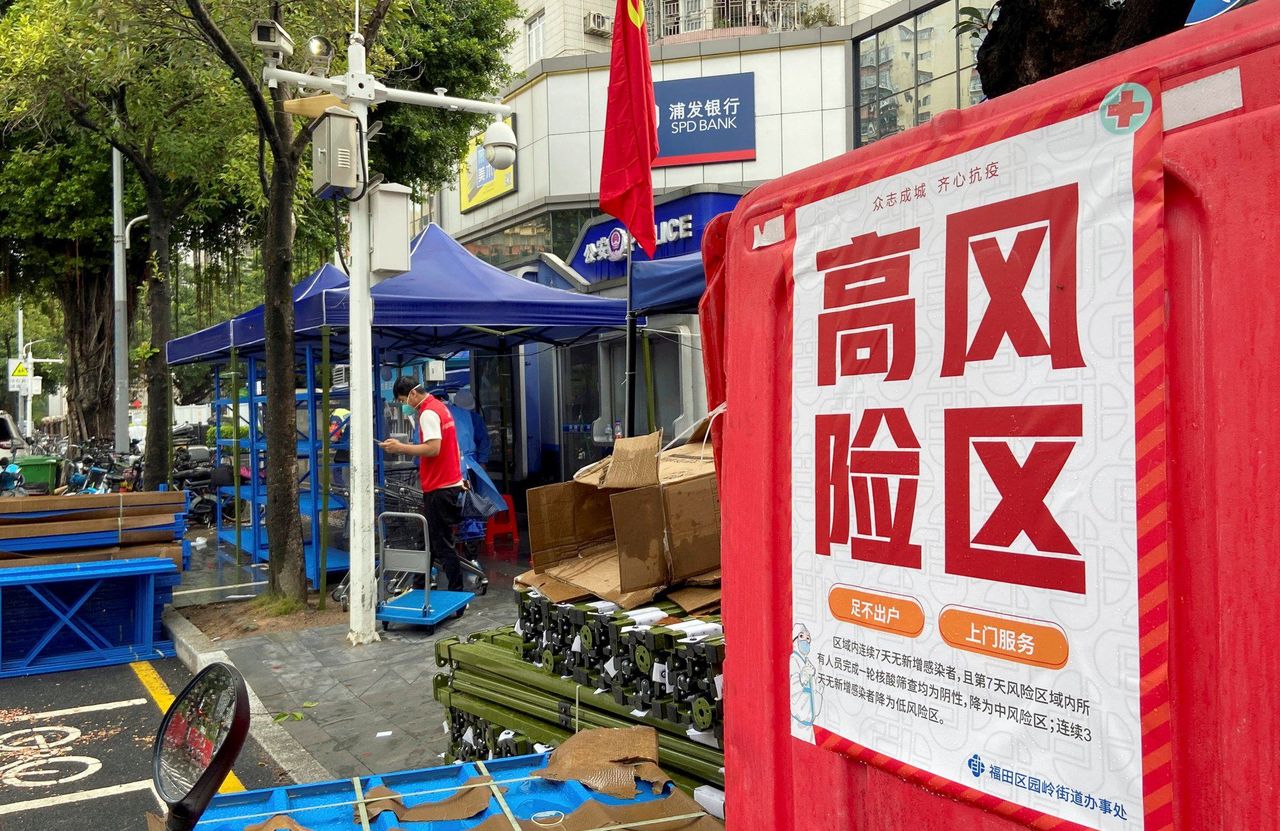 A sign outside a compound in Futian district in Shenzhen warns of a Covid-19 high risk area.

From Monday, arrivals to Hong Kong will be subject to a "0+3" scheme – three days of self-monitoring at their choice of premises such as a residence or hotel. It replaces the "3+4" arrangement, which requires inbound visitors to undergo three days of hotel quarantine and four more under medical surveillance.

The quotas for two schemes allowing quarantine-free travel for Hong Kong residents and certain visitors from the mainland and Macau will also be lifted from the present 8,500 a day, although all arrivals will still be barred from going to restaurants and bars during the medical surveillance period.

But the mainland has shown no signs it will alter its "dynamic-zero" strategy to tackle the coronavirus, which relies on stamping out infections wherever they arise through lockdowns and repeated testing.

Chinese authorities stopped issuing tourist visas for mainland residents to travel to Hong Kong on January 28, 2020, and have yet to announce any resumption of the arrangement, although business visas remain available.

Arrivals from Hong Kong must undergo three days of home isolation, in addition to the seven days quarantining in a designated hotel, assuming they can book a room.

Travellers are only permitted to cross the border into Shenzhen once they have secured a room in the city via lucky draw. Flights back to the mainland also remain limited and the tickets are relatively expensive compared to pre-pandemic levels.

A day after Hong Kong revealed it was ending hotel quarantine, neighbouring Macau announced that it would welcome back mainland tour groups starting in November, with an initial target at about 40,000 visitors a day – half the capacity before the pandemic struck.

Mainland and Macau reopened their shared border in August 2020, with arrivals from the casino hub exempted from quarantine when travelling across, unless the city recorded a surge in infections. But Macau was not expected to soon follow its neighbour's example in easing quarantine, local media quoted health official Leong Iek-hou as saying earlier this week. The city would stick with the "dynamic-zero" Covid policy for now, she said.

But even the prospect of joining a tour group to Macau did little to ease the frustration of most mainlanders desperate to travel, online media worker Liu argued.

"People here are worried about being forced to go into quarantine and unable to return home no matter where they go," she said. "I feel like I'm on an isolated island right now."

Danny Lau Tat-pong, honorary chairman of the Hong Kong Small and Medium Enterprises Association, echoed her sentiments, saying the "0+3" regime would provide little incentive for mainland businessmen to come to the city.

"When they return to the mainland, they need to undergo "7+3" mandatory quarantine, which is too troublesome for them," he said. "They also need to scramble for a hotel room and flight tickets. They are all hard to get.

"Coming to Hong Kong is easy but returning to the mainland is difficult. It's not worth it for them to go through so much hassle."

Simon Lee Siu-po, an honorary fellow at the Asia-Pacific Institute of Business at Chinese University, said Hong Kong should continue to pursue talks with the mainland on fully reopening the border, especially for the sake of the beleaguered aviation industry.

"The '0+3' scheme is just a baby step which does little to help with the economy and attract mainland travellers or businessmen to come to Hong Kong," he said. "Hong Kong relies heavily on economic activities with the mainland and the flow of people."

But not all mainlanders were left cold by the city's announcement. Lara Shan, a Chinese student in Chicago, was weighing whether to fly to Hong Kong for a second time this year, this time to attend concerts by Canto-pop singers Hins Cheung and Eason Chan.

She flew from the United States to Hong Kong at the end of August, undergoing hotel quarantine before making the trip back to her hometown in Zhejiang province - a much cheaper route than going direct. With the end of hotel quarantine, she said she might visit Hong Kong again later in the year.

"It's been years since I last watched a concert. I'm a huge fan of Canto-pop and so many of my favourite singers will hold concerts at the end of the year," she said. "So I can even attend four or five events just by flying to the city once. It's so worth it."