The Post and broadcaster RTHK join forces for annual fundraiser designed to improve the lives of the underprivileged
Operation Santa Claus, an annual charity fundraiser organised by the Post and public service broadcaster RTHK, took flight on Wednesday in a bid to raise a sleigh-full of cash for groups that work with Hong Kong's underprivileged and spread some Christmas cheer in the run-up to the festive season.

The campaign, founded in 1988, will this year support 15 charitable projects in the areas of children and young people, the community, the environment, people with physical and mental disabilities and medical treatment.

The fundraiser, with the theme of "Sports and All", will hold a series of events in November and December to drum up donations.

"This is the 35th year of Operation Santa Claus, and the South China Morning Post is honoured to continue this long-standing legacy and tradition in partnership with RTHK to support our community," Post editor-in-chief Tammy Tam said.

She said this year's theme highlighted the core values of the appeal, as supporting and taking part in sports brought people together to spread good cheer.

"Anyone can be Santa Claus over the next few months by supporting the charitable work of our wonderful beneficiaries," Tam said.

"Their commitment to bettering the lives of those less fortunate than ourselves in Hong Kong is truly inspiring."

Events will include a five-a-side football tournament organised with Hong Kong Football Club, to be held at the Happy Valley Sports Ground on November 27.

Tam also thanked the campaign's long-term donors, including financial services giant Morgan Stanley, investment bank UBS and the Hong Kong Golf Club.

"It's an inspiring community engagement project for us and it means a great deal," RTHK's head of English programme service Jim Gould said.

"We're always grateful to our generous donors, from the corporate to the individual level, and lots of different organisations. Their involvement means support for hardworking NGOs making a real difference for those in need," he said.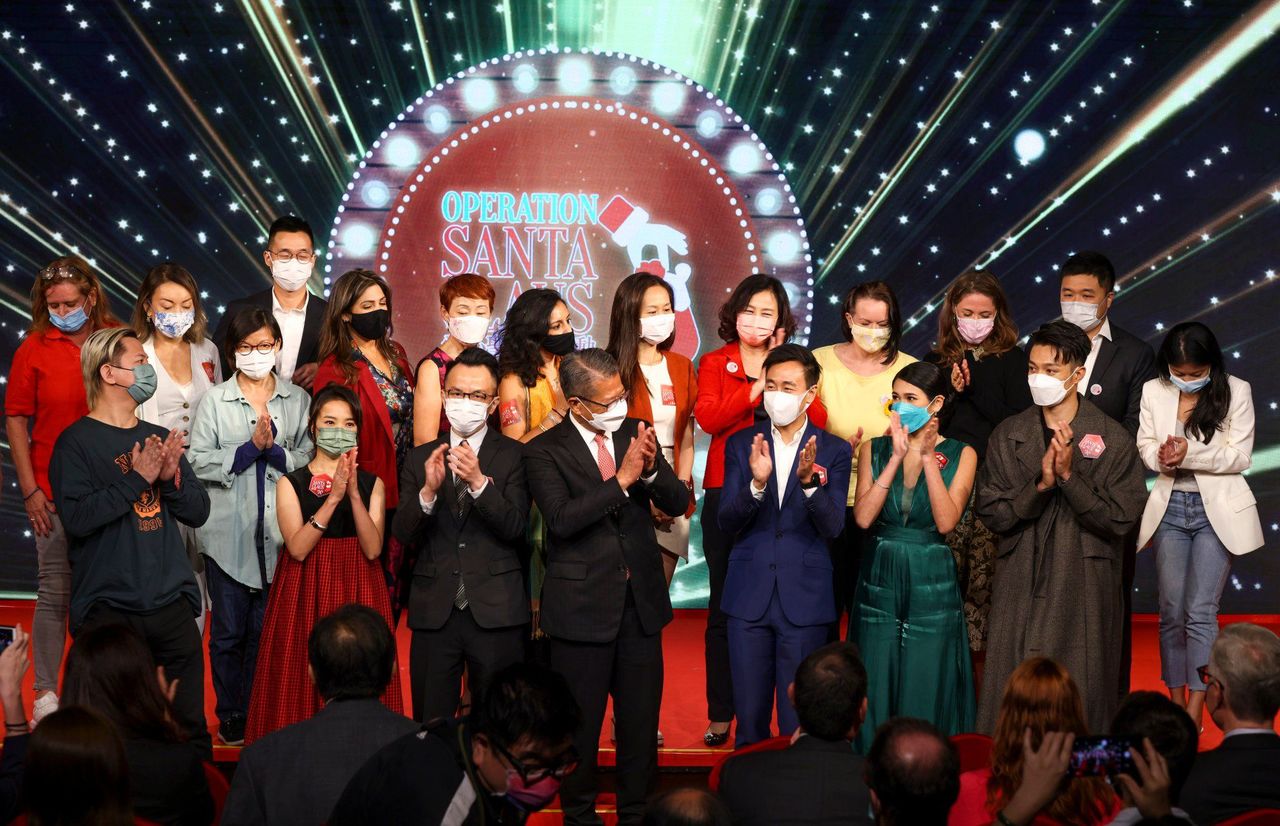 The launch of Operation Santa Claus 2021.

Nick Footitt, the Asia-Pacific head of corporate affairs at Morgan Stanley, a six-time top corporate donor to Operation Santa Claus, said the company was committed to "giving back to the communities in which we live and work".

"Over the past 25 years we have partnered with Operation Santa Claus in Hong Kong and donated close to HK$50 million [US$6.3 million] to more than 300 charity projects, and we look forward to another year of fundraising to support good causes that create an impact on our local community," he said.

One of the projects covered by this year's campaign is led by the Direction Association for the Handicapped, a non-governmental organisation established in 1991 to help people with severe physical disabilities.

The association aims to employ 20 low-income Hong Kong domestic workers who lost their jobs or suffered income cuts over the coronavirus pandemic to declutter and deep clean the homes of 200 severely disabled people.

The group explained the scheme would provide relief for the individuals and their carers, as well as eliminate safety hazards and prevent pest problems.

Sita Ng Sze-ki, the association's project development manager, said the scheme was developed to help marginalised groups in need, including people with disabilities, their carers and low-paid female workers, who faced hardships in their daily life and at work.

"They are minorities, and their voices are easily ignored in society," she said, adding the non-subsidised association faced difficulties raising funds and it was grateful to the campaign for its support.

Operation Santa Claus has raised more than HK$353 million for 323 charity projects in Hong Kong.

It was designed to make a difference in the community through the combination of the fundraising power of two of the city's most respected media organisations.

The campaign raised more than HK$20 million last year and helped 18 charity projects.