Health officials also track down source of one infection that was classified as unlinked, leaving city with just a single untraceable case.
Hong Kong could bring an end to the Omicron outbreak in as little as two weeks if local infections remain stable and no cases are untraceable, a top government health adviser has said, as the government prepares to announce a review of social-distancing rules.

The prediction that the current wave could soon be contained was bolstered by a revelation from health authorities on Thursday that they had connected the Covid-19 infection of a security guard working at the Penny's Bay quarantine camp to other cases, leaving the city with just a single untraceable transmission.

Beijing has repeatedly stressed Hong Kong must eliminate unlinked cases before a scheme offering quarantine-free travel to mainland China could begin.

In making his prediction, University of Hong Kong microbiologist Professor Yuen Kwok-yung said the current string of infections was being managed and the overall tally had not drastically increased.

"If we can identify all the transmission chains and the number of local cases remains stable, this wave of the coronavirus could end before or after Chinese New Year," he told a radio programme.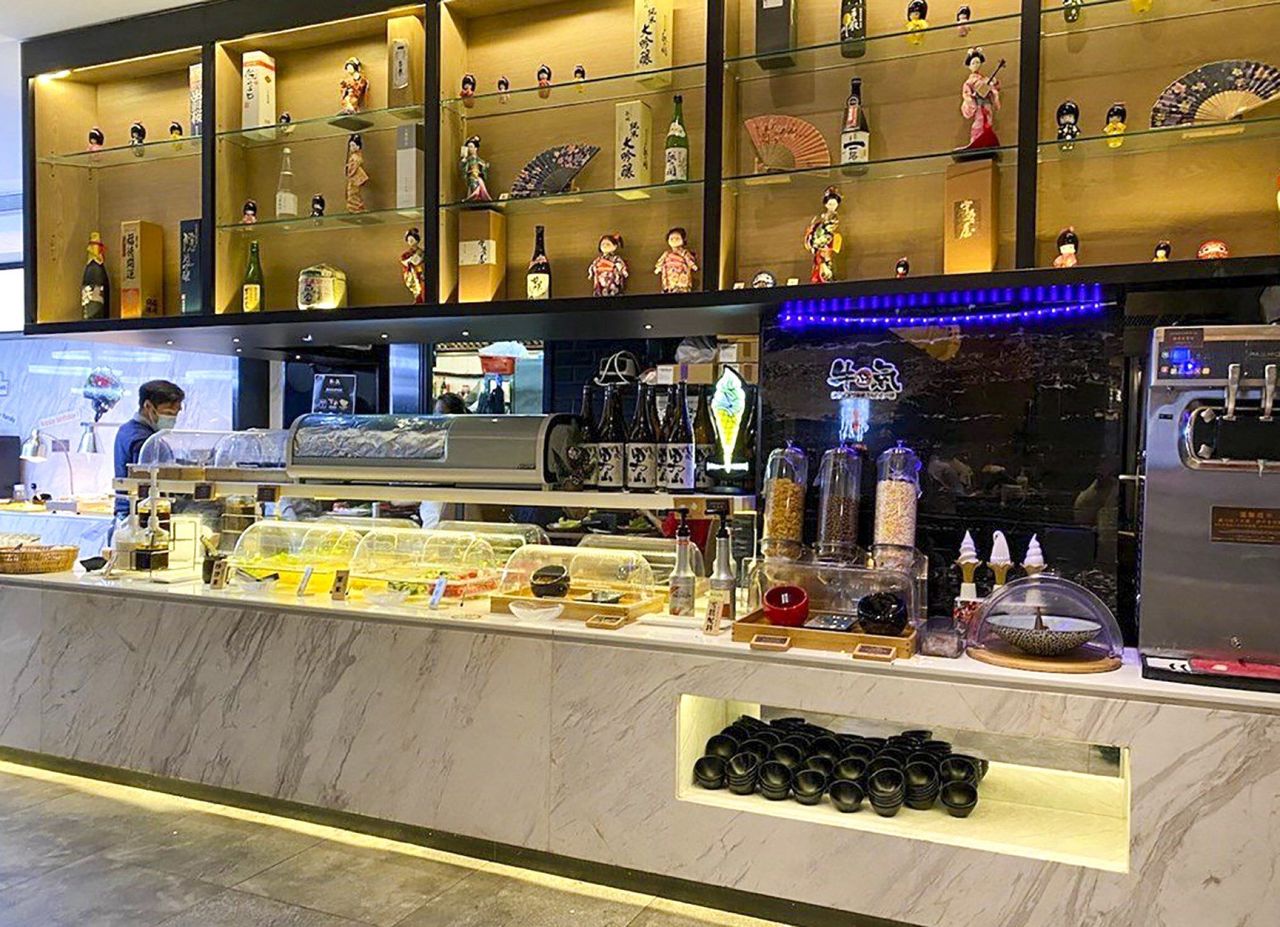 Nabe Urawa in Causeway Bay, where officials are investigating a suspected Covid-19 transmission.

Bars and pubs, along with 14 other types of businesses, have been forced to shut in a bid to contain the current outbreak. In announcing the measures last week, Carrie Lam Cheng Yuet-ngor said the government would review the situation and decide on Friday whether to extend or tighten the rules.

Restaurants, which are banned from seating patrons after 6pm, are eagerly awaiting the government's next step as they gear up for what is traditionally one of their busiest holiday seasons.

Asked whether the outbreak was already under control, Dr Chuang Shuk-kwan, head of the Centre for Health Protection's communicable disease branch, said: "We are concerned about the local cases and untraceable transmission the most. The other cases are mostly imported cases.

"As we had already banned entry from a lot of places, the drop in the number of cases was expected. "

The city confirmed 14 cases and fewer than 10 preliminary infections on Thursday. The overall Covid-19 tally stands at 13,016, with 213 related deaths.

According to health authorities, the Penny's Bay security guard, 51, was wearing protective gear when she placed a notice on the door of a room where a person later confirmed as infected was staying.

Officials are still trying to pin down exactly how the virus was transmitted but noted the room also had a window with a screen covering.

The sole remaining unlinked case involves a 58-year-old goods handler who was confirmed as infected on January 8.

Tests showed the genetic sequence of her virus matched with that of a 28-year-old Cathay Pacific flight attendant who arrived from Los Angeles carrying Omicron last month.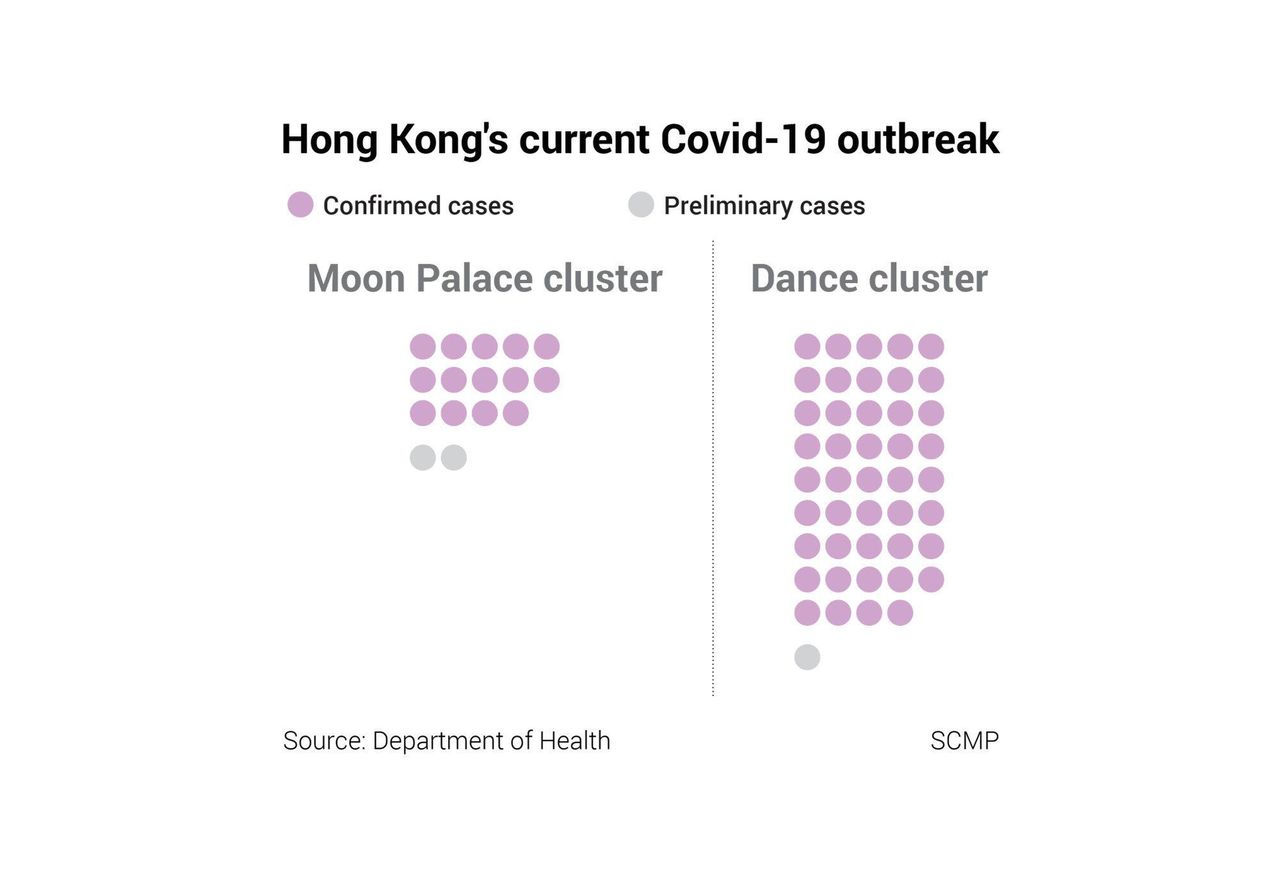 The airline employee is at the centre of a cluster of 44 confirmed infections involving residents who met to dance socially in Causeway Bay, including the woman's mother.

Health officials are also tracking a second cluster that originated at the Moon Palace restaurant in Kowloon Tong's Festival Walk shopping centre, and which was also sparked by a Cathay Pacific aircrew member.

The employee should have been isolating at home but decided to have lunch with his father at Moon Palace and now 14 people linked to the venue are confirmed as infected.

Two suspected cases tied to the restaurant were also identified, involving nurses who worked at the same clinics in Tuen Mun.

One was a student at Baptist University who stayed at its Kowloon Tong campus from Monday to Wednesday, according to a university statement issued earlier.

All classrooms visited by the student had been closed and disinfected, while certain classes would be conducted online, it said.

The part-time nurse accompanied a doctor as he treated an 11-year-old boy and a 45-year-old woman linked to the Moon Palace cluster.

"We consider that incident may be the likely source of infection for that nurse," Chuang said.

"It's possible that there was some silent transmission in the clinic setting … Both nurses worked at more than one clinic. That's why we have to check when the other staff had contact with them during that period of time."

Authorities are also investigating a suspected transmission at a Japanese hotpot restaurant that surfaced on Wednesday after a 20-year-old university student who ate there contracted the coronavirus.

He visited the Causeway Bay restaurant for dinner on January 4 and two patrons linked to the dance cluster were sitting a row away. Forty-four other patrons were ordered into quarantine.

Yuen said the case was "a bit strange" as the hotpot meal itself could not generate aerosols that increased the risk of transmission.

"But [hotpot] could affect the direction of the aerosol particles … in theory, these hotpot restaurants have a high air change … The person needs to sit very close to get infected," he said.

Online photos showed the Nabe Urawa restaurant has a buffet section, where customers could get food and drinks from a communal area, and Yuen suspected the virus was spread by droplets that landed on utensils available in that section.

Meanwhile, a 29-year-old construction worker and part-time Food Panda delivery man tested preliminary-positive in a public hospital. Authorities said he had very low viral load and they suspected he was a re-positive Covid-19 case.

Separately, air passengers from the roughly 150 places in Hong Kong's Group A category of highest risk places will be barred from transiting through the city between January 16 and February 15, the Airport Authority said.

The mainland and Taiwan would not be affected by the new rule, and according to media reports, neither would diplomats or athletes heading to the Winter Olympics in Beijing.

The authority estimated that an average of 80 passengers a day from the places specified in Group A would be affected.