About 460,000 people, most of them locals, visited the Lantau Island attraction last year despite coronavirus restrictions.
Hong Kong's iconic Ngong Ping 360 cable car had a near 80 per cent jump in the number of visitors last year, even though Covid-19 measures have restricted operations and tourism remains largely non-existent.

The company revealed on Thursday that 460,000 people, primarily locals, visited the Lantau Island attraction, a 5.7km (3.5-mile) cable car ride from Tung Chung to the Big Buddha at Ngong Ping.

Revenue rose 58 per cent, partly due to a 70 per cent growth in sales of annual passes.

Managing director Andy Lau Wai-ming said the improved performance had resulted from a strategy of partnering with local brands to run events and promotions.

He gave an example of how the company held a concert with Commercial Radio Hong Kong last year that featured Canto-pop boy band Mirror.

Lau anticipated a more challenging year in 2022 in the wake of the city's tightened business curbs that began in early January and are expected to remain in place until April 20.

"In 2021, we collaborated with several renowned international and local brands to undertake a series of creative breakthrough projects and hold themed seasonal events, which have created a win–win situation and provided exceptional travel experiences for our guests," he said.

"This year, the business condition is even more challenging, and our team will continue to remain resilient and agile to cope with the challenging external environment."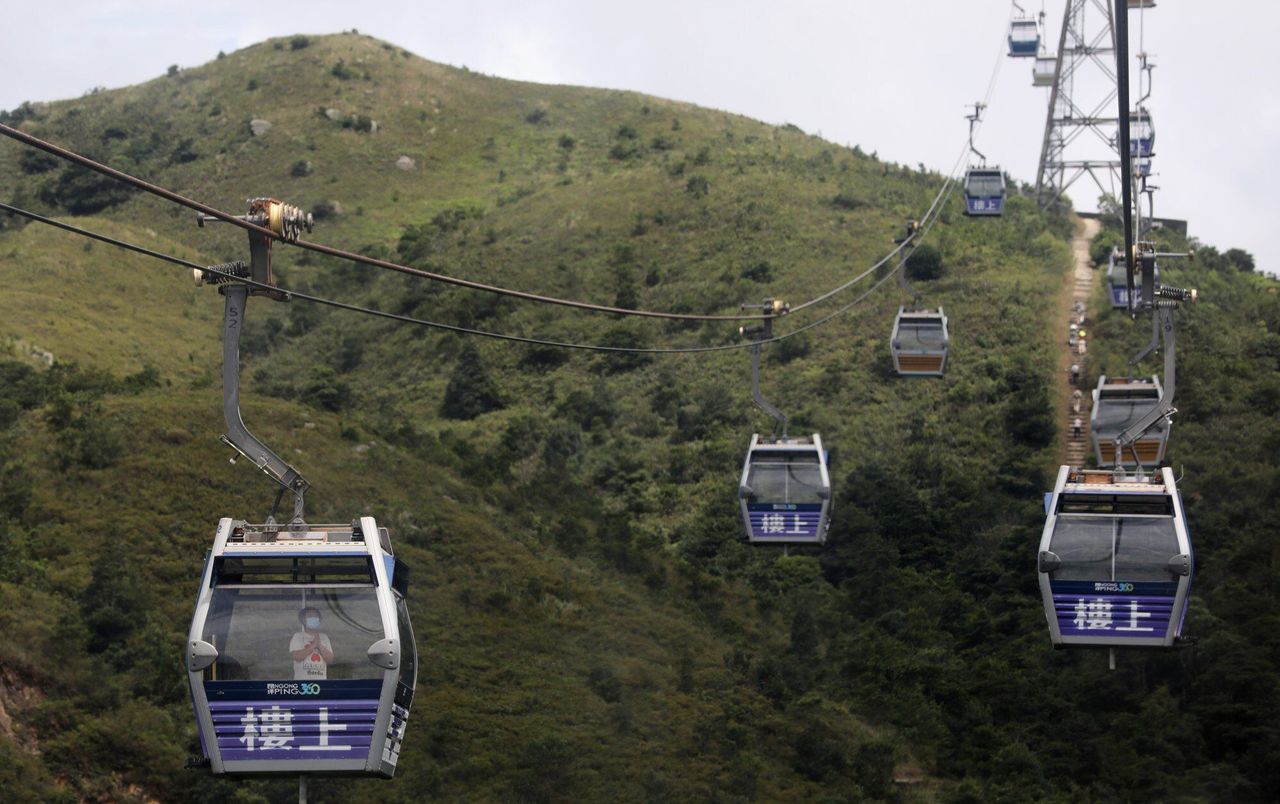 Set up in 2006, the cable car system is one of the most popular spots for visitors to Hong Kong.

Set up in 2006, the cable car system was one of the most popular spots for visitors to Hong Kong. In 2019, it carried 1.45 million visitors, most of them tourists. That number plummeted to 260,000 in 2020.

The attraction, a unit of rail giant MTR Corporation, was forced to close for 42 days last year. The capacity of cable cars was also reduced in line with the city's social-distancing measures.

The tourism industry in Hong Kong has been at a near standstill since 2020, when all but three border checkpoints shut. Last year, there were just 91,398 arrivals to the city, a 97.4 per cent drop from the 3.57 million inbound travellers recorded in 2020.

The Hong Kong government is planning to ease anti-pandemic measures from April 21 in stages, depending on the development of the fifth wave outbreak.