Chief Executive's Office confirms earlier Post report that Carrie Lam will travel to nation's capital on Monday to take part in Communist Party's 100th anniversary celebrations.
Hong Kong's chief executive and the city's top judge will be among a delegation travelling to Beijing on Monday for the Communist Party's centenary celebrations, leaving the city's freshly appointed No 2 official to lead events marking the 1997 handover.

Confirming an earlier Post report, a spokesman for the Chief Executive's Office on Sunday said Carrie Lam Cheng Yuet-ngor would fly to the capital with finance chief Paul Chan Mo-po, justice minister Teresa Cheng Yeuk-wah, new security chief Chris Tang Ping-keung and Secretary for Constitutional and Mainland Affairs Erick Tsang Kwok-wai, as well as several heads of the disciplined services.

In a separate statement, the judiciary confirmed Chief Justice Andrew Cheung Kui-nung and Justice Jeremy Poon Shiu-chor, chief judge of the High Court, had accepted an invitation to visit Beijing on Monday to attend the celebrations.

Lam's absence will be the first time a chief executive has missed the city's official commemoration of the 1997 handover from British to Chinese rule.

The weekly meetings of Lam's de facto cabinet, the Executive Council, as well Legislative Council business, have been cancelled for Tuesday and Wednesday.

In the second major cabinet reshuffle of the current administration, John Lee Ka-chiu, formerly the security chief, was on Friday promoted to chief secretary, the city's deputy leader.

The State Council also approved police chief Tang taking over Lee's previous portfolio, with Tang's deputy in the force Raymond Siu Chak-yee succeeding him.

Analysts said the promotion of two hardline law-and-order officials to top jobs in the Hong Kong government signalled Beijing's firm insistence to ensure national security stayed at the top of the city's agenda.

The party's 100th anniversary on July 1 – the same day Hong Kong marks its return from British to Chinese rule – also represents the first time in eight months that President Xi Jinping and Lam will be attending the same public event, the previous occasion being the celebration of Shenzhen's establishment as a special economic zone.

Lam's office confirmed that Tang would join the delegation, while Lee would stay in Hong Kong as acting chief executive to commemorate the city's 24th anniversary since its return to Chinese rule.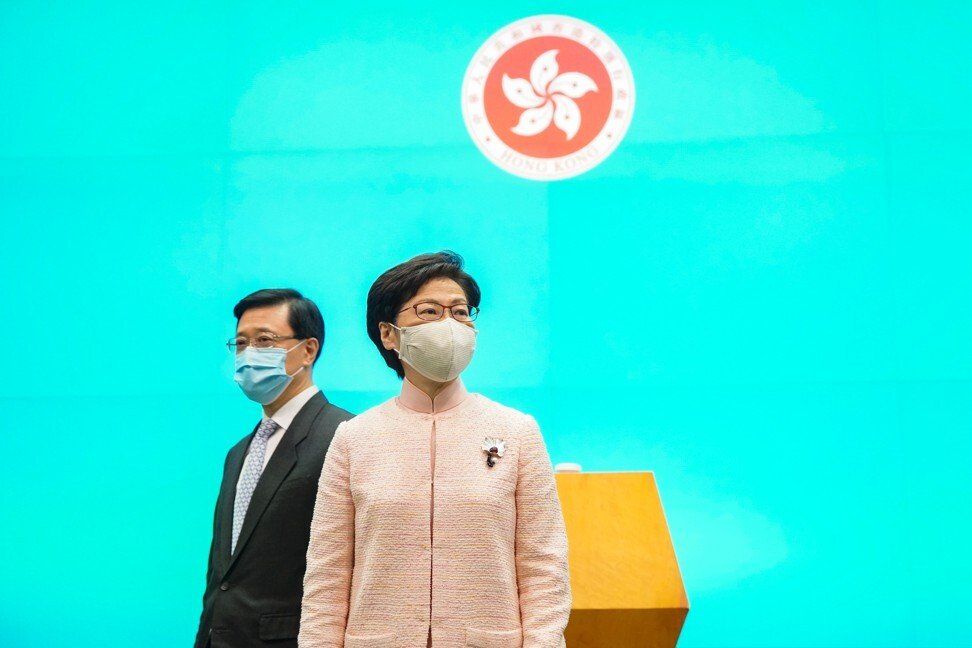 Carrie Lam with her new deputy John Lee.

Official events in Hong Kong in the morning include a flag-raising ceremony at Golden Bauhinia Square, which will be followed by a reception at the Convention and Exhibition Centre, where Lee is expected to make a speech.

About 60 other senior public figures are also set to travel to Beijing on Monday for the Communist Party's centenary celebrations.

Among those invited for the party's celebrations are: Tam Yiu-chung, Hong Kong's sole delegate to the National People's Congress Standing Committee, China's top legislative body; Legco president Andrew Leung Kwan-yuen; and about 10 pro-establishment legislators.