Former security minister cites cross-departmental work and coordination of tasks during 2019 social unrest, as well as master's degree in public administration.
Hong Kong's new deputy leader John Lee Ka-chiu on Saturday dismissed concerns he lacked policy experience, citing his cross-departmental work as a veteran security official and insisting he had a "much better" grasp of government operations than most colleagues.

Lee also vowed as chief secretary to "make use of every opportunity" to safeguard national security.

The former security minister replaced Matthew Cheung Kin-chung on Friday as the city's No 2 official in the second major cabinet reshuffle of the current administration, but critics have questioned Lee's credentials, voicing doubt over what they viewed as his limited experience for the new role.

China's State Council also approved the move to allow police chief Chris Tang Ping-keung to take over Lee's previous portfolio, with Tang's deputy in the force Raymond Siu Chak-yee succeeding him.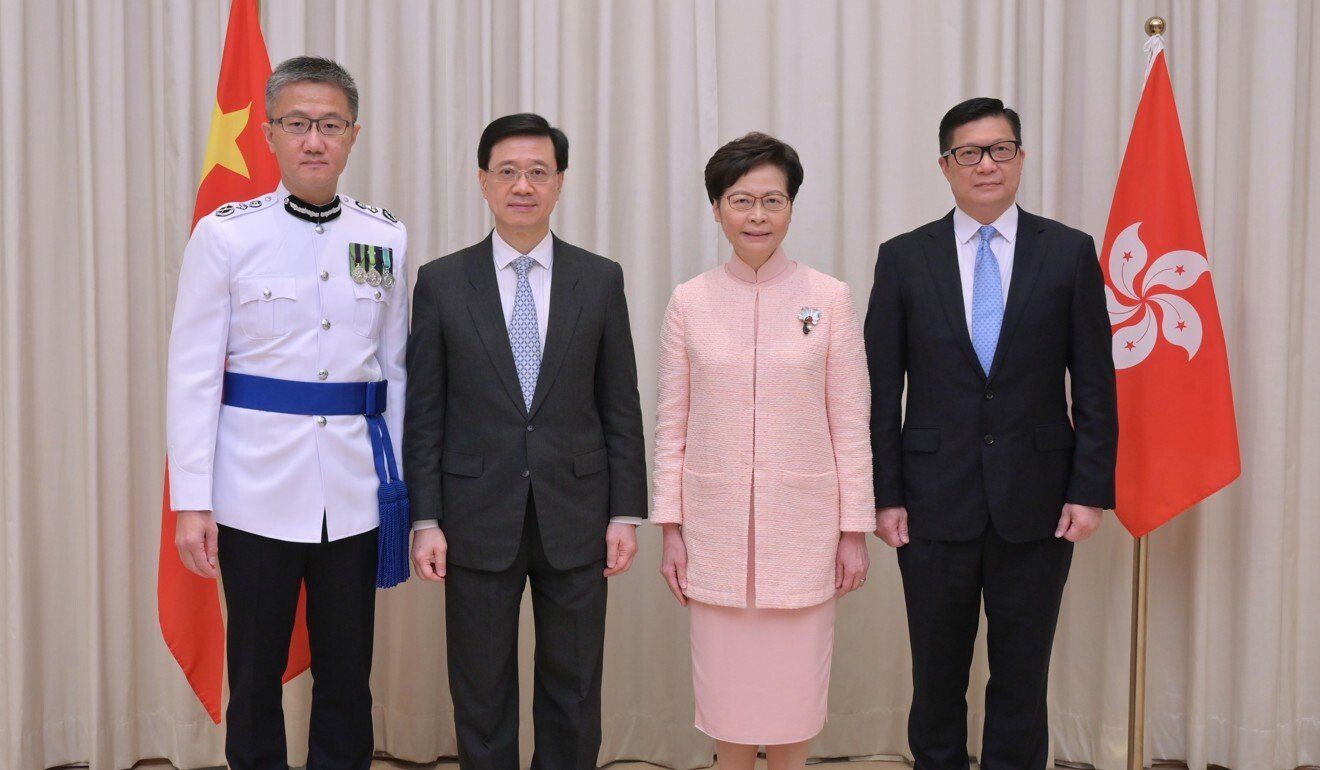 (From left) Raymond Siu, the new police chief, new No 2 official John Lee, Hong Kong leader Carrie Lam and former police commissioner Chris Tang, now the security minister.

On Saturday, the new chief secretary, 63, brushed off the criticism, pointing to his 44 years of government experience.

"My understanding of the government's overall operation, work culture and vision are much better than most of our colleagues. My experience is not theoretical," he said at the inauguration of a science exhibition on lunar soil.

Lee said he had led cross-departmental coordination during the anti-government protests in 2019 as security chief, and oversaw a contingency drill involving more than 30 civil service sections to simulate a leak at the Daya Bay nuclear power plant in Shenzhen in 2017.

"The Security Bureau has 70,000 people. I will now try my best to unite the 180,000-strong civil service workforce which has people of different expertise and experience," he said.

Since joining police in 1977 as a probationary inspector, Lee has held a range of operational posts and joined the Security Bureau as undersecretary in 2012, before becoming secretary in 2017.

In a rebuttal to claims he was not a degree holder, he said he had obtained a master's in public policy and administration from Charles Sturt University Australia, under a self-learning programme sponsored by the force.

He added that on the first day as the city's No 2 official, he met the permanent secretaries of various bureaus to discuss help in policymaking.

"The purpose of the chief secretary is not to take away responsibilities of making policies from other secretaries," he said. "But it's important there is a senior official who can give an objective view from other angles … to ensure all concerns are addressed.

"I have that strength to ensure that effective policies will be formulated."

Secretary for Education Kevin Yeung Yun-hung said he believed Lee was a suitable choice for the role, adding he had worked alongside him for years.

Praising him as a "capable person with a sense of responsibility", Yeung noted the current administration still had about 12 months left to serve. "We will be working closely together on all policies and issues," he said.

Critics have voiced fears that "national security elements" will grow increasingly prominent in policy areas under Lee. Asked about his strategies on national security, Lee vowed to strengthen such work under the relevant legislation, but did not reveal details.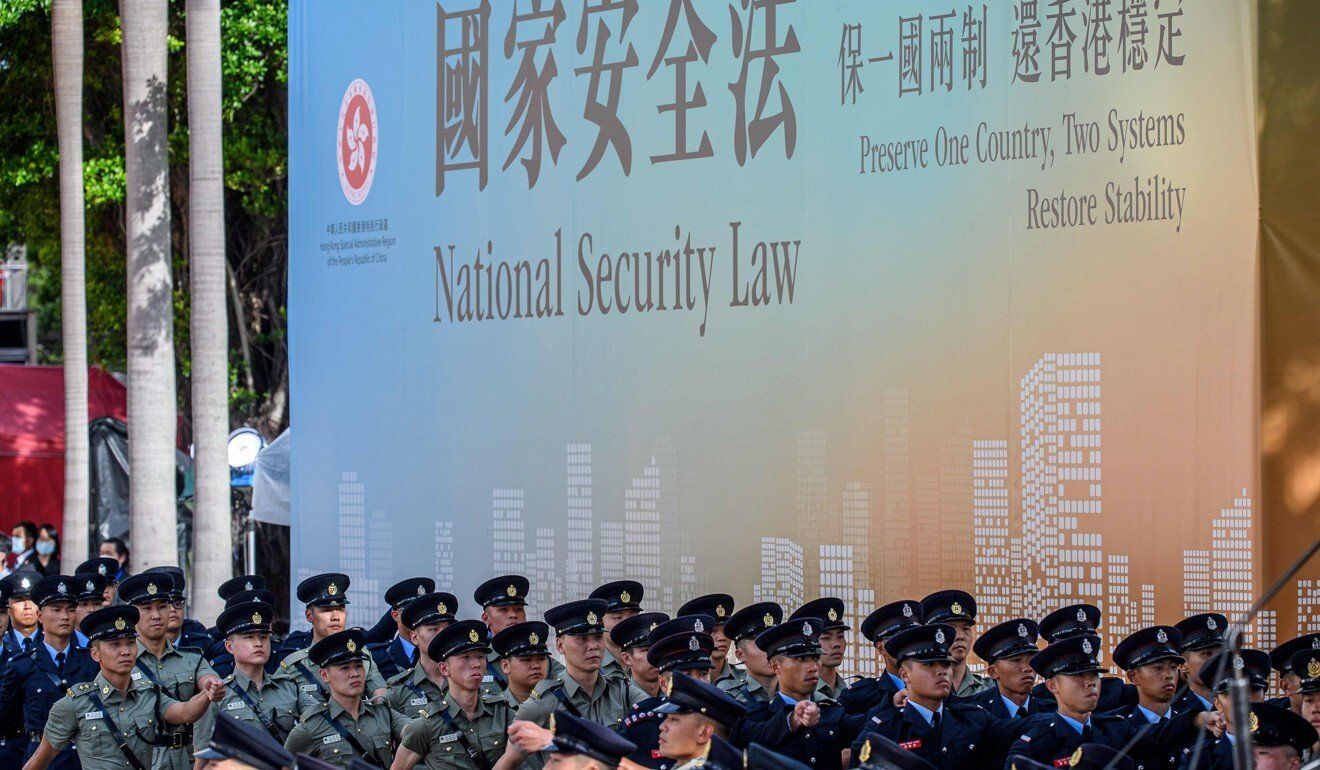 A banner promoting Hong Kong's national security law.

"Safeguarding national security is a matter of primary importance for the whole government. We will make use of every opportunity to enhance the education of national security," he said. "I certainly take a huge responsibility as chief secretary to make Hong Kong a better place."

The Post had learned a coming assignment for Lee's post was to oversee a new vetting committee tasked with screening all candidates for "patriotism" in three key elections between September and next March. Government sources said Lee's experience was the most relevant for the committee, allowing him to be a "reliable gatekeeper".

On Saturday, Lee said "simple" criteria laid out in laws would be used to assess potential candidates, but did not elaborate further. "We don't want somebody to fake allegiance or fake upholding the Basic Law," he added.

Tang, who also spoke separately to the media for the first time as the newly appointed security chief, said authorities would "seriously prepare" for the enactment of the Article 23 security legislation.

"This must be done according to the [Basic Law, the city's mini-constitution]," he said. "But we may not have sufficient time to complete the legislation as the scope of provisions is quite wide."

Both men spoke on the sidelines of a showcase at the Convention and Exhibition Centre in Wan Chai, co-organised by Beijing's liaison office in the city and the Hong Kong government. The event features nearly 2kg (4.4 pounds) of lunar material brought back by the Chang'e 5 lunar probe, China's first extraterrestrial sample-collecting mission that spanned 23 days till last December.

The mission made China the third country to have successfully brought lunar samples back to Earth, after the United States and the former Soviet Union.