MTR Corporation sent 10 'vaporised hydrogen peroxide' robots last week to deep clean Mei Foo MTR station, where Omicron transmission took place.
Hong Kong's rail operator has been urged to introduce more cleaning robots to strengthen the disinfection of train compartments and stations in the wake of a widening outbreak of the Omicron coronavirus variant.

The call came as the MTR Corporation dispatched 10 robots last week, called "vaporised hydrogen peroxide" (VHP) robots, to deep clean one of its stations overnight after a recent transmission of Omicron took place there.

Officials said last week that a short-range airborne transmission had occurred when two people infected with Omicron went through the same tunnel exit at Mei Foo MTR station at almost the same time – just nine seconds apart – as a kindergarten teacher, despite all three wearing masks.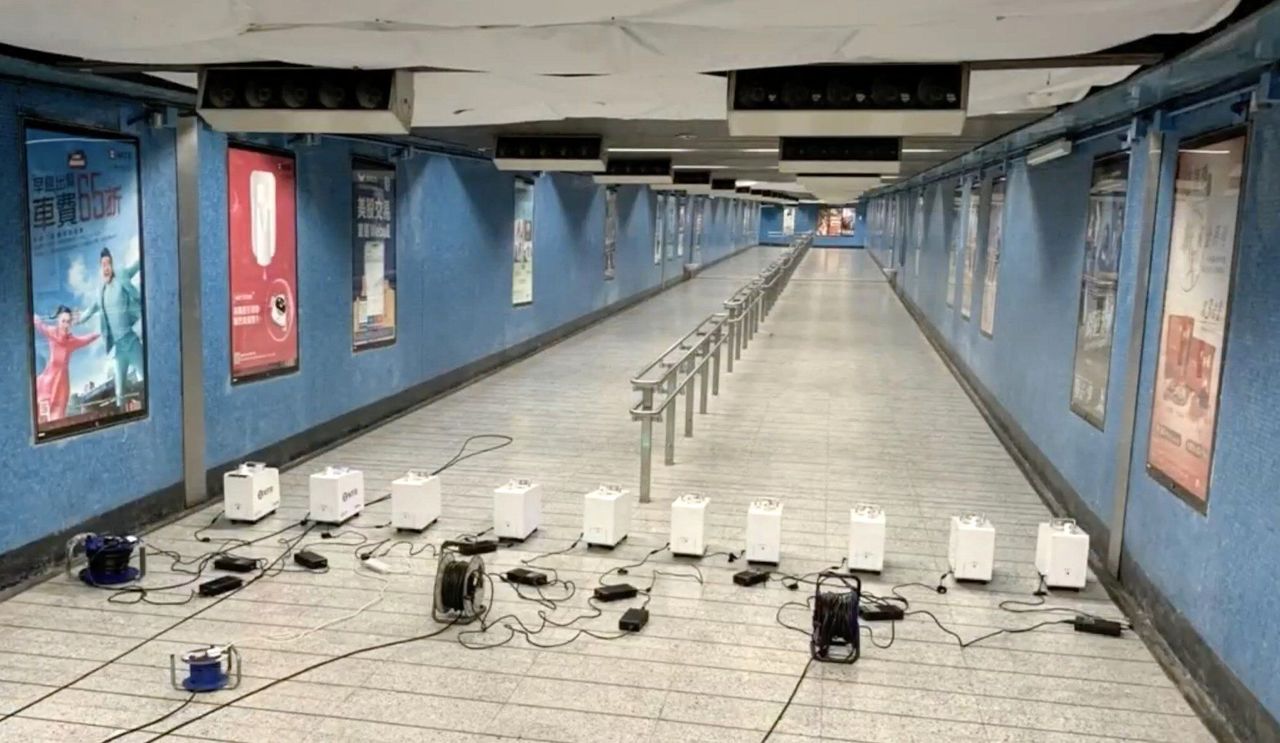 The MTR Corp has arranged for the robots to conduct deep cleaning at Mei Foo MTR station.

To ease passengers' concerns about the infection, the MTR Corp said it had arranged for the robots to conduct deep cleaning at the station.

"The team also cleaned the filters of the air-conditioning system to further enhance hygiene," it said. "A disinfection robot is currently at work at the station and a number of air purifiers were added to provide a safe and clean station environment to protect everyone's health."

The VHP robot is a co-invention from a joint project of MTR and biotechnology firm Avalon Biomedical (Management) Limited. An MTR spokesman said the rail firm had more than 100 of these robots, which cost about HK$200,000 (US$25,690) each.

In general, it takes about four hours to complete the cleaning of an eight-car train in automatic mode.

By automatically spraying hydrogen peroxide solution, the VHP robot ensures that disinfectants penetrate the small gaps that are difficult to reach during normal cleaning work, eliminating viruses and bacteria.


An MTR spokesman said VHP robots would only be deployed to conduct deep cleaning under special circumstances, such as when a confirmed Covid-19 case occurred on MTR premises, in order to ensure extra protection for passengers and staff.

Other types of cleaning robots were used as part of the firm's regular sanitation measures, he said.

Tam Kin-chiu, chairman of Hong Kong Federation of Railway Trade Unions, said the rail giant should purchase more cleaning robots to enhance deep cleaning and disinfection in train compartments and its 98 stations, as well as to relieve the workload of its cleaning staff.

"Facing the highly transmissible Omicron outbreak, the MTR should introduce more cleaning robots to alleviate the workload of cleaning workers at the stations, and reduce the infection risks by cutting human contact," he said. "The cleaning staff have to work in high-risks areas and they should be given more support."

The MTR spokesman, however, did not say whether the company would purchase more robots.

"MTR has comprehensively stepped up on the cleaning and disinfection of stations and trains, with the facilities cleaned at regular intervals," he said.