The head of the Hong Kong Monetary Authority says planned virtual asset regulations will address money laundering and protect investors.
Hong Kong's de facto central bank said that the collapse of FTX has shown that sound regulations are a must for the city's pursuit of becoming a virtual asset hub and that a planned new regulatory regime will give investors adequate protection.

Eddie Yue Wai-man, CEO of the Hong Kong Monetary Authority (HKMA), told the city's Legislative Council (LegCo) on Wednesday that a good regulatory regime for virtual assets is the foundation for the city to explore blockchain-based financial innovations.

A new governance regime for cryptocurrencies, which have hitherto not fallen under the purview of the Securities and Futures Commission (SFC), has been introduced as an amendment to the city's anti-money-laundering law. Once passed, the rules will address money laundering problems and protect investors' interests, Yue said.

Yue is the latest Hong Kong official to promote the city's regulatory approach to cryptocurrencies in wake of the sudden collapse of FTX, which was the world's second-largest cryptocurrency exchange until going bankrupt in less than a week after a run on the exchange.

Before its fall from grace, FTX was seen as a lost opportunity for the city, as it had moved from Hong Kong, where it was founded, to the Bahamas, which had friendlier policies for cryptocurrency companies. In early November, it came to light that FTX had mishandled customer funds by loaning them to its affiliated derivatives trading platform Alameda Research. Both firms were founded by Sam Bankman-Fried, who apologised when the companies filed for bankruptcy on November 11.

After FTX's fall sent cryptocurrency values plummeting and led to cascading problems throughout the industry, Financial Secretary Paul Chan Mo-po reiterated Hong Kong's commitment to virtual asset regulation, which he said in a blog post is more attractive now as the industry seeks greater transparency.

On Wednesday, Joseph Chan Ho-lim, Under Secretary for Financial Services and the Treasury, also said during a LegCo council meeting that Hong Kong's current regulatory framework for virtual assets already takes precautions against incidents similar to the meltdown of FTX.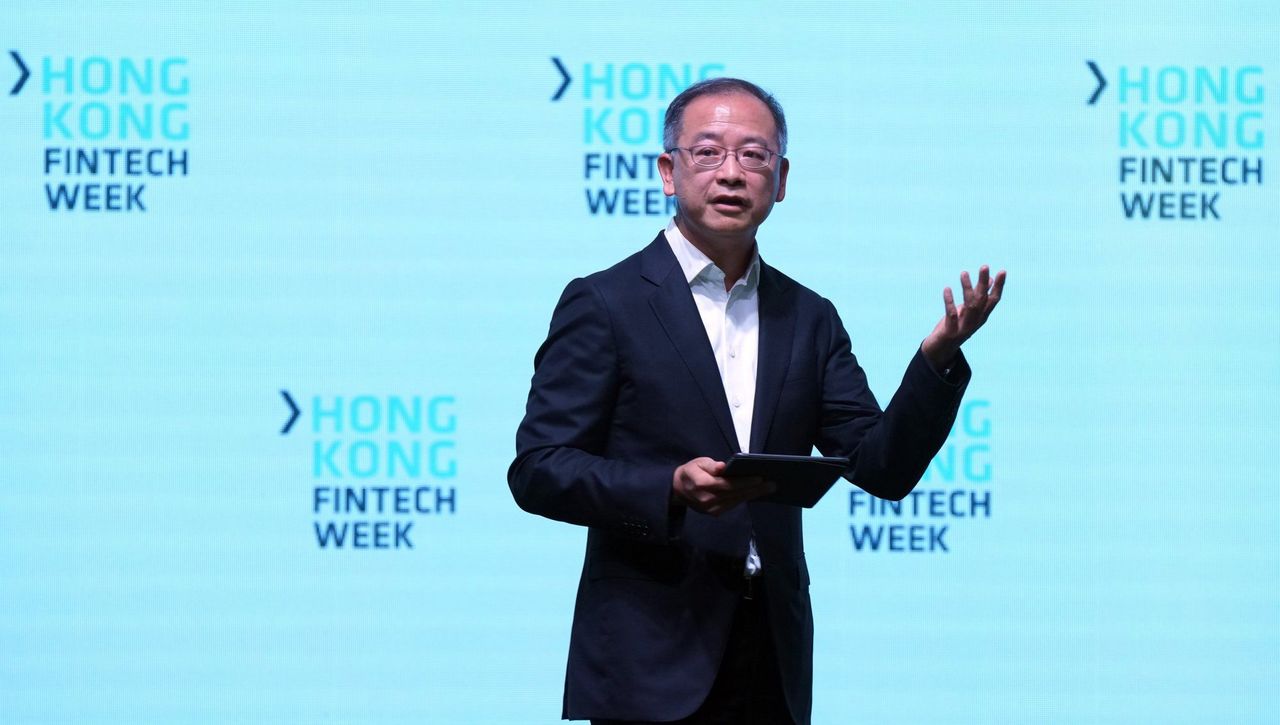 Eddie Yue Wai-man, chief executive of the Hong Kong Monetary Authority, delivers the opening keynote of Hong Kong FinTech Week 2022 at the Convention and Exhibition Centre in Wan Chai on October 31.
Under an existing opt-in licensing regime, Hong Kong requires applicants to operate virtual asset trading platforms to service only professional investors and hold client assets in segregated accounts. Licensed platforms must also avoid conflicts of interest, such as acting as both agents for customers and principal dealers trading their own book. Bankman-Fried's companies were allegedly involved in this practice, as Alameda could have derivative products that made money when FTX customers lost.
However, exchanges were never required to be licensed in Hong Kong and could continue serving customers in the city with little regulatory oversight. The SFC has previously clarified that cryptocurrencies do not count as securities and cannot be regulated as such.
The new rules are intended to address this by creating a regulatory regime specific to these types of virtual assets, and licenses will be required. Platforms will also be allowed to serve retail investors.
"Operators who are able to receive [virtual asset] licenses in Hong Kong will be up to a certain standard and are of high quality," Chan said at the LegCo meeting.
Hong Kong recently announced an aggressive investment-led strategy to steer economic development, starting with a HK$30 billion (US$3.8 billion) fund named Hong Kong Investment Corporation (HKIC) tasked with attracting global companies to set up businesses in the city. The government also embarked on a drive to restore Hong Kong's status as a cryptocurrency hub.
Responding to a lawmaker's question about whether the new HKIC will invest in companies related to virtual assets and Web3, Chan said that he is not able to offer details because the fund is still establishing its team and formulating its governance structure. The fund will consider any industry that will drive economic development, he said.
HKMA's Yue also noted at the LegCo meeting that the city's Exchange Fund, the war chest used to defend the Hong Kong dollar from attacks by short-sellers, did not invest in FTX or similar platforms.