Tenants will struggle with electricity tariff increase, says member of Kwai Chung Subdivided Flat Residents Alliance.
Tenants living in Hong Kong's subdivided flats have said they might skip soup for dinner or cut their children's extracurricular activities to save money for a coming electricity tariff increase.

"Everything is getting more expensive. I pretty much cut unnecessary costs the best I can," said Connie Lo Sue-yin, 36, a housewife living in a 150 sq ft subdivided flat in Sham Shui Po with her husband and three-year-old daughter.

Lo said her family's HK$17,000 (US$2,176) monthly income came from her 36-year-old husband, who worked as a truck driver.

The family paid HK$5,300 in rent each month and spent an additional HK$1,400 on average each month on electricity and water bills.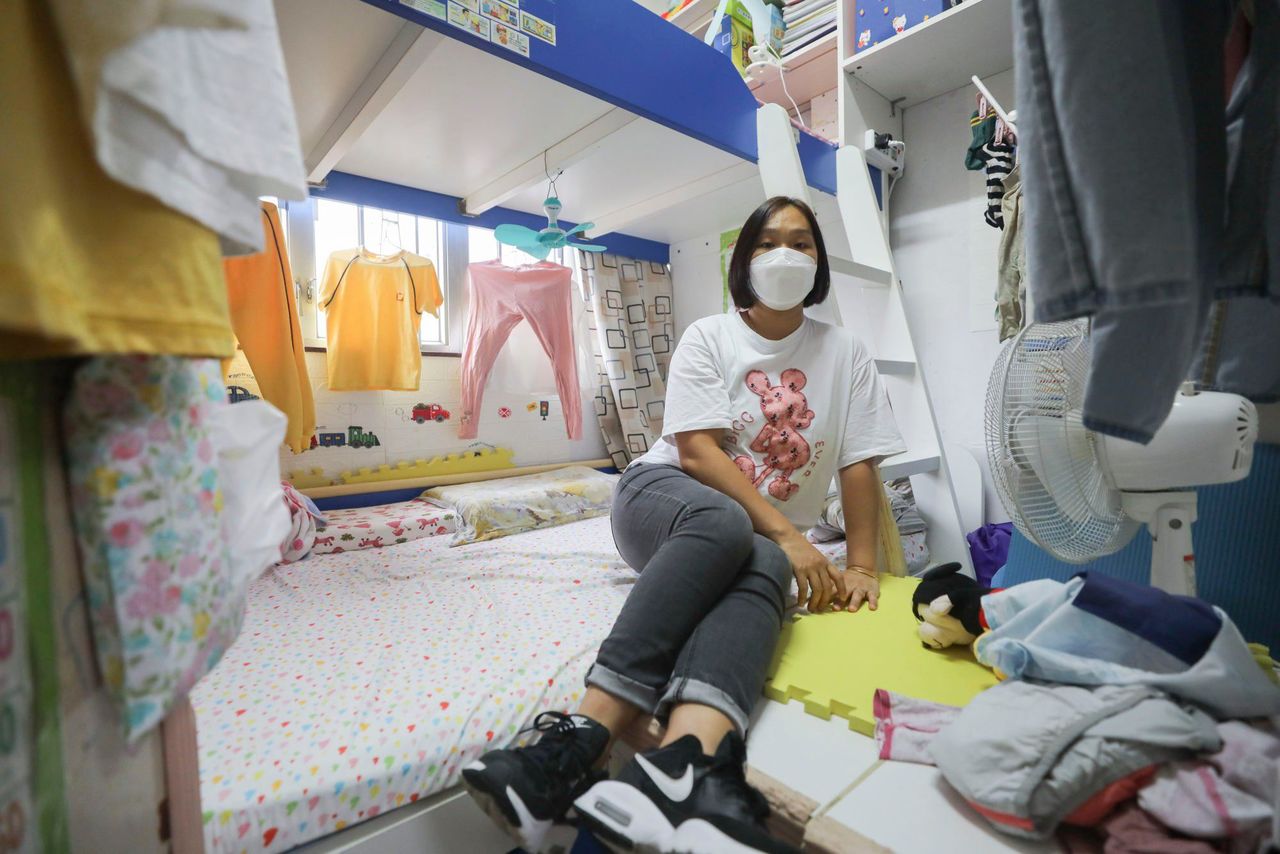 Zeng Xiaobao at home in Sham Shui Po. Zeng lives with her husband and two children in a subdivided flat.
"We were charged HK$1.8 per kilowatt-hour by the landlord, which is already higher than other people. I bet the landlord will pass the tariff hike onto us after the power companies did," Lo said.
She added her lease would be renewed in February, when the rent was expected to be raised.
CLP Power on Tuesday revealed it would keep its basic tariff unchanged but increase its fuel charge to 62 cents per kWh. Taking into account an existing rebate, their bills will be 6.4 per cent higher starting in January compared with November's level. HK Electric said it would increase its basic rate by 5 per cent to 114.5 cents per kWh, and raise the fuel charge to 82.5 cents per kWh, up 3.7 per cent, amounting to an overall increase of 5.5 per cent compared with this month's prices.
The current overall per kWh charges by CLP Power and HK Electric work out to HK$1.485 and HK$1.878 per, respectively.
To save money, Lo said she might make less double-stewed soup on her induction stove and buy groceries on special during closing time at the wet markets.
"My daughter loves soup. It's not too expensive but you have to spend at least HK$50 for a pot of soup. We just can't do it every day. Maybe we will make it twice a week and split a pot of soup for two days," the mother said.
Lo said she was lucky because her daughter who started school this year was fully covered by a kindergarten and child care centre fee subsidy scheme. She added she would look for a part-time job once her daughter settled in.
Kenny Ng Kwan-lim, a member of the Kwai Chung Subdivided Flat Residents Alliance, said tenants would bear a heavy burden no matter how much the tariff was raised by because some landlords overcharged them for water and electricity.
"The fixed price for subdivided flats tenants is HK$1.5 to HK$1.6 per kWh, which is higher than ordinary residents. The most expensive ones can reach HK$2.8 to HK$3 per kWh," Ng said on a radio programme on Tuesday.
Also living in a subdivided flat in Sham
Shui Po, Zeng Xiaobao was fretful about the tariff hike, saying she felt cornered by financial stresses.
"We live in a small space and don't have a lot of money. I feel so stressed because I need to pay extra on seemingly everything. The increase is just rubbing salt in the wound," said the 38-year-old housewife.
Zeng paid HK$1,300 for utility bills monthly on top of the HK$6,000 rent for a 150 sq ft flat on a family income of HK$20,000. Her landlord charged HK$1.8 per kWh.
Living with her 39-year-old construction worker husband and two children aged three and seven, Zeng was cautious of every cent she spent on food and groceries. However, she worried more about the chain reaction caused by the electricity tariff increase.
"Water and gas bills, as well as rent, will follow after the electricity price increase. Landlords tend to do that," Zeng said, adding she might have to cut her daughter's extracurricular activities.
"She's currently having dance lessons once a week, as well as English tutoring classes. If money is tight after the electricity bill goes up, we might reluctantly stop her from learning to dance," she said. "There's not much you can save on buying food."
CLP announced it would provide 50,000 tenants of subdivided flats each with a one-off HK$800 fuel subsidy.
However, the alliance's Ng said a "very hot weather subsidy" providing HK$500 for four consecutive months in summer would be more practical for tenants.
"There are no windows in subdivided flats. When the air is not circulated, the air conditioner needs to be turned on for a long time, which consumes more electricity than ordinary households," Ng said.