The 21-year-old targets success at next month's UCI Nations Cup after winning gold, silver and bronze at China Track National Championships.
Hong Kong cyclist Lee Sze-wing finished 2022 on a high, bagging a gold, silver and bronze at the China Track National Championships, and said she hoped they would bring her "good luck" going into the new year.

While family and friends celebrated the arrival of 2023, Lee was winning the Omnium at the event in Zhejiang Province, where she will be back on the track on Tuesday for the start of the three-day UCI China Track International Event.

Lee took home silver in the two-person Madison, alongside teammate Leung Bo-yee, and bronze in the team pursuit, with the Hong Kong squad winning seven medals in total.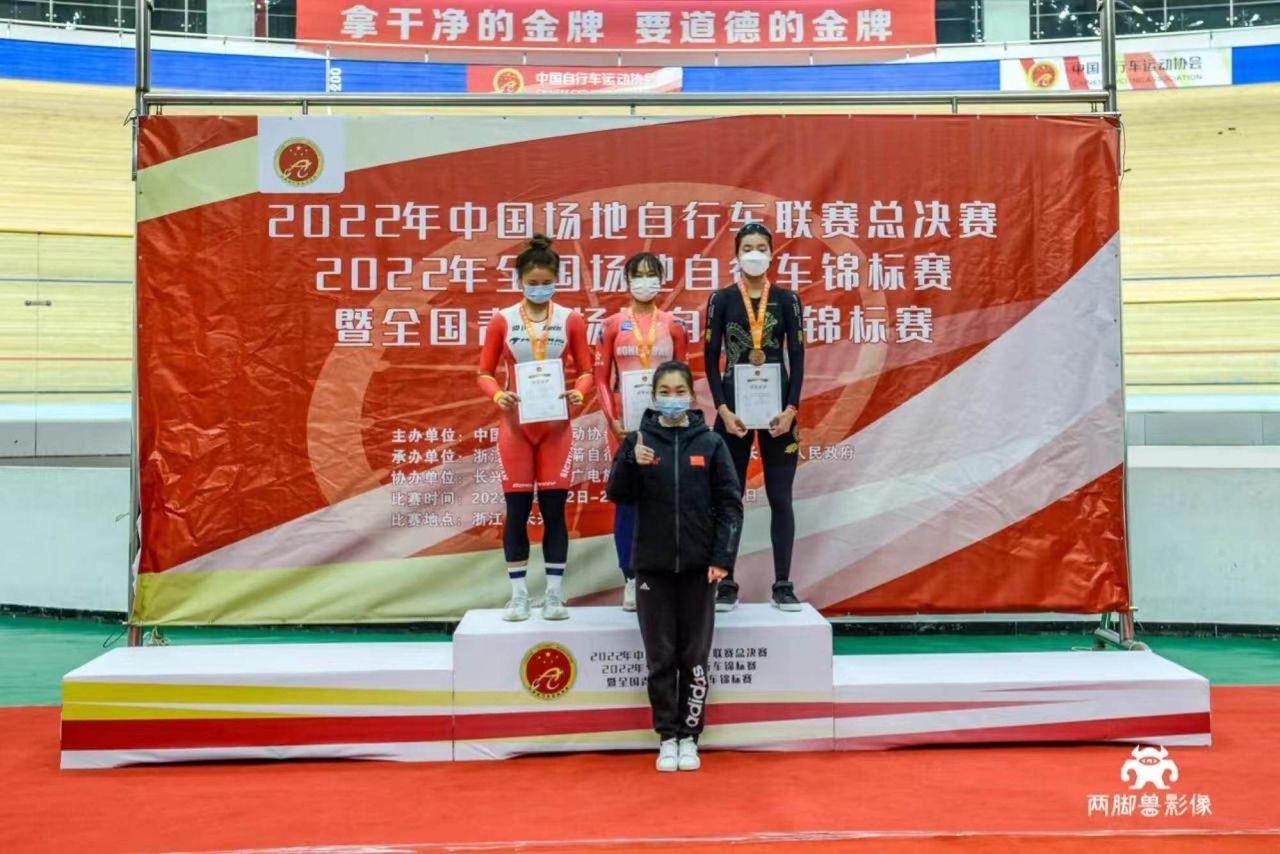 Lee Sze-wing topped the women's Omnium podium at the China Track National Championships in Zhejiang Province.
"I got used to competing outside Hong Kong during festivals," Lee said. "I was a little disappointed that a number of Chinese cyclists were not present at the championships."
Only four National Games riders competed in the women's four-race Omnium, with the Hongkonger dominating the first two races. Lee placed first in the scratch and tempo, though she dropped behind in the elimination, but made up for that in the 10km points race to top the podium with 136 points.
Cao Yuan, from Sichuan, the 2021 National Games Madison gold medallist, was second on 129 points, followed by Guan Siqi of Heilongjiang in third and Cui Yuhang of Beijing fourth.
Lee and Leung narrowly missed out on taking gold in the Madison by one point to Cao and Liu Jiali.
Hong Kong's other silver medals came from Phoebe Tung in the 750m time trial, and in the men's Madison, with veteran Leung Chun-wing and Chu Tsun-wai losing to the Shanghai duo, Wu Junjie and Hu Haojun, by four points.
Leung Chun-wing also claimed two bronze medals in men's Omnium and team pursuit.
Despite taking silver and bronze in her other two events, Lee said she had "learned a lot in the process that will help me a lot in the coming year".
Lee, who is ranked 35th in the world, has a busy 12 months ahead, with the International Cycling Union (UCI) Nations Cup in Jakarta, Indonesia, which is an Olympics ranking tournaments, scheduled for February 23 to 26.
This year's Nations Cup schedule then continues in Cairo from March 14 to 17, and in Milton, Canada, between April 20 and 23.
"After [this week's] international event, I'll fly back to Kunming with the team for training," Lee said. "This is an exciting year with the [Hangzhou] Asian Games and Olympic qualification in the same year, and I hope to do well in both."
Lee's most recent big event was the World Championships in France last October, where she failed to qualify for Omnium and did not finish in Madison with Leung.