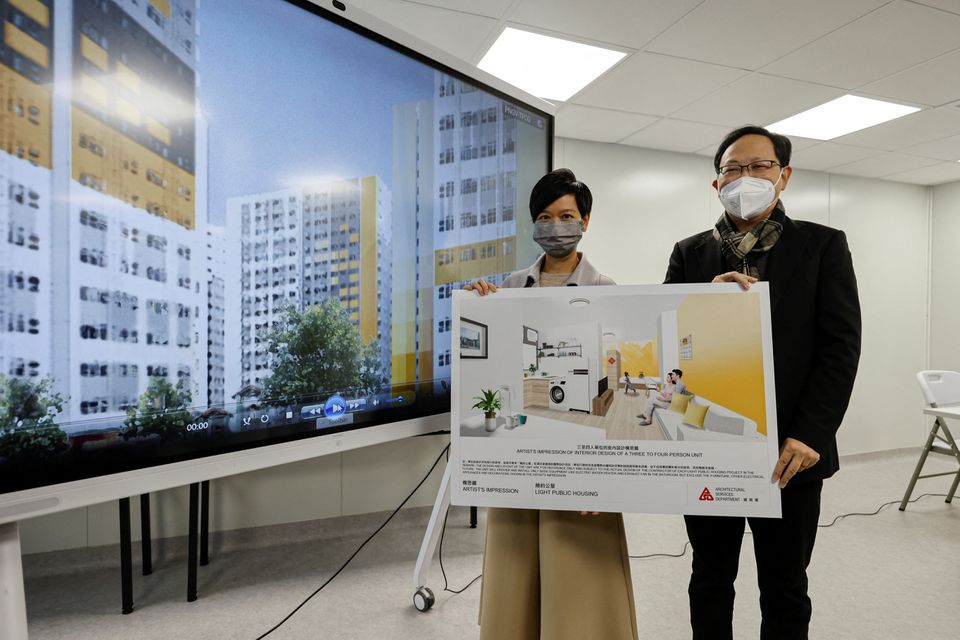 Hong Kong's Lee faces stern test over HK$26.4b bid to ease housing shortage
A flagship US$3.4 billion plan by Hong Kong to build temporary housing to ease a massive shortage is facing fierce criticism over its high cost and the absence of a longer-term solution in one of the world's most unaffordable property markets.
The global financial hub has long struggled with sky-high house prices, which have rocketed by 350 percent in the past two decades and created one of the widest wealth gaps in the world, making accommodation a serious social problem that Beijing is keen to see the city's leaders tackle.

Hong Kong Chief Executive John Lee, announcing his first major housing initiative in his Policy Address last year, promised to build 30,000 units of "Light Public Housing" over five years, with the hope of cutting the waiting time for public housing to 4-1/2 years from six years.

But critics have slammed the HK$26.4 billion (US$3.36 billion) price-tag, noting that each unit costs about the same as permanent public housing and say the scheme is merely a band-aid solution to a festering problem that could potentially feed discontent.

The backlash over the project is a major challenge for Lee after Beijing identified unaffordable housing as a key factor behind discontent, especially among the city's youth, that led to sometimes violent anti-government protests in 2019.

Further raising the stakes for Lee, Chinese President Xi Jinping last year called for a "better life, a bigger flat" for the city's people, many of whom live in cramped sub-divided flats and "cage" homes - wire mesh hutches stacked on top of each other close to glistening office skyscrapers.

"Wherever the location is there would be opposition voices," said Simon Yau, professor of urban studies at Lingnan University of Hong Kong, noting the criticism over the proposed locations of the houses, some of which are in faraway urban areas.

"But with this price tag, the government is using taxpayers' money to experiment," Yau said.

Authorities last month announced eight locations for the homes that would have a unit size of 140 to 330 square feet (13 to 31 square meters) to accommodate families of one to five people.

The temporary houses, prefabricated units built using modular construction methods, would be dismantled after around five years, when the time for occupying the sites expires.

Yau said the scheme would do little to solve the housing shortage - a problem that has dragged on for over two decades - because there are currently 200,000 people living in subdivided flats and the homes are not permanent.

A 2020 government report showed 1.65 million people, or 23.6 percent of the total population of 7.5 million, were living in poverty. That compares with the city's roughly 434,000 millionaires in 2021, according to a Citibank survey.

Hong Kong is notorious for its number of subdivided flats, estimated at 110,000 units at a median area of 124 square feet, smaller than a parking space. Even though their condition is extremely poor, their floor rent is 70 percent higher than overall floor rent in the city.

The government said the Light Public Housing would help tenants of sub-divided flats, as the rent would be HK$780 to HK$2,650 per month, significantly below the current median of HK$5,000 rent for subdivided flats.

"Many people said Hong Kong is an international city, but its living environment is not ideal," Eric Chan, the city's No.2 official, told reporters this week.

"That's why the government is taking this step."

On Wednesday, the government scheme faced a grilling by lawmakers, who however passed a HK$14.9 billion budget request for building the first batch of homes.

The lawmakers said the project at Kai Tak in Kowloon, the most controversial among the eight sites, would further pressure already burdened facilities and transport networks in the area.

"With 30,000 people added to the area, the community facilities are really insufficient," said Starry Lee, chairperson of the Democratic Alliance for the Betterment and Progress of Hong Kong (DAB).

Some residents of Kai Tak said they would consider organizing protests, which would pose a significant headache for the government, and seeking a judicial review. They said the scheme ran contrary to plans to build a second central business district (CBD) in the area and could affect home prices.

"This is a matter of confidence in the government (planning)," said Cheung King-fan, a district councilor of Kai Tak area.

"Is the government trying to achieve the task (of increasing public housing) at any cost of public money?"