Kong Ha Wai Village will have facilities such as neighbourhood canteens and IT centres to help create a sense of community, project leader says.
Hong Kong's largest ever transitional housing project will deliver nearly 2,000 flats for low-income families within a new Yuen Long neighbourhood equipped with medical services, community facilities and technology centres.

Kong Ha Wai Village, a joint venture between Pok Oi Hospital and major developer Henderson Land Group, is expected to provide temporary homes for about 40,000 people over the next few years.

The 1,998 flats for the project will be rented to low-income households which have been on the public housing waiting list for at least three years and those living in dire conditions or having other critical needs.

Covering about 480,000 sq ft, the site is a 15-minute walk from Kam Sheung Road MTR station in Kam Tin, which is characterised by low-density housing developments.

Henderson Land loaned the parcel of land to the project for a nominal sum of HK$1 (US$0.13) over a period of seven years.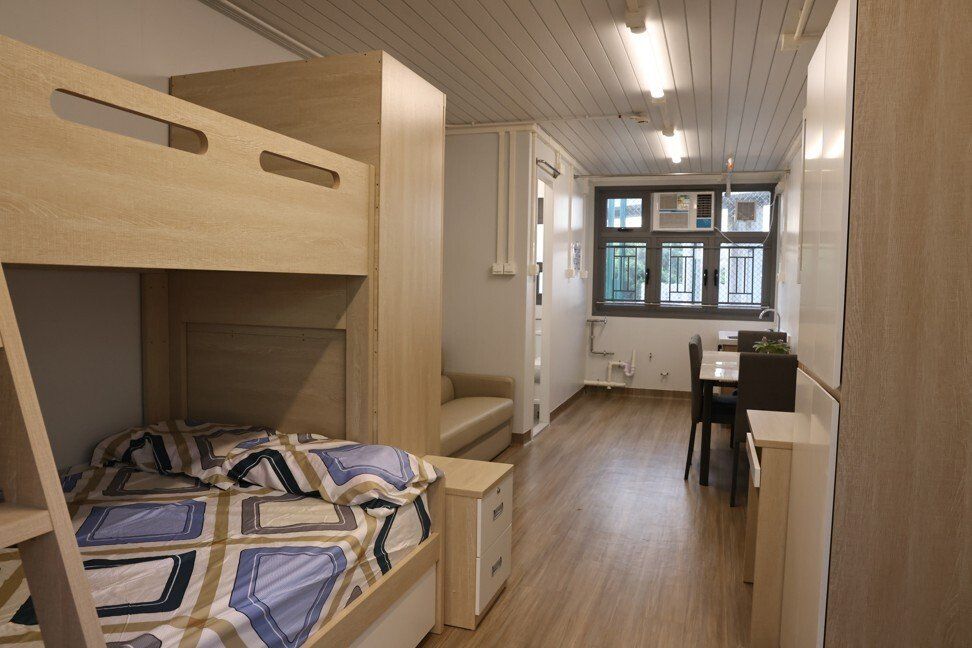 A mock-up of what flats at Hong Kong's largest transitional housing project will look like.

The development features two buildings hosting an array of local services including Western and Chinese medicine clinics, dental services, IT centres and a series of community facilities dedicated to children, adolescents and the elderly. Grocery stores and shops selling household goods will sit alongside community canteens.

"These services and facilities will also be open to people in the neighbourhood, which help create an inclusive and friendly community," said Dr Ma Hok-cheung, CEO of Pok Oi Hospital.

An incentive scheme will also be launched to encourage residents to save during their two-year tenancy. Pok Oi Hospital has pledged to contribute HK$100 to any resident's monthly savings of HK$200. On that basis, tenants would save HK$7,200 over the course of their stay, helping to fund the cost of moving out.

Transitional housing is a government initiative to help low-income residents living in poor conditions who have not been able to move into public housing.

The average waiting time in Hong Kong for public housing is 5.8 years. As of the end of June, about 153,600 general applicants were queuing for the subsidised accommodation.

Hong Kong is the world's least affordable residential property market, and Beijing has called the city's housing shortage a deep-seated problem that must be addressed.

The State Council's Hong Kong and Macau Affairs Office director Xia Baolong recently set a target of 2049 for the city to "bid farewell" to subdivided flats and so-called cage homes.

Chief Executive Carrie Lam Cheng Yuet-ngor's administration is looking to supply transitional housing through the use of temporarily available land or vacant premises leased by the government or private developers.

Lam initially set a target of building 10,000 housing units within the next three years in her 2019 policy address but later revised the figure to 15,000. In her latest policy address earlier this month, Lam proposed increasing the overall supply of transitional housing to 20,000 homes.

The first phase of the project is expected to conclude in March 2022, while the second stage is marked for completion in September of that year. Construction of both phases is under way.

Applications to live there opened on Friday and will be accepted until 6pm on November 15.

The project is being built using modular integrated construction (MIC), a construction technique involving parts being fabricated, finished and inspected in a factory and then brought to the worksite to be assembled and stacked.

MIC is cheaper and faster than traditional construction methods and can be reused for other plots to reduce waste.