Lawmaker Tik Chi-yuen says new meeting format could stifle legislators' ability to monitor government, exchanges will involve city leader less in long run.
Hong Kong leader John Lee Ka-chiu and his top ministers will meet lawmakers for regular informal discussions, with the first session to be held on Wednesday, legislators have confirmed, although the private nature of the talks has raised concerns over transparency of government.

But pro-Beijing lawmakers argued that such off-the-record chats would reduce the likelihood of any theatrics by legislators and allow for franker discussions.

Lawmakers on Monday said the first of the "antechamber exchanges" would coincide with the last meeting of the Legislative Council before members gathered again in October. Starting at 9.30am on Wednesday, the meeting will consist of three 30-minute sessions, with each attended by 30 lawmakers. The next exchange is expected to be held in October, but it is unclear if Lee will attend.

The chief executive already attends several 90-minute question and answer sessions with lawmakers each legislative year.

Tik Chi-yuen, the sole non-establishment legislator, said he was concerned that the informal exchanges would replace the monthly 30-minute televised sessions with the chief executive introduced in 2017 by then-leader Carrie Lam Cheng Yuet-ngor, potentially weakening Legco's ability to monitor the government.

"I thought Lee wanted to boost communication, not replace one type of meeting with another," Tik said. "The question time is important as it targets the chief executive, and is broadcast live. But the antechamber exchanges are closed-door and for other senior officials in the long run."

Lawmaker Gary Chan Hak-kan, who also sits on Lee's de facto cabinet, the Executive Council, said that while the exchanges were likely to replace the 30-minute monthly sessions, the legislature's power to monitor the government would not be weakened.

"Each chief executive has his or her own way to strengthen the relationship between the executive and legislative branches," he said. "The 30-minute sessions were broadcast live, and some lawmakers asked questions in an exaggerated manner. This was not good. Without media presence, I think lawmakers and officials' dialogue will be more frank."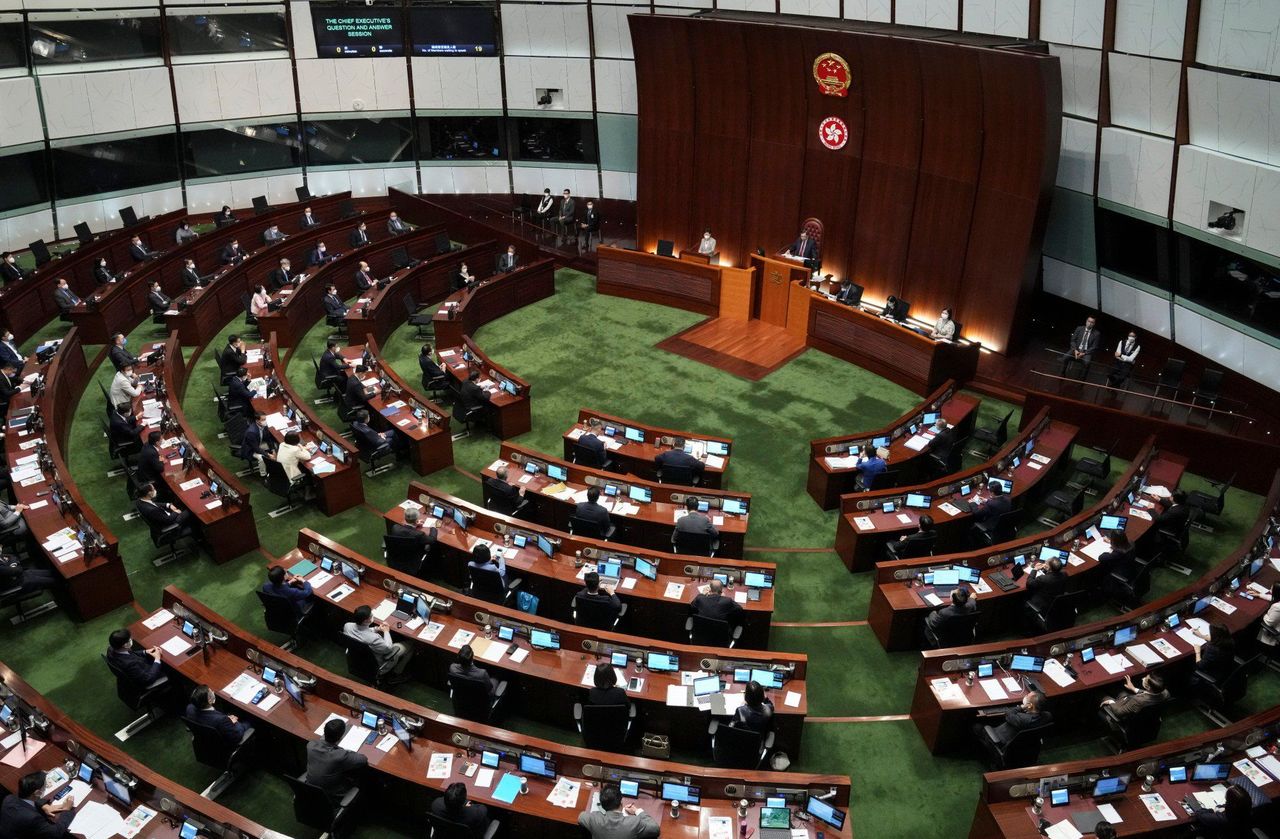 Some lawmakers have expressed concerns that Lee's new meeting format will be less transparent than sessions headed by previous leader Carrie Lam.

In his first 90-minute session with lawmakers last week, Lee proposed organising the monthly informal meetings in Legco's antechamber, with each to be attended by at least one senior minister and up to six bureau chiefs.

Lee had also promised he would attend the first exchange along with the top six members of his governing team – the chief secretary, the justice and finance ministers, as well as their three deputies.

Exco convenor and veteran legislator Regina Ip Lau Suk-yee said that even without the previous formal sessions, lawmakers would continue to monitor the government in other ways.

"The antechamber exchanges are for lawmakers and officials to socialise. I think that we don't need the 30-minute question time any more because we could not follow up on the chief executive's answers during those sessions, and the answers were usually not that helpful," she said.

"We will still monitor the entire government in our council meetings, panels and bills committees. The chief executive does not do all the work, so we do not just monitor him, but other senior officials too."

Lawmaker Paul Tse Wai-chun, however, said he believed the previous meeting format under Lam could be more beneficial for monitoring the government, but added that he hoped the new exchanges would prove helpful.

Chief Secretary Eric Chan Kwok-ki on Monday also attended his first regular meeting with Starry Lee Wai-king, Legco's House Committee chairwoman, and her deputy, Ma Fung-kwok, since taking office on July 1.

Following John Lee's resignation as Hong Kong's No 2 official in April under Lam's administration, Chan had regularly met Lee while serving as director of the Chief Executive's Office.

Separately, the Legco Commission also confirmed that general contractor Hip Hing Construction had secured the bid for the expansion of the legislative complex.

The project, which is set to cost HK$1.56 billion (US$198.7 billion), will be carried out in two phases, with the first phase involving the addition of four more levels to Legco's 10-storey office building, which is expected to be completed by June 2025.

The second phase will involve the construction of a new conference room and the relocation of educational facilities within the complex, and will take nine months.