Government report shows greenhouse gas emissions in 2020 equivalent to 33.8 million tonnes of carbon dioxide, about 16 per cent lower than in 2019.
Hong Kong's greenhouse gas emissions decreased for the third year in a row in 2020, the latest statistics from the government revealed on Monday.

But environmentalists called for more control over energy use and increased use of renewable energy sources in the long term.

Concern groups said that, although greenhouse gas emissions amounted to about 4.5 tonnes per head in 2020, around 16 per cent lower than the 5.3 tonnes per head recorded in 2019, there was still a long way to go to achieve carbon neutrality and align with the Paris Agreement's climate change goals.

The international treaty, which came into force in 2016, ruled that per capita emissions needed to be cut to around 2 tonnes before 2030 to meet the goal of a less than 1.5 degrees Celsius (34.7 degrees Fahrenheit) rise in the global temperature by 2050.

A report released by the Environmental Protection Department showed the city's overall greenhouse gas emissions in 2020 were equivalent to 33.8 million tonnes of carbon dioxide, about 16 per cent lower than the 40.1 million tonnes logged in 2019.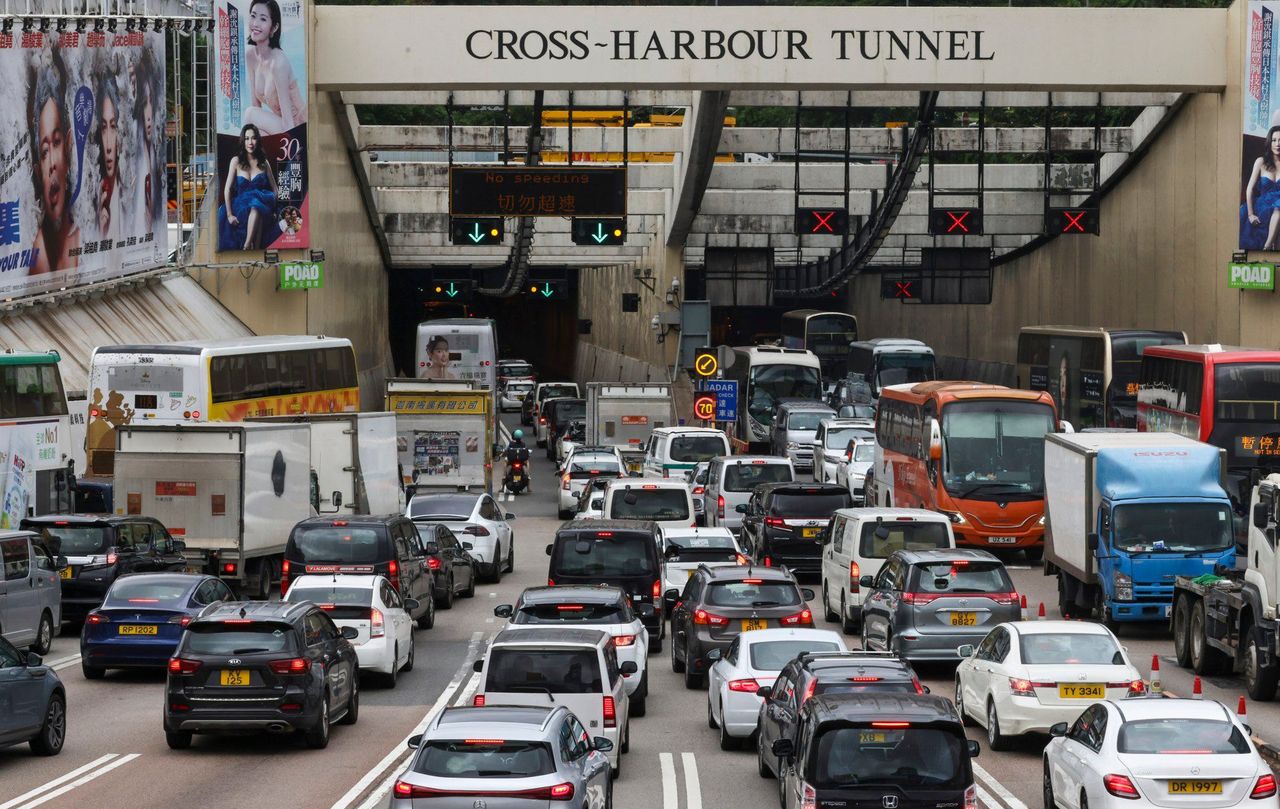 Traffic, a big contributor to greenhouse gas emissions, queues to use Hong Kong's Cross-Harbour Tunnel.

Greenhouse gas emissions were equivalent to 41 million tonnes of carbon dioxide in 2018, 2 per cent higher than in 2019.

Authorities attributed the emissions reduction to a more than 45 per cent decrease in coal use for electricity generation, down from 44 per cent in 2019 to 24 per cent in 2020.

The share of natural gas for power generation grew to 48 per cent from 29 per cent over the same period, a more than 60 per cent increase in a year.

Cheng Luk-ki, director of environmental charity Green Power, said: "It has proven that the government has done some measures to cut carbon emissions, but there is still a wide gap from the goal set when the Paris Agreement was enacted."

"Switching the fuel mix to more natural gas use is not feasible in the long term because natural gas still emits carbon dioxide," he added.

Cheng said the government should impose more measures to reduce electricity demand.

The report by environmental authorities also showed that electricity generation was still the major source of pollution and accounted for 60.4 per cent of total emissions.

Other major sources of pollution were transportation and waste management, which accounted for 19.7 per cent and 8.7 per cent of emissions, respectively.

Tom Ng Hon-lam, a campaigner at Greenpeace, said: "Although we would love to see the reduction in greenhouse gas emissions, natural gas is still a type of non-renewable fossil fuel. We should look for a cleaner power source."

Ng added the reduction in emissions could have been caused by a drop in demand for power because the Covid-19 pandemic temporarily ceased economic activities and appealed to the public "not to lower their guard".