A 'symbolic' charter flight to Beijing on October 1 comes as the coronavirus pandemic maintains a stranglehold on global travel.
Greater Bay Airlines (GBA), bidding to be Hong Kong's newest carrier, will make its inaugural flight on October 1, the 72nd anniversary of the People's Republic of China, the Post has learned.

The National Day flight, which will take place amid an ongoing surge in coronavirus outbreaks around the globe, will be a charter to Beijing, according to the company's director.

While a timeline has now been set, GBA is still awaiting its operating licence and air operating certificate. It expects to get the latter, which covers the commercial and safety requirements necessary to take-off, on September 17, Stanley Hui Hon-chung revealed in an interview.

"In a nutshell, the airline is taking shape," the director said, while tempering expectations given the collapse in travel demand amid the pandemic.

GBA's flight to Beijing was a deliberate decision, "symbolic" of the airline's development plan to operate regular flights to the capital and nationwide, Hui told the Post.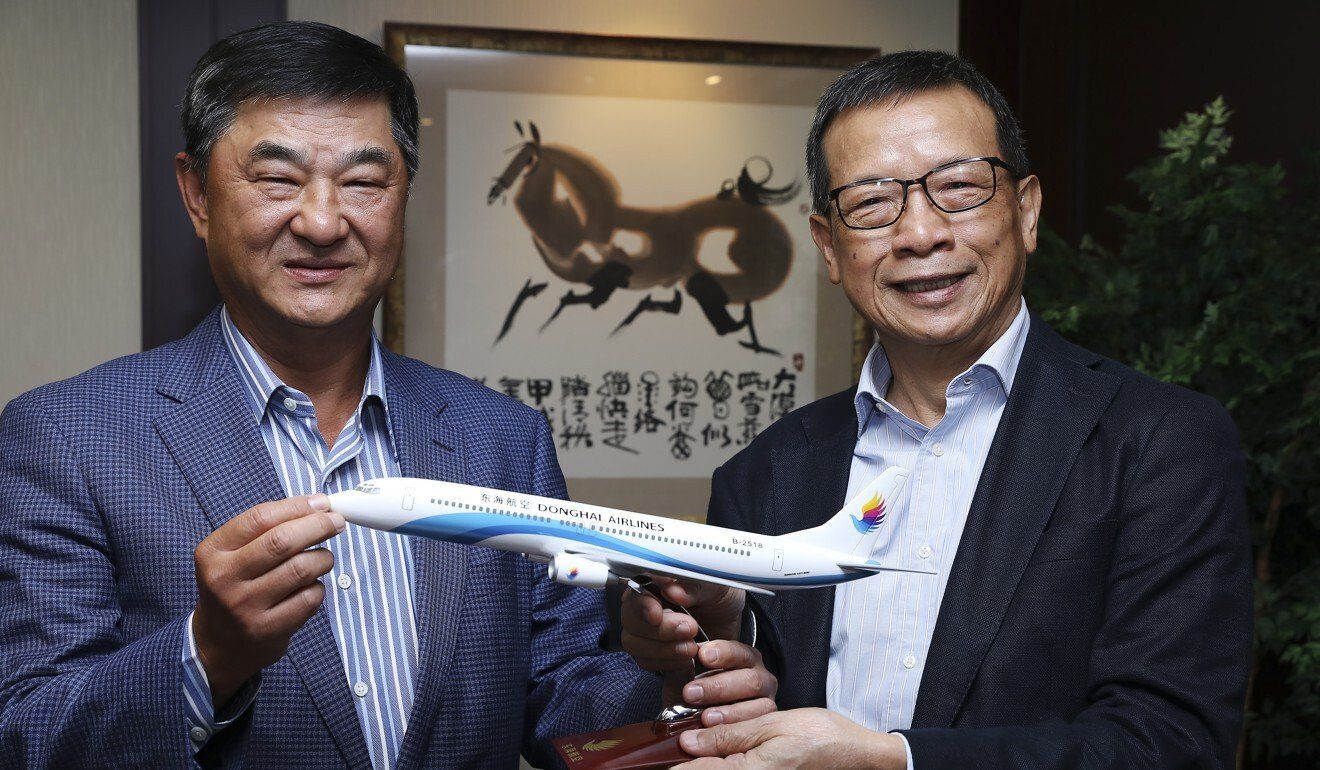 Greater Bay Airlines principal shareholder Bill Wong (left) and company director Stanley Hui.

But the seasoned airline executive expressed unhappiness with unnamed competitors, accusing them of slowing down the company's bid to take flight, despite no rival having objected to its operating licence bid.

"We have been reminded time and again to ensure that we comply with the ATLA [Air Transport Licensing Authority] regulations in the areas of Incorporated and Principal Place of Business [IPPB] and financial strength," an exasperated Hui said of the application process that began in December.

In 2015, Jetstar Hong Kong was refused a licence after ATLA ruled the airline's IPPB was not in Hong Kong, but rather Australia, where investor Qantas was based.

As part of the licence compliance process, principal shareholder Bill Wong Cho-bau – who owns Shenzhen-based Donghai Airlines – pumped in an additional HK$250 million (US$32.1 million), according to a Companies Registry filing on June 30.

Wong previously said he was investing HK$2 billion into GBA's launch, with a predicted 300 employees to start.

"We believe we meet all the requirements. It is not surprising that incumbent airlines do deploy various means to prevent or delay the entry into the market of new airlines," Hui added.

Without an ATLA licence, GBA cannot apply to operate scheduled flights, and would be reliant on non-scheduled services such as charters.

In a response, a Cathay Pacific spokeswoman said while the carrier had not objected to GBA's licence application, it had urged ATLA to take into account Covid-19's impact on the aviation industry.

She added: "We share in their excitement about the opportunity in Hong Kong and across the Greater Bay Area – there is a wealth of potential for both business and leisure travel as the region continues to develop."

GBA, headed by former top Cathay Pacific executive Algernon Yau Ying-wah, had previously said it intended to launch in October, but had not indicated a specific date.

The carrier's debut flight and beyond, however, remain clouded with uncertainty, with Asia facing some of the strictest travel restrictions, including in Hong Kong, where arriving passengers need to undergo mandatory hotel quarantine.

Mainland China has also seen a recent resurgence in Covid-19, with outbreaks affecting at least half of the nation's provinces, including in the capital.

"We are mindful that as a new airline, it takes time to build up a solid foundation. We are not rushing in to expand rapidly until we are ready," Hui said.

"We will adjust our pace of development, taking into account market conditions, and to what extent, travel restrictions will be eased going forward."

GBA, which will initially fly three Boeing 737 aircraft, will undergo a series of test flights from the middle of the month overseen by the city's aviation regulator, a key stage in securing permits to start flying.

A final "proving flight" that would culminate with the awarding of the air operating certificate if successful was planned for early September, Hui said. But the airline is still running without an official website.

"Under normal circumstances, there is sufficient room for GBA in the mainland market and Asia, but it would be very, very difficult for GBA to reach meaningful operations in a short period of time," said Law Cheung-kwok, a senior adviser at Chinese University's aviation policy and research centre.

Law said he believed the extended travel downturn was within the airline's expectation.

He added: "I think the first step – getting the first flight in the air to establish itself – is the most important for the commencement of the airline."

In January, GBA formally bid for a licence allowing it to fly to more than 100 destinations across Asia. Almost half of the routes in the bid are to destinations on the mainland.

The rights to the routes were put up for grabs after being relinquished by now-defunct regional carrier Cathay Dragon, which was shut down last October as part of a wider restructuring of its parent company, resulting in the loss of 5,900 jobs.