Justice minister Paul Lam says stricter bail standards will not only apply to Beijing's national security law but also those charged under future locally drafted legislation.
Stringent bail thresholds will apply to suspects charged under a national security law that Hong Kong is required to enact by its mini-constitution, the justice minister has said, pointing to the "special nature" of the cases.

Secretary for Justice Paul Lam Ting-kwok on Sunday also sought to dismiss concerns over shifting legal boundaries in light of recent national security-related cases, including one involving an activist who was jailed for nine months for committing seditious acts in connection with a planned protest.

"If you look at one's actual action, speech and background, I am confident that when common sense is used to interpret the spirit of the legislation, it's not difficult to tell [where the boundary is]," he said in a televised interview.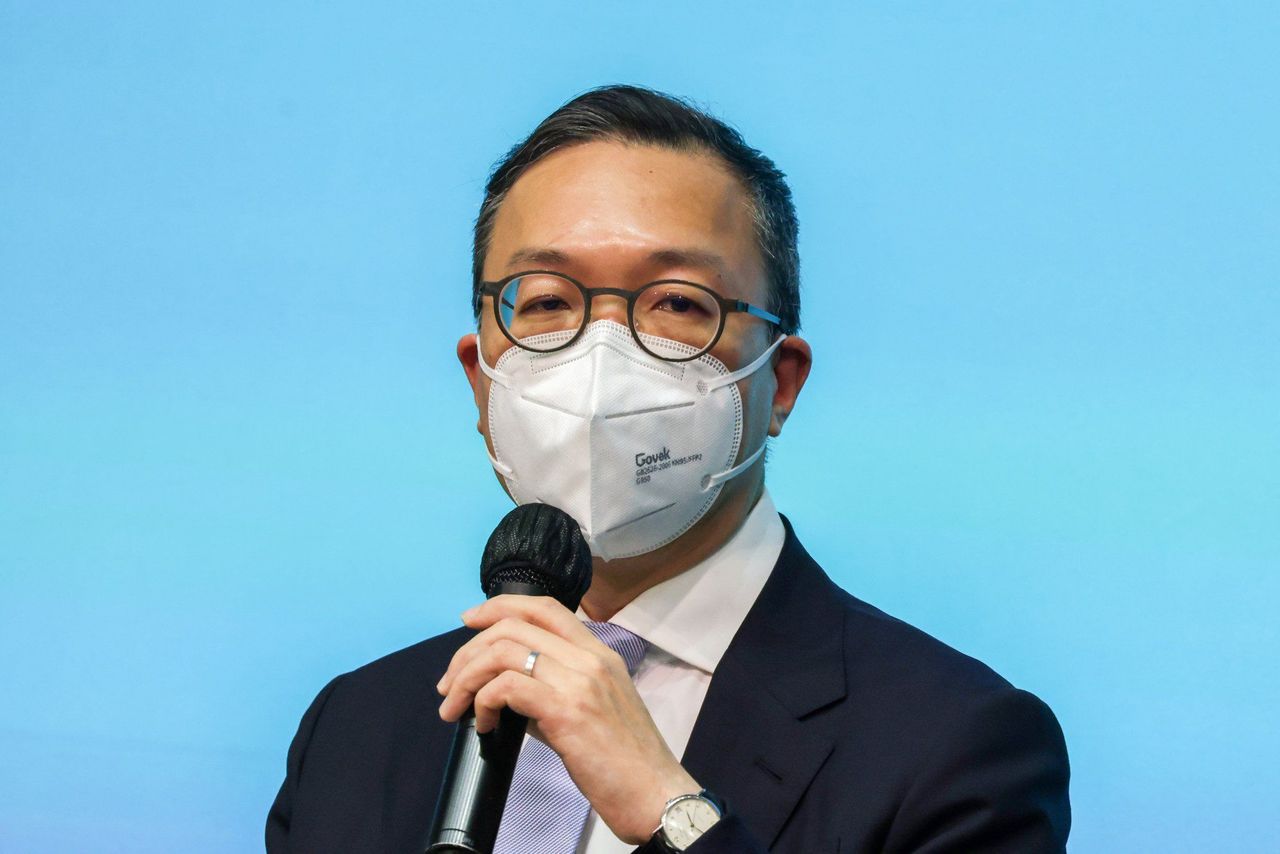 Paul Lam, Hong Kong's new secretary for justice.

The central government imposed a national security law on Hong Kong that targeted secession, subversion, terrorism and collusion with foreign forces after months of anti-government protests in 2019. But Article 23 of the Basic Law, the city's mini-constitution, mandates that the local government pass its own bill protecting national security.

The initial draft of the legislation was shelved in 2003 after an estimated 500,000 people took to the streets in protest, but new Chief Executive John Lee Ka-chiu has vowed to resurrect the bill, which the pro-Beijing Legislative Council is expected to pass.

In his interview, the justice minister also addressed other concerns, such as the increasing use of colonial-era sedition charges and extended pretrial detentions, with the latter having become common practice under the national security law.

Citing a ruling handed down by the Court of Final Appeal last December, Lam said stricter standards for granting bail would not only apply to those charged under the four major offences stipulated under Beijing's national security law, but also to those charged under the locally drafted legislation.

"If a court believes other criminal cases involving acts endangering national security, the bail conditions under the national security law should also apply," he said.

"The nature of [potential] offences is special, as it involves national security, which has been an issue of great importance."

In September, security chief Chris Tang Ping-keung, who retained his post when the new administration took over, said the government planned to introduce a local version of the national security law during the current term.

According to Tang, the legislation will seek to "fill gaps" in the Beijing-imposed national security law, with the minister suggesting that "inciting hatred" would be among the offences included. The existing security law only penalises inciting an entity outside the country to hate the local or central government and "which is likely to cause serious consequences".

Lam also defended the recent sentencing of veteran activist Koo Sze-yiu to nine months in jail on a sedition charge, saying no one had been punished solely for hurling abuses against the government.

"You can't take things out of context. Criticism is absolutely not problematic, as the law clearly states that it is not seditious if the intention is to point out defects in hope for improvements and remedy," he said. "The recently convicted cases did involve seditious intentions to overthrow the regime."

Koo, who planned a demonstration outside the central government's liaison office in Hong Kong over the 2022 Winter Olympics held in mainland China in February, had called the Beijing-imposed national security law an "evil" piece of legislation and wrote the slogan "end one-party dictatorship" on some fabric, a phrase that local authorities had said amounted to "subverting state power".

The Post has reported on authorities' growing use of sedition charges, with one in five of roughly 200 arrests by national security authorities in the past two years involving the offence. Sedition suspects faced the same higher threshold for winning bail as those accused of national security offences.

The justice minister also strongly criticised a recent report by the American Congressional-Executive Commission on China, which called for sanctions against him and 15 prosecutors for allegedly infringing on the universal human rights of Hongkongers.

"What they have done was aimed at piling pressure on us and scaring people away from joining our team. But an immediate response from our colleagues is that they have become more united because they're so angry," he said.

"They were just like Goda Takeshi, a rude and unreasonable character in the Doraemon anime," Lam added, referring to a fictional character in the popular Japanese manga and cartoon series.

Article 42 of the Beijing-imposed national security law stipulates that no bail shall be granted to suspects unless the judge has sufficient grounds for believing that they will not continue to commit acts endangering national security.

Thomas Kellogg, executive director of the Centre for Asian Law at Georgetown University in the United States, said it would be a "serious mistake" if the Hong Kong government directly applied the clause to the planned Article 23 legislation as the very high standard would become "a real barrier to a fair trial" for defendants.

"If the government truly thinks that a new standard for bail is needed in Article 23 cases, it should legislate that standard in the new law. It can and should publicly debate what a new bail standard should look like, and can seek public feedback on such a proposal," he said.

Meanwhile, the chairwoman of the opposition group the League of Social Democrats said on its Facebook page it was "under tremendous pressure" and had no choice but to delete some online posts which allegedly breached the national security law.

Chan Po-ying added she could not elaborate but would continue to speak out and "speech is not a crime".

She said on June 28 that police had searched her residence and those of five other members ahead of the July 1 anniversary of the city's return to Chinese rule, and they were taken to stations for discussions. The group later decided not to demonstrate on the anniversary, for the first time since the group's founding in 2006.