Newly admitted solicitor hopes others from ethnic minority communities will also seek higher education and pursue law.
Wearing his black lawyer's gown and Sikh headgear, Saajandeep Singh, 25, stood out when he took his oath at Hong Kong's High Court last month. He is believed to be the city's first locally trained turbaned solicitor.

"I felt a range of emotions. It was a culmination of years of work," said the young man, the only member of an ethnic minority community among 23 new solicitors admitted on October 29.

Both he and Baljinder Singh, founder of the Racial Integration Education and Welfare Association, an NGO dedicated to ethnic minorities, said the newly admitted lawyer was the city's first locally trained turbaned Sikh solicitor.

Singh's grandfather came from Punjab, India, to work in Hong Kong in the 1960s. His father, a Correctional Services officer born and raised in the city, brought his bride from India and she now works in a bank.

Both parents emphasised the importance of education as they raised Singh and his older brother, now 26 and a doctor at Queen Mary Hospital.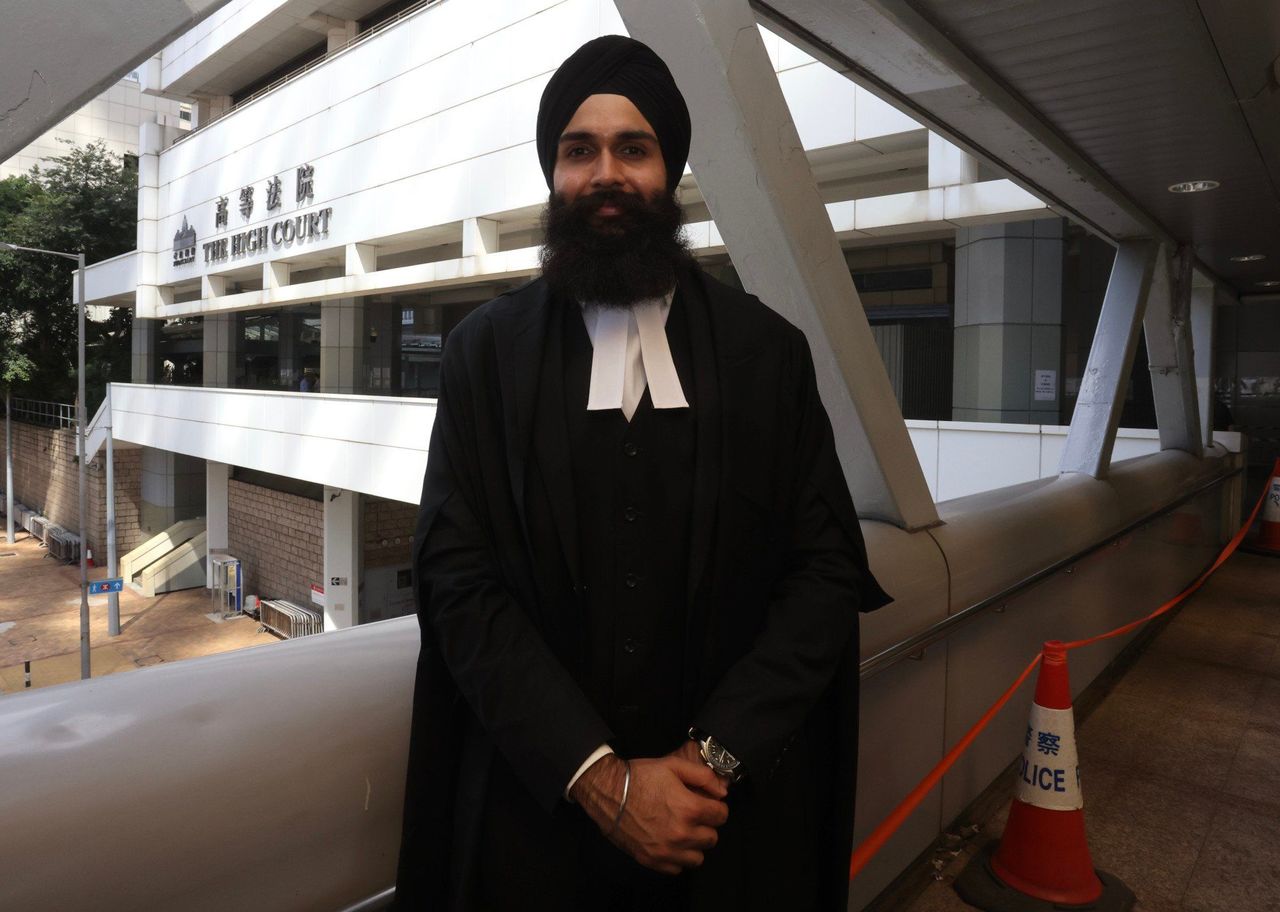 Saajandeep Singh, who is said to be the first locally trained turbaned Sikh solicitor in Hong Kong, at the High Court in Admiralty.
Singh said his father had longed to go to university, but was forced to begin working at a young age to support the family.
Growing up in their home next to Stanley Prison, where his father worked, Singh could see prisoners playing basketball or mowing the grass. That often made him wonder why some people ended up in jail and what decided their fate.
That, and an interest in philosophy, led him to decide on law as a career.
Applying to law schools at 17, he recalled his days watching the prison inmates and wrote personal statements that began with: "200 metres [656 feet], that is the distance between a law-abiding citizen and convicted criminals".
He graduated from City University in 2019, and received his postgraduate certificate a year later. He then joined Ravenscroft & Schmierer as a trainee solicitor before being admitted last month. He hoped to specialise in family law.
He said members of ethnic minorities were under-represented in the city's legal landscape and they still faced discrimination in their daily life.
He himself had been stopped a few times by the courts' security staff who asked whether he was a defendant or lost. When he replied that he was a trainee solicitor, they looked surprised.
There were also numerous occasions when people refused to sit next to him on the bus and MTR train, or stared at him, he added.
He blamed the city's lack of education on religions and ethnicities.
Although Sikh males are required to keep their hair uncut, Singh said he cut his hair growing up, to avoid sticking out and attracting unwanted attention.
It was only in 2019 that he stopped cutting his hair and started wearing a turban. He said Hong Kong was improving in terms of inclusivity, but at a slow pace.
"Finally, we are getting to a stage in society where we are celebrating diversity and inclusion. I think now is a very pivotal period in society where we can be who we are," said Singh.