Pair of battery-powered bikes to be stationed at Ma On Shan and Tai Chik Sha ambulance depots for paramedics handling emergency calls.
Hong Kong's Fire Services Department unveiled its first battery-powered rapid response motorcycles on Tuesday as part of a pilot scheme to test whether they could be introduced more widely in the future.

The two new bikes would be stationed at Ma On Shan and Tai Chik Sha ambulance depots for five months to handle emergency response dispatches, the department said.

The existing 47-strong emergency response motorcycle fleet would be upgraded to a new petrol-powered model by the year's end, it added.

Roy Cheng Tsz-wing, the department's fleet management superintendent, on Monday said they also hoped to switch around 66 of their medium-and-small-sized cars to electric ones over the next five years, including an electric mobile command vehicle.

German manufacturer BMW supplied both new motorcycle models, with the new fuel-powered bikes introduced last year for the country's own fire and emergency services, he added.

The department said it selected the electric-powered model based on its range and charging time, with the battery able to reach 80 per cent capacity in three hours and 20 minutes using the widely available three-pin 13A power plugs.

Fully charging the vehicle would require an additional hour.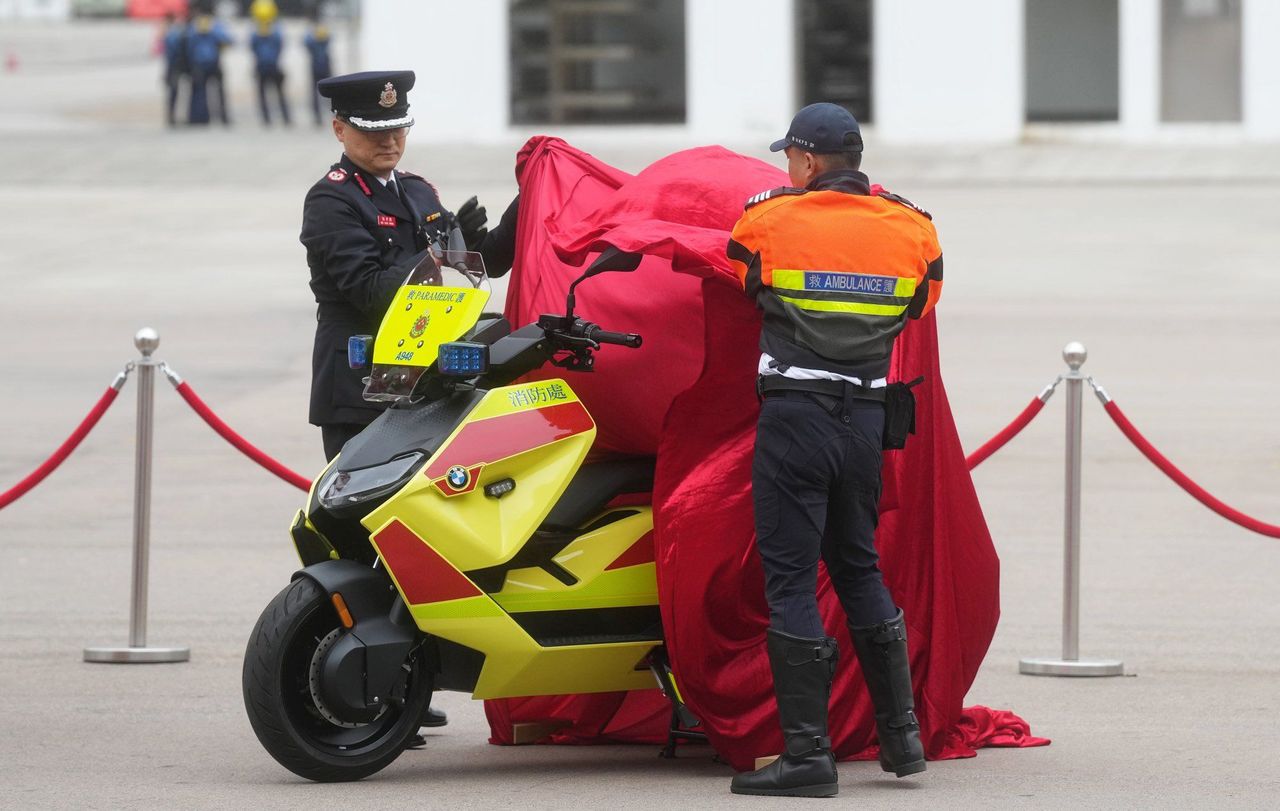 The new models offer easier handling and include a wet weather mode, the department has said.

Discussing the challenges for the pilot scheme, Cheung said: "One can imagine that the Fire Services Department's vehicles will be working 24 hours, seven days a week. They might take up missions across districts and possibly be stationed at emergency sites for a long time."

"Unlike usual petrol vehicles, which can be filled up within minutes and ready to work, whether the [electric] vehicle can fulfil our demands is a major consideration."

The electric motorcycles can travel around 110km to 130km if operating on a fully charged battery. The current emergency medical assistance bikes can travel an average of 65km per day, with a maximum range of 100km.

The department said it would also rotate the two electric motorcycles to other depots if they performed to a satisfactory level during the pilot scheme.

It added that the new fuel-powered motorcycle offered smoother handling for paramedics responding to medical emergencies, since the bikes weighed 75 kilograms less than the previous model.

"Both models from BMW are lighter and easy to control, making it easier to handle narrow roads. Sometimes our drivers will have to slip past other vehicles to get to the scene, so this will be helpful," senior ambulanceman Fan Ka-man said.

The new models also include a wet weather mode that help to prevent brake slippage, Fan added.